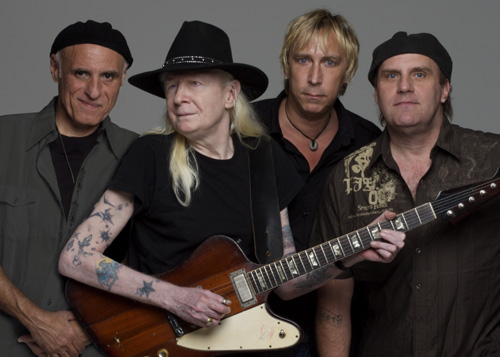 Vito Liuzzi, Johnny Winter, Paul Nelson, Scott Spray
Concert Review by Dave
Johnny Dawson Winter – Living Legend "The White Tornado" Still Rocks
Hundred Seventy Split Open For Johnny Winter and Band
Saturday May 21, 2011
I'm prepared for the concert. I'll accept whatever's to takes place. Hundred Seventy Split are opening for Johnny Winter, so it's a double treat for us. Ten Years After played in this same venue last year, so the audience knows exactly what to expect. A great double header concert..
We are invited to see Leo, Joe and Damian backstage before the show. Brigitte spent ten minutes there and then left. I wanted to hang around, observe the band, check out the vibe in the room before they went stage. They discuss last minute details about the set list. Their set will last one hour. The only thing different, is that everyone is very serious and more focused this evening. The reason being that we got there right before they were to go on stage, most times we arrive much earlier. They're ready to rock. I'm just getting warmed up. The funny thing is that I was curious as to how they were going to get on stage, they have to go in the back way, so I follow everyone to the stage door – now I know.
Our friend says, Dave, if you walk through that door, you'll be right on stage with them…we laugh, that's not my intent. I return to the concert hall, and position myself right in front of Leo. With Sander, his mother and Brigitte and Reinhard is up by the sound board watching.
Hundred Seventy Split complete their set and leave the audience wanting more.
But as soon as the band leaves the stage, a stampede of roadies start tearing everything down, packing it up and lugging it away. Getting everything ready for Johnny's entrance.
The audience doesn't move, everyone stays in place, we wait patiently. The best relief came when they opened the side doors in order to get the equipment out, and the heat of this pressure cooker, dissipated from 110 degrees down to 100. I had heard a rumour backstage from Damian, that Johnny has been playing guitar while standing up on stage. Tonight, a special chair is brought in for him to sit on, he won't be standing this evening.
The crowd is more than ready, and starting to get a lttle restless.
As Johnny is being escorted in, I'm impressed with something that only a person from the States would recognize, Johnny is a common man, wearing common working man clothes, the band name is "Dickies" in dark green or black, with his trade-mark Stetson Texas Hat on.
God Bless him, rolling with the changes!
The Legend Himself:
Sitting there at the table is Johnny, with shirt off and his tattoos exposed, just like on the album covers in recent years. The illustrated man in person. Like our meet and greet with Peter Green, I really didn't expect Johnny to say much, if anything at all. I told him it was a great concert and he, and his band did an excellent job tonight. He replied, that he thought so too, but hotter than hell, so hot in there under those lights he said. Brigitte and I can attest to that fact, brutally hot just standing there, and insanely hot if you are working hard on stage.
We also did take the time to thank the band who were also sitting inside with him, they did an excellent job. I said to Johnny, please take care of yourself, and thank you for a great time this evening – to which Brigitte added a very spontaneous "We Love You Johnny" to which he honestly replied, a quiet "Thank You".
Boogie Down Slowly Johnny
The white tornado of Texas, may not be a dangerous force to be reckoned with any longer, his whirlwinds have settled into a calm butterfly sneeze, as in a placid solemn moody blues lyric.
My epitaph for Johnny Winter may appear to be lame, by those who knew him in the past, or those who think of him nostalgically. The truth is, he sits exposed / virtually helpless / blind / weak / frail – fragile. A human egg shell he has become. Still a giant in the music world by name recognition and legend. Johnny Winter is all soul, pride, talent. He's at peace with himself, at peace with the world and accepts this final phase of his life, without remorse or regret. Oh what a lucky man he is.
The Aftermath Rocks:
A chance to finally sit down, over by the sound board, right next to a miniature can of open peas, what the hell is this I ask Reinhard? So what's next I wonder? First a coke and beer for the others, Brigitte wants an autograph from Johnny and the band. I'm thinking, not to bother them right now backstage, because I thought that's where they all headed. If they didn't sign our guestbook, OH Well – we had the best time ever, and what great memories.
Just then, I saw Tom Lyons, I said Brigitte, go catch him and see if he can help. Standing right next to Tom was Johnny Winters road manager, who said "sure, come on with me". He took us directly to Johnny's recreational vehicle out back, inside a steel-post fenced in parking lot.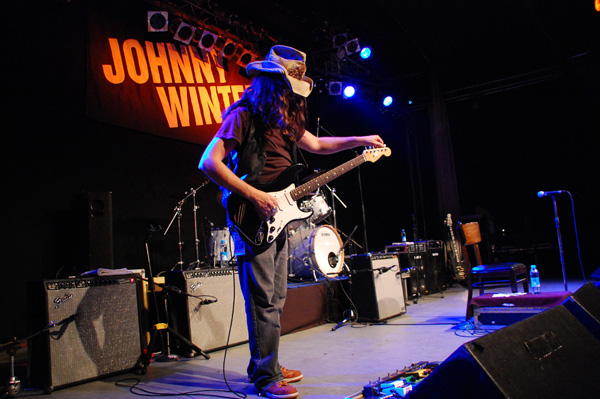 Tour Manager
Back outside, I first thanked the tour manager for allowing us to meet Johnny in person and get our guest book autographed.
Secondly, I started a chat with the bass player, Scott Spray. I told him it was a great show, and that Johnny was in rare form. I also mentioned that you guys (bass and rhythm guitar player) did an excellent job taking care of Johnny. (they were never more than about three to four feet away from him, not taking their eyes off of him very often, watching his every move and watched what he was playing. They told me, that Johnny has a habit of changing the songs basic structure without warning. Or playing longer to the end of the song than usual. They can help him on to the stage if asked or help him off if he request a helping hand, but Johnny Winter is a proud man, and remains as independent as he is able.
They also told me, that Johnny is a very wealthy man. (which we all assume to be the case, but never really think about it). First thing in the morning, Johnny says, I want to play, lets play. He doesn't have to play, he could just as easily stay home, with feet up and not have a care about money. But his life, his love and passion is music.