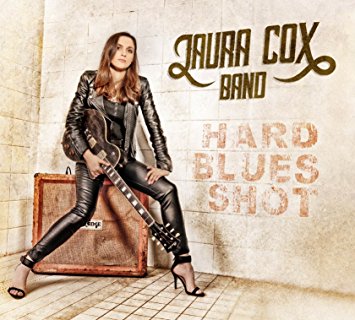 Laura Cox Band – Hard Blues Shot – Released March 10, 2017:

Hard Blues Shot – 4:51 "Radio is Dead, T.V. is Shit, put your Leather Jacket On". Let's Get Lost in the Heat of the City". "Get Up Off Your Knees and Play".


The Australian Way – 3:28 –"I'm on my way, Gimme Thunder, Gimme Power" "Walking Down the Beach At Night, I'm A Lonely Soul".


Good Ol´Days – 6:17 – "When the Grass was Greener, My Hair was Longer and the Sun Rose Higher".


Too Nice For Rock `n´ Roll – 4:36 – "People say I'm Too Blind to see the Truth, and I can't play Loud Enough To Feel Better".


Morning Road – 2:58 – "Too Much Dirt, Too Much Booze in my Cadillac" "Spinning My Wheels, Forgetting My Sins".


Barefoot In The Countryside – 4:19 – "Go on, make it real and the morning sun will rise".


Take Me Back Home – 4:15 – "There's a Million Places I've Never Been". "So Close on the Outside, So Far on the Inside".


If You Wanna Get Loud – (Come To The Show) – 3:19 – "Wanna Get High, Wanna Get Loud".


Going Down – 3:37 – "I Wanna Kick You Out, You're Gonna Get Slapped, Cause You're A Pain in the Ass".


13 – 4:54 – "No Friday Won't Spare Anyone, On Fucking 13".
Above is a sample of the lyrics. They are honest and real. My intent is not for any shock value, and in 2018 there is no shock value anymore. Words deliver a message within the framework of the music. Working hand in hand, your experience and emotions should be aroused, causing excitement in your body, mind and soul – in that order.
In the Words of Jim Morrison, "Dance on Fire as it Intends – Music is your Only Friend, Until the End". From beginning to end, this CD will take you on an artistic ride of passion, emotions and delight.While the music is sometimes Hard Rock `n ´ Roll, the spaces in between provide the shade and shadow, as shown in any great painting by the masters.
In the Words of the Late Alvin Lee of Ten Years After, "Too Much Sugar Don't Taste So Sweet"…and The Laura Cox Band know this as well. I don't know Laura personally, I'm just a loyal fan of hers like the rest of you. I will meet her in person someday soon I hope, here in Germany. Hard Blues Shot on Amazon.de gave her a five star review and I second that motion.
The following is from Blues-Sever – Monday March 13, 2017:
"She was so pleased and excited to be complimented by Joe Bonamassa himself".
From Dave:
I would call that the ultimate endorcement if I ever saw one, and her being excited is an understatement I'm sure…she must have been bouncing off the walls and as high as the moon. I got to meet Joe Bonamassa in person at the Blues Garage here in Germany, shook his hand, got his autograph and had a nice fifteen minute chat with the man. The second time he played there the line to get in went around the block – I heard him more than I saw him…with no complaint from me. Joe and I also have something in common, I was born and raised in Albany, New York and Joe lived about one hour away from me in Utica, New York.
No, we never knew each other back then, we met here in Germany. Such a great talent and a super nice person in my book.
Blues – Sever:
"But if you still need to put a name to their style, it could probably be called Southern Hard Blues" – "Playing the music they love" – "Classic and Southern Rock in its Purest Form".
"The group blends the Sharp Southern States Sound with the Saturated Watts of Australian Fury".
"Rather than remain in just one kind of music, the Laura Cox Band likes to surprise its fans with subtle changes in style".
"Too Bad For Those Who Think That Groups Should Fit Into Categories".
From Dave:
I have no idea what the French Music Scene is, these days or otherwise. Nor does it matter. to My love of music is the proving ground. I can think of no one who would not like this first effort by this band. They come across as an experienced, a well developed outfit on the music scene, and heading into stardom in the near future. My only advive is this: Stay in Europe for as long as needed, America is a dead zone in music these days – in my opinion. Europe is alive and vibrent with loyal fans and loyal music lovers. Trust me, this I know first hand.
Released 2017 – Les Trois 8 Editions and Productions - SCPP
www.verycords - A Division of VeryGroup
Introduction:
My first view of Laura Cox was on youtube. She was doing her cover version of the song
"All Right Now", by one of my favorite bands in 1970 called "Free" with guitarist
Paul Kossoff. Trust me, you need to research Paul Kossoff and listen to his style, tone and honestly in his playing.
Laura also did a brilliant cover of "Sweet Home Alabama" – no easy task. Inspired.
I enjoyed all of her other covers, interviews and her feelings about music in general.
She's got the music in her, deep within her soul. She plays her collection of various guitars with passion and percision. Her vocals come out easy, powerful and passionate.
Laura's amplifiers are as impressive as her guitars, top shelf brand names, starting with
"Orange Amps – Marshall Amps - Bacchus Guitars – Ernie Ball Strings"….more listed inside the cd booklet.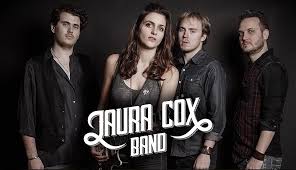 The Band Members:
Laura Cox – Guitar – Banjo – Vocals
Mathieu Albiac – Guitar
Francois C. Delacoudre – Bass – Double Bass and Mandolin
Antonin Gueerin – Drums
Jean – Pierre – Chalbos – Mastering Enginer
Joseph Noia – Audio Enginer
Eric Martin – Art Work

About Myself (Dave):
I'm 62 years old to Laura's 27. I'm an American and moved here to Germany in January of 2002. I was invited here to help Brigitte create a website dedicated to our favorite band that played at Woodstock in August of 1969. The band is Ten Years After. Our website is a "Tribute" to the band and its members. I've written many concert reviews, of every concert that we've attended of the band and other bands along the way. Ten Years After is still active, and it also split into another great band called "Hundred Seventy Split" with TYA founder and bass player Leo Lyons, and Joe Gooch on lead guitar and vocals. TYA's lead guitarist has died – his name Alvin Lee. We and our friends were at the last concert that Alvin Lee ever played. Brigitte and I are friends with the members of both bands.
As A Teenager:
I grew up in the prime of Rock and Roll that's now considered as "Classic Rock". Back in the day, new albums were being released weekly, monthly all throughout the year.
Alice Cooper, The Allman Brothers, Cream, Jimi Hendrix, Deep Purple, Black Sabbath, Cactus, Free, Love, Grand Funk Railroad, MC-5, Lord Sutch, Led Zepplin, The Who, King Crimson, Emerson Lake and Palmer, Mountain with Leslie West, The Stooges, Rare Earth, Johnny and Edgar Winter – to name a few.
That being said, that music was so good that every new record album spent weeks on my turn-table, just being turned over from side to side. This Laura Cox Band CD is one of those great releases, it hasn't left my player since it arrived. I'm also happy to be one of the many to support this band. The band is tight, the material is original and refreshing. The lyrics are excellent and sounds better and better every play, as you pick up layers of sound, and hear different sections – thus it's always fresh and rewarding.
Although, giving credit and with respect, I offer this comment. The bass player learned his lessons from John Entwhistle of the WHO – I hear those driving bass-lines from the Who's song "The Real Me". Also, in another song I'm reminded of a song called "Devil Woman" She's just a devil woman….by Cliff Richard via 1976….the band didn't nick it, but everytime that song comes around, my mind is reminded of that song.
The Who's bass line is in the title song – "Hard Blues Shot" and others.
The Cliff Richards reference is in the song – "Too Nice For Rock `n´ Roll" just before the chorus comes in, see if it affects you the same way.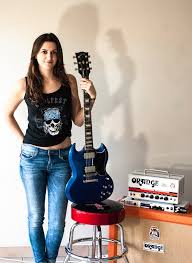 More About Laura Cox that I read on the internet.
She had 47 Million Views and 200,000 Subscribers on Youtube.
She had more than 140,000 Likes on her Facebook Page – since it was created in 2013.
She started posting her guitar solos on Youtube in 2008.
I also read the following: "If you like the Laura Cox Band, you should check out…
Ana Popovic – Aaron Keylock and Erja Lyytinen – I know of Ana Popovic. The other two I will check out.
From Dave: In my opinion I offer the following, that most represents the talents of Laura Cox.
Dear Laura, I rate your talent, passion and desire right up there with LITA FORD. Lita Ford's – "Stiletto" from 1990 and her "Living Like A Runaway" from 2012. Next on my want list, is Lita Fords, "The Bitch is Back…Live".
In Conclusion:
The word that describes Laura Cox and Band the Best is – UNPRETENTIOUS:
By Definition: - "Not attempting to impress others with an appearance of greater importance, talent or culture than is actually possessed. Unaffected, Modest, Unassuming, Without Airs, Natural, Straight-Forward, Open, Honest, Sincere, Frank, Ingenuous, Honest To Goodness.
"In Spite of Fame, They Are Thoroughly Unpretentious".
To Quote Laura in a September 6, 2015 Interview: "I Don't Care About Sex-Appeal,
The Only Thing I Care About is Guitar". From Youtube Sensation ! Jason Saulnier.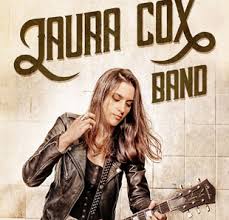 Whatever "IT" is – Laura Cox Has "IT" … That Covers It !!!
CD Review By Dave Willey www.ten-years-after.com www.alvinlee.de