| | |
| --- | --- |
| | RIC LEE |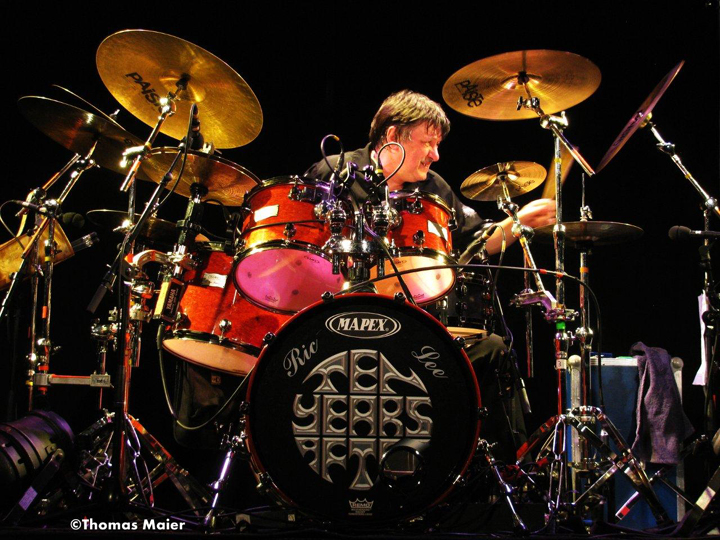 Ric Lee's Natural Born Swingers
CD Review – "Put A Record On"

The Band:

Ric Lee - Drums, Percussion and Vocals
Danny Handley – Guitar/Vocals
Bob Hall – Keyboards/Vocals
Scott Whitley – Bass/Vocals

I Want To Know – 2:56

Don't Want You Woman – 3:17

Put A Record On – 3:54

The Hills Of Afghanistan – 3:53

Keep On Singing The Blues – 3:58

It's Too Late – 4:11

I Don't Play Boogie – 5:04

Bad Feeling Blues – 4:27

It Don't Mean A Thing To You – 3:38

A Fool Like Me – 3:27

Passing On Blues – 3:20

Rock Your Mama – 3:54

I Can't Get My Ass In Gear – 3:50
Liner Notes: The Blues, music born around the turn of the 20th century among poor black sharecroppers in the American rural south, somehow resonated with British teenagers in the 1960's and became British blues, or blues-rock. One of the foremost groups to play this "new" music was Ten Years After, who became part of the British Blues Invasion that took America by storm over the next decade. Ten Years After appeared at the legendary Woodstock Festival (1969) and had many hits in the succeeding years. When Ric Lee, drummer with Ten Years After, invited pianist and neighbour Bob Hall a founding member of Savoy Brown, another legendary British Blues Invasion band, to play at a local party, they little realized what was in store. The partnership was a great success and there was talk of forming a band to recreate the exciting sounds of the former halcyon days. Through a fortuitous connection, Ric and Bob met up with younger generation Danny Handley (Vocals and Guitar) and Scott Whitley (Bass and Vocals). The music ignited, and Ric Lee's Natural Born Swingers was conceived. The band's explosive blend of early Ten Years After swing and shuffle favourites and original material, is stirring fond memories among Ten Years After fans, blues fans, and picking up many new friends among the younger, wider public.
Special thanks for their outstanding contributions to this debut album go to guest artist:
Paul Jones (The Manfreds and The Blues Band) on Harmonica
Kim Simmons (Savoy Brown) Guitar
Virgil McMahon (Virgil and The Accelerators) Guitar
Son Henry (Son Henry Band) Steel Guitar
Steve Beighton (Paul Carrock) Brass.
Notes by Bob Hall 2012
---
CD Review by Dave Willey
I Want To Know – There are three songs on this cd that were originally on the first Ten Years After album. This is the first of them. It really serves no purpose to compare the original version with this rendition, as both are equal in performance. The only difference is the pleasant discovery that Paul Jones, who wrote the song, plays harmonic on it here.
A fast number, a real toe-tapper and most of all memorable, on both versions.
Don't Want You Woman – This is the second song from Ten Years After's debut album redone here. The acoustic guitar keeps a firm rhythm going. Paul Jones covers the lead section with his excellent harmonica work, which drives the song along beautifully.
Put A Record On – The pace and style changes from the first two songs. You may have to listen to it more than once to really appreciate this number. It will grow on you, and flow with the first songs on this side.
The Hills of Afghanistan – I was really unprepared for such a song on this cd. But, it's one of the best in this collection, unique, un-preaching and speaking the truth. No one wins a fight, a battle or a war. What are the powers that be thinking about? I don't really want to know.
Another surprise on this song, is that this is the singing debut of drummer Ric Lee. His soulful vocals provide the heartfelt empathy / compassion needed to reflect the humility that we all feel for these war ravaged people.
Keep On Singing The Blues – A beer-barrel rocker, a Saturday night roller. A story about accepting life and reality as it is. The music is brilliantly done, strong with excellent vocals. It's got a Blues Traveller sound and feel to it.
It's Too Late – I like this song, it reminds me of the old classic, "Six Days On The Road". The song also has some unexpected chord changes going on, with great keyboard work pushing it right along. The lead guitar work is great, as it adds texture and isn't overwhelming as some players can be.
I Don't Play Boogie – The longest song on this debut collection. You'll never get tired of listening to it, when it comes around on your player. Tasty, interesting and a lot of good fun. Great playing throughout, especially the piano being the highlight. Smooth vocals, with a real countrified Rock-a-Billy workout to be sure. It just makes you feel good!
Bad Feeling Blues – One of my favourites, the playing and the vocals are exceptional. It's addictive, smooth and satisfying.
It Don't Mean A Thing To You – A wonderful little rocker that'll make you sing and sing out loud. At home or driving your car around town, you'll be unable to sit still on this one. A lively kick-ass tune – with a smart ending.
A Fool Like Me – In a country bar, with the lights down low, on a weekend with rain coming down – when this song comes on the old juke-box – there's suddenly a line forming at the pay phone in the corner – it's a cry in your beer song, for fools like us.
Passing On Blues – I don't want to wake up in the morning and find myself dead, give me time to count to five, just to make sure that I'm really alive – and that I Survived the night before….a song for Sunday morning after a wild night with friends. Excess leads to the palace of wisdom they say.
Rock Your Mama – The third remake of a Ten Years After song on this cd. As with the other two renditions it does no disservice to the originals. In fact, it's simply refreshing to hear the old favourites reworked and given a brand new life. In this case, the song holds the pace without any lull, just a little different from the original, you'll enjoy both versions, I'm sure. The guitar and vocals are extraordinary….and isn't Ric right on the money here….the entire band couldn't be any better…listen carefully for Paul's subtle harmonica work….I could listen to an hour of this song, it ends too soon.
I Can't Get My Ass In Gear – If you listen to this song long enough, you're guaranteed to suffer a case of lethargy. If you already suffer from a case of procrastination, a severe lack of ambition or suffer from genetically predisposed chronic case of low energy syndrome, this song is for you. It could be your air-tight excuse, for everything that you had no desire to do in the first place. A fun song, that'll stick in your head. Think I'll use this as a prelude to the "Rodeo Song".
You can't sit still when you listen to this song. It makes you want to get up and move and dance. It will give you a boost of energy that you didn't know you had.
In Conclusion:
Hello Ric and Band. What you guys wanted to get across on this cd, hit the bull's-eye the first time around. The overall talent, passion and energy all came shining through. I found myself listening to the entire group effort and not concentrating on the individual components presented here. It's that good! I'm so used to dissecting music in order to find what I really like and the parts that don't impress me much, that it feels strange to listen to an entire cd without such distractions. Your debut cd is a certified golden home run, brilliantly done and with perfection in every area. Performances, production, material and mutual admiration of each others talents. I for one know that you worked your collective asses off, because it sounds like it was so damn easy to make. It doesn't get any better than this, can't wait for the band's second release!
by Dave Willey
From Mansfield to Woodstock - and beyond!
A fascinating address full of memories and anecdotes related by Ric Lee, drummer and founder member of Ten Years After.

January 23rd, 8pm.
Woodley Baptist Church Hall (opposite Drumwright).

In 1967, four young musicians from Nottinghamshire, England, Leo Lyons, Ric Lee, Chick Churchill together with Alvin Lee, formed Ten Years After and became one of the biggest names and the most explosive quartets on the world stage.

Their now legendary encore, "I'm Going Home" performed at The Woodstock Music and Arts Festival in August 1969, was captured on film and exposed their jazz, blues, rock amalgam to a large audience of movie-goers who were blown away by the intensity of the band's performance when the Academy Award winning documentary was released. Their ten minute appearance in the film is an acknowledged highlight and established Ten Years After a place in rock history.


From 1968 to 1975 constant touring, playing important musical events like The Newport Jazz Festival, The Miami Pop Festival, The 1970 Isle of Wight Festival, The Toronto Peace Festival and huge venues like The Albert Hall, London, Madison Square Garden,s NY. and The Budokan, Tokyo, exposed the band's music to a Global Audience. It is estimated that they performed to in excess of 75,000 new fans a week. Almost four million people a year, not counting those who saw the band in the 'Woodstock' film Between 1967 and 1974, Ten Years After recorded and released ten multimillion selling albums.

A UK tour is planned for early 2003, and Ric has kindly found time in his hectic pre-tour schedule to undertake this event for Drumwright, of which he has been a strong supporter since the company's foundation six years ago.
As well as his extensive experience touring and recording with Ten Years After and Chickenshack, Ric has spent time recording and composing. He is also a prominent drum teacher, having studied himself with such luminaries as Gilbert Webster (Guildhall School of Music and Drama), Robert Hawes (Wren Orchestra) and Alan Dawson (one time drummer with the legendary Dave Brubeck quartet).

You can experience a fascinating address, full of memories and anecdotes related by Ric Lee, drummer and founder member of Ten Years After, one of the most successful groups to play at the original Woodstock Festival in the USA in the August of 1969.

Using rare photos and video clips from his own collection, Ric charts the history of Ten Years After. From humble beginnings, recording a demo at the bottom of the stairs in a friend's house near Mansfield, Nottinghamshire, England, to the heady days of the late 60's and early 70's. Appearing at Woodstock and later in the film of the festival and touring in the company of other rock legends such as Led Zeppelin, Santana, Black Sabbath, The Who and many others.
The presentation will last around two hours, including a question and answer session, interval – and knowing Ric at least one session on the kit.

An Evening with RIC LEE of Ten Years After
Wednesday, Sept 22nd 2010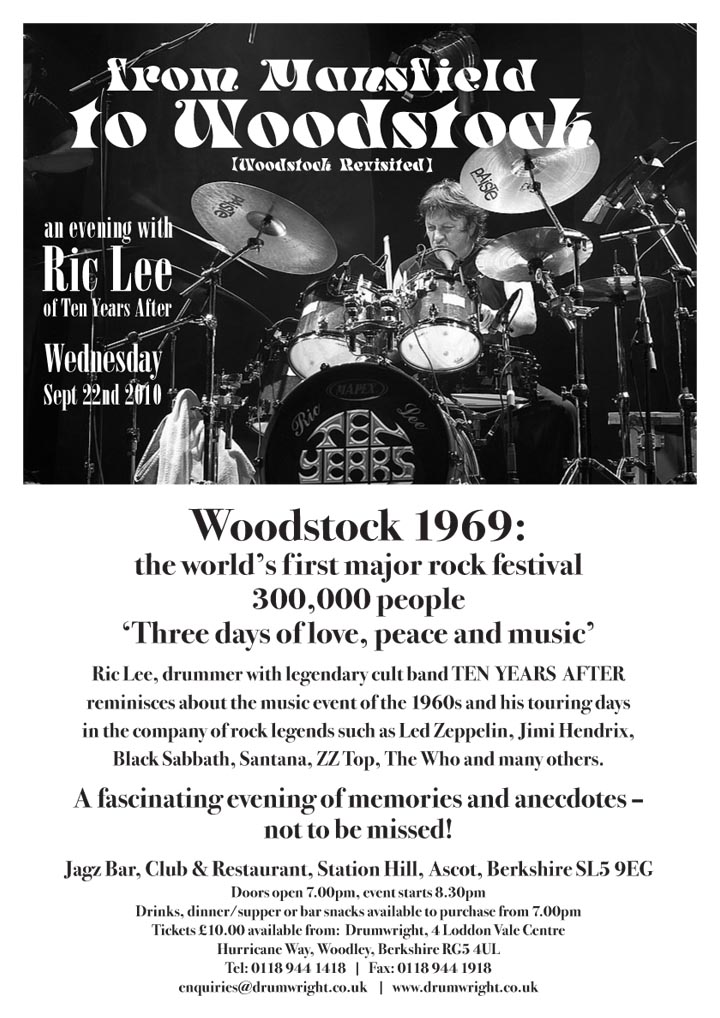 The proceeds go to a Drumwright charity for the education of children in India
Capacity is limited - so please book early!

British Drum Icon - RIC LEE
IT'S not a bad career high for a youngster who got into drumming using knitting needles as sticks. Woodstock, mother of all festivals, where Ric Lee and Ten Years After were one of the stand out acts. But don't think the near-mythical gathering in a farmer's field near New York defines the career of Mansfield's most famous musical export, with apologies to Alvin Stardust. Lee, still pounding out Ten Years After classics with the 'Now' version, boasting three quarters of the line up at Woodstock, was one of a raft of drummers who inspired Spinal Tap, and also helped teach a young drummer from Redditch a few things about triplets.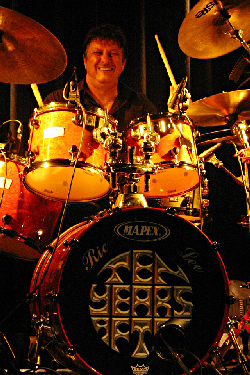 Ric Lee

That his love and enthusiasm for the music is still strong is testament to the enduring appeal of Ten Years After, the jazz-influenced blues rockers. He plainly still gets a buzz out of playing the music. It's still a challenge, especially with new tracks being written and the arrival of Joe Gooch as front man to replace Alvin Lee (no relation). It's about 50 years since the young wannabe drummer saved up his wages from a job delivering meat for the local butcher to buy a snare drum and stand that he had "idolised" for months – and that was it for a while. A young Lee, snare drum and sticks.

"My oldest brother, Peter, had a wind up gramophone and all these 78s, like "12th Street Rag", Guy Mitchell's "Singing The Blues," recalls Lee. "We wore those records out. I used to tap along to them with knitting needles. We also used to listen to Family Favourites and the Billy Cotton Band Show on the radio at Sunday lunchtimes. "Mum and dad said they couldn't afford a drum kit so I got a job as a delivery boy for the local butcher." With the 10 shillings (50p) a week he earned going into a fund for the much-prized snare – "I can't remember the make now, but I've got a feeling it was an Olympic or Beverley with vellum skins" – Lee would tap along to the music on the radio or the discs.

Seeking lessons from a local drum teacher, the eager Lee was told "go and do piano for six months". "It was actually brilliant advice," he remembers today. "He also took me to several sessions and I learned to read music. It was good discipline. I had to learn to read music quickly because I had to turn the pages for him." Cobbling together a 24inch gong drum for a bass, with an old hand painted Indian tom tom and Charleston cymbals, Lee soon immersed himself in the Mansfield music scene, often covering Cliff Richard and The Shadows, Elvis and other top bands of the day. Inspired by The Hollies' Bobby Elliott, Lee sought further lessons and met up with another local drummer called David Quickmire, at that point occupying the drum stool in an up-and-coming band called The Jaybirds, then a three-piece with virtuoso guitarist Alvin Lee and bass player Leo Lyons, whose frenetic style masked a subtle touch.

Quickmire gave Lee an education in drumming and drummers, from Joe Morello, Bill Eyden, Shelley Manne, Buddy Rich and Art Blakey. "I also picked up on Gene Krupa," recalls Lee. "Dave didn't want the gig with The Jaybirds anymore. He wanted to get married and settle down. Unbeknown to me he had taught me the techniques that would get me through the audition."

But after months of making a "phenomenal" amount of cash (for that time) through gigs – "I had been getting £15 a week with my first band The Mansfields.. At my day job with the Inland Revenue (I only worked there for a year!) I was only getting £7 10 shillings. When I joined The Jaybirds I asked for £15 a week and they said "yes". I didn't realise they weren't making as much money as The Mansfields. "A few months later Leo came up to me and asked me to go for a split of the cash, not £15. He said that "when we make it, not if" I would still be on £15 while they were coining it in. I decided to take the split."

Soon things were looking up for the band, but it was still a topsy-turvy road. Winning a part in the London show "Saturday Night, Sunday Morning", saw them increase their earnings to £40 a week each and live like lords in swanky hotels. But then the show ended after just a six-week run and for Lee, it led to a hectic session schedule, taking over drumming duties from Clem Cattini at Southern Music, music publishers and others. A television appearance to bolster sales of tickets for the show led to them being approached by the agent for the Ivy League and things soon picked up for the band, now augmented by Chick Churchill on keyboards. Then fate played its hand and Leo managed to get the band, now called The Blues Yard, a slot at the legendary Marquee Club. "Blues was just happening. We had an interval slot on a Sunday supporting the Bonzo Dog Doo-Dah Band and we got standing ovations. "I felt the bass drum should work with the bass player and left hand with Alvin's licks. We played at Middle Earth in Convent Garden and I was wrapping up my gear when two Brummies approached. One of them asked me what the patterns were that I was doing with my left hand, so I showed him. The two Brummies were John Bonham and Robert Plant. Bonham converted my left hand patterns to the bass drum, the famous Bonham triplet, although I think I had picked it up from Art Blakey or Max Roach."

Ginger Baker also showed Lee a few tricks after a performance with the Graham Bond Organisation. "He asked me if I had a pen, ripped up a fag packet and wrote down what he had been playing." Woodstock came about for Ten Years After through London Records' promotion of their albums in America. "We were starting to record tracks for what would become Stonedhenge and we got a telegram that we could play Bill Graham's Fillmore West if we were ever in America."

They duly did tour America, meeting up with The Grateful Dead in Phoenix, jamming with Jimi Hendrix and having blues royalty like BB King come and see them in New York. The three-day musical extravaganza in a farmer's field near New York has acquired near mythical status and Ten Years After was one of the acts of Woodstock. Their energy and musical prowess won through despite technical troubles and rain that affected the festival. But Lee, whose powerhouse drumming propelled that performance, remembers Woodstock as a stressful few hours, with the band hungry and bewildered by the sheer scale of events. "Woodstock was fabulous," he recalls. "It was different to anything that came before, or after. It was initially going to be a 50,000 people festival and we weren't going to do it because we weren't getting paid enough. "At that stage there were only about nine or ten acts. I don't think The Who, Hendrix, Jefferson Airplane had agreed and the bill wasn't that fantastic. It was a difficult decision." Joni Mitchell, that siren whose music encapsulated the Woodstock era, was among the acts which declined to perform at the festival, along with Free, The Moody Blues, Led Zeppelin, Jethro Tull, the Jeff Beck Group and Frank Zappa.

Ten Years After, who had only just begun to get a reputation in America, did manage to slot the gig in during a hectic couple of days stateside, in front of an estimated half a million people. Lee remembers: "I think the figure has been inflated. I guess there were about 300,000 there, but it was still unlike anything we'd seen. People just dumped their cars and walked. You couldn't get within six miles of the place. "We had flown in from St Louis that morning and then driven for two hours. There were helicopters for the acts and we went up this hill and were standing there waiting for our helicopter when these four geezers came up and got on in front of us. It was Crosby, Stills, Nash and Young. "We hadn't had anything to eat or drink. We were told not to eat anything that wasn't cooked or drink anything that wasn't sealed because of food poisoning and hepatitis. "When I look at the film now I realise how dodgy the sound must have been. After a storm passed through it became very cold. I had only got a tank top and jeans on and there are pictures of my first wife sewing different materials on to the tank top to keep me warm." The band went on at 10pm on the last day. The storm had delayed proceedings and the atmospherics were terrible. "We started Good Morning Little Schoolgirl four times. It was a dreadful start in front of 500,000 people. However, we finished the set and managed to find a state trooper on a horse, and a car complete with driver to take us out of the site. We got back to base camp at about 1am, asked for something to eat but the restaurant was closed. Luckily, there was a diner nearby and I think we ate everything they had."

Getting back to New York later than expected, the group found their rooms had been let. They found alternative places to sleep before their New York gig and set off for Baltimore the next day. A truly whirlwind tour, with emotional highs and lows. "If we hadn't have done Woodstock, we wouldn't have had a career like we have," admits Lee. "But in a sense it was just another gig. The enormity of it was that it was the first and last of its kind." Ten Years After played the Isle of Wight Festival in 1970 in front of 600,000, although: "It didn't have the atmosphere of Woodstock."

At the height of their career Ten Years After released 11 studio and live albums, including the critically-acclaimed Cricklewood Green containing the UK Top Five single "Love Like A Man". But the cracks were beginning to show. Alvin Lee and Leo Lyons weren't seeing eye to eye and the drummer was often the middle man. "I was like the bloke in Spinal Tap, which I'm sure was based on me. I was the buffer between the two. That's what I ended up being, on stage and off." During the recording of A Space In Time, Lee had been ill and the band recorded what was to become one of their biggest tracks without him. He returned to the studio and the band asked him to dub the drums on to the track. In those days there were no click tracks, consequently the timing shifted throughout the track, but Lee enjoyed the challenge and believes it adds to the track's feel. "I'd Love To Change The World" became TYA's biggest hit in the USA.

The wheels could have come off the Ten Years After bus when Alvin Lee finally split for a solo career. By this time Ric had got involved in music publishing and then joined Stan Webb's Chicken Shack before a brief reformation of Ten Years After for the Marquee's 25th anniversary. Lee, who managed the band for an additional couple of European dates, said: "We also did Reading as "special guests", which was nice. We went our separate ways again until 1988 when I got a phone call from Alvin again seeing if we could do some European festivals. It was good to get back together again." A new album, "About Time", recorded in Memphis, Tennessee was released in 1989, but Alvin Lee left the band to go solo in 1991. Another reformation of TYA took place in 1995 and the band toured South and North America. The reformation lasted until 1999 when a row erupted between Alvin Lee and Leo. Lee then went across Europe with Kim Simmonds' Savoy Brown and during the tour realised "there was a hell of a lot of demand for Ten Years After". Enter Ten Years After Now, rebranded but still pounding out the classics and newer material. He added: "We found two guitar players of our age and then Joe Gooch, who was a lot younger. We knew instantly that Joe was the right man for the band. In the first year with him we did more rehearsals than we'd ever done before. We also recorded a new album, "Now", which sold phenomenally well." That album was followed by a "live" double CD "Roadworks" in 2005 and a DVD and new studio album will be released in early 2008. And as for the drumming? "You get an inbuilt sense of time. You have got to develop that internal crotchet. Leo doesn't play bass like many others who anchor the time. Guitarists tend to pull. It's a great challenge.

"I think it is most important to play what the music requires. There are times when Joe is soloing and I stay off the double kick pedals, others when I really go for it. You've got to listen to and feel what's required for the music that's going on around you. "When Chick is soloing, for instance, I try to emphasise and be sympathetic to what he is playing. There's lot of stuff that I can play but doesn't really need to be in Ten Years After. It's about exercising taste in what you choose to play, thinking about the audience, and working closely with your fellow musicians."

Interview by Mark Forster
28 February 2008
Ric Lee, Chick Churchill and Joe Gooch at "ROCK OF AGES"
in Reading, UK
The line-up at the Rock of Ages Charity will be Chick Churchill on keyboards, Joe Gooch on guitar & vocals and Ric Lee on drums (of course) of Ten Years After and a friend of the band, Mark Pullen on Bass. Unfortunately, due a prior engagement Leo Lyons, original bass player of Ten Years After will not be able to perform at the event.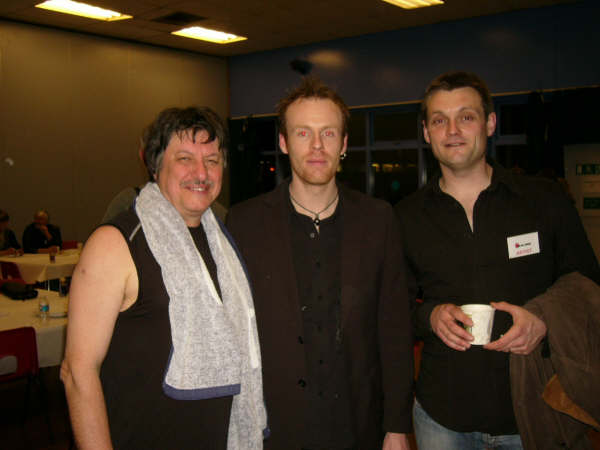 Ric Lee, Joe Gooch, Mark Pullen and Chick Churchill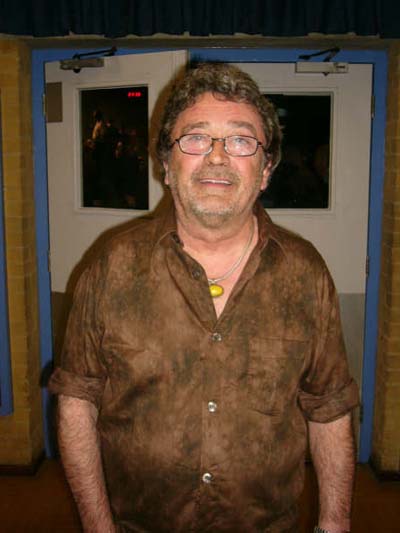 From Lionel Webb:
Brigitte,Dave Hi......... Trust you are both well, I went to the Rock of Ages gig last Thursday, a concert held to help fund Music for All, a charity to encourage people to participate in music. The venue, a sports hall in Reading, was pretty much full with a mixed of ages from children to the over 60'S I will send on a programe listing the musicians performing as I know this is of interest. I plus son Duncan were there to hear Ric, Chic & Joe. They kicked off with King of the Blues, after an on stage interview with Ric, the event was sponsored by a drum company, in which he talked about Woodstock, playing on the same bill, and meeting Buddy Rich as well as what was happening now.the second piece was The Hobbit, I have of course been fortunate to hear this several times but I would say this was the best yet, well there was an audience of drummers and would be drummers, the guys together with standin bassist Mark Pullen,finished with Goin Home of course,the seated crowd loved it and I would say they made a good few new fans on the night. I managed to have a few words with the guys afterwards, Ric of course wanted to know how it sounded, I said great but I just know he could have told me of loads of things that weren't as he would like, he's such a perfectionist. I managed to get a couple of photo's, which I attach (fingers crossed), let me know if they dont appear.

Love and peace to you both.....Lionel
Many thanks to Lionel Webb for the photos and report
PRESS RELEASE 28TH JANUARY 2008
TOP DRUMMERS FOR CHARITY GIG
On 28th February Reading's Rivermead Centre will rock to the beat of some of the UKs greatest drummers, all of whom have given their services absolutely free for charity.
The event is called 'Rock of Ages' and has been organised by DrumWright Managing Director Chris Wright, who is one of the driving forces behind the new charity Music For All. Chris explains:
'Music For All` is a charity which has the simple aim of getting more people –from every age group – to play music. Rock of Ages aims to bring together some of the most successful drummers in the UK for a one-off fund raising event to raise funds to help today's aspiring musicians to take up an instrument."
The careers of some of these drummers span more than six decades. They include:
BRIAN BENNETT – legendary drummer with The Shadows for nearly 50 years – and one of Britain's top conductors, arrangers and composers, playing with fellow Shadow Mark Griffith (bass).
CLEM CATTINI – drummer with 'Johnny Kidd and the Pirates' and 'The Tornados', the first British band to top the charts in the UK and USA simultaneously in 1962. He was the drummer on no less than 47 chart topping singles (including Love Affair's 'Everlasting Love', Tom Jones 'The Green Green Grass Of Home', Jeff Becks 'Hi Ho Silver Lining' and many of the Kinks hits). He is widely regarded as one of Britain's finest session drummers. He will be accompanied by 'The Rock Masters', featuring one-time member of 'The Springfields' Mike Hurst, who went on to play in 'The Methods' with Jimmy Paige, Albert Lee and Tony Ashton before becoming one of the UK's top record producers (over 50 chart singles and 25 Platinum albums, including Manfred Mann, Cat Stevens, PP Arnold, The Move and Showaddywaddy); Colin Farley (bass), best known as a member of Cutting Crew and co-writer of their 70's hit 'I Died In Your Arms Tonight'; and one of Britain's top guitarists, Ray Fenwick (Spencer Davis, Ian Gillan).
BOB HENRIT – One of the UK's most respected rock drummers (Adam Faith & The Roulettes, Argent, The Kinks) –and – he will be bringing ex- Argent guitarist John Verity and ex-Matthew Southern Comfort and Shadows bass player Mark Griffith with him. Their performance will include Argent's classic 70's hit 'Hold Your Head Up'.
RIC LEE – drummer with Woodstock veterans Ten Years After - will be appearing at the concert.
The line-up at the Rock of Ages Charity will be Chick Churchill on keyboards, Joe Gooch on guitar & vocals and Ric Lee on drums (of course) of Ten Years After and a friend of the band, Mark Pullen on Bass. Unfortunately, due a prior engagement Leo Lyons, original bass player of Ten Years After will not be able to perform at the event.
BOBBY ORR – In his 80th year, Bobby's playing credits include Shirley Bassey, Pat Boone, Bing Crosby, Sammy Davis, Billy Eckstein, Benny Goodman, Ted heath & Tommy Steele. One of the finest jazz and session drummers the UK has ever produced, and Bobby will be performing with a big band of 15 – 19 year olds from the Berkshire Maestros.
NIGEL SHIPWAY – one of the UK's top percussion players – a man with a CV that reads like a Who's Who of the UK music scene.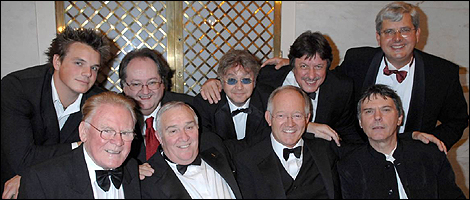 Back Row: (left to right) Ian Wright (son of Chris Wright and Operations Manager at DrumWright)' Nigel Shipway, Ian Paice, Ric Lee, Chris Wright. Front row: Bobby Orr, Clem Cattini, Brian Bennett, Bob Henrit at the MIA's annual awards ceremony at The Savoy in October, at which Chris Wright made a presentation to Brian Bennett in recognition of his outstanding services to music over fifty years. (Photo Credit to OK Magazine).
Ten Questions With Ric Lee
Question 1.
Would you tell us who some of your major musical influences were, and then what makes someone like yourself want to beat the hell out of a perfectly good drum kit for a living?
Answer 1.
What really got me started in music were mainly the jazz players, such as:
1. Buddy Rich (of course) 2. Art Blakey, 3. Shelly Manne 4. Joe Morallo
In Rock it was: 1. Mitch Mitchell, 2. Clive Bunker, and 3. Ginger Baker.
More recently: 1. Chad Smith, 2. Dennis Chamber, 3. Vinnie Colaiuta, 4. Rene Creemers, 5. Greg Bissonnette, 6. Simon Phillips and many more.
My eldest (older) brother Peter, wanted to be a drummer and he tapped all around the house. Apparently, it rubbed off on me because I became obsessed with the instrument.
Question 2.
During the height of Ten Years After success in the late 1960's and early 1970's and during the vast number of tours the band did, which opening bands really gave you guys a good run for your money?
Answer 2.
No opening bands that I can think of, but there were a few headliners that sure did, such as Janis Joplin and Big Brother, The Jimi Hendrix Experience, and Fleetwood Mac, with the original line up of, Peter Green, Mick Fleetwood, John McVie and Jeremy Spencer.
Question 3.
Considering that Ten Years After originated in England, was the band's decisions based on a monarchy system or on a democratic vote?
Answer 3.
In the beginning, Leo managed the band and the material was chosen by Alvin and Leo together. Then when we started recording, Alvin became the "songwriter". Then, Chris Wright took over management of the band but still operated through Leo, as he made suggestions to Leo, who then fed them to us, they got our feedback and then decisions were ultimately made. For the real in depth answers to this question you'll have to wait for my book to come out. The subject matter is just too complicated and diverse to give a short yes or no answer here.
Question 4.
In your honest opinion, did you really think that Ten Years After would achieve the great success that it did?
Answer 4.
Yes, in fact when I first saw Alvin, I knew straight away that he had a phenomenal talent as a guitarist and when he and Leo first asked me to join the band I was determined to hang in there as I really believed one day we would become big, if there was any justice in the world.
We had some tough times and some narrow squeaks but we kept going and finally came through.
Question 5.
I've seen Kim Simmonds perform many times. What was it like to be playing drums for Savoy Brown?
Answer 5.
It was an honour and a joy. We had a pretty hectic schedule on the European tour, but I thoroughly enjoyed it. It was great playing with Kim and Nathaniel Peterson (Nate) who later was with "Twin Dragons". Even thought the sets were sometimes gruelling, one and a half to two hours long at times, which I hadn't done for quite a while.
Question 6.
What is the real story behind the name of the 1970 Ten Years After album called "Cricklewood Green" ?

Answer 6.
Sorry, you'll just have to wait to read the sleeve notes on the new re-mastered album when it comes out later this year or early next.
Question 7.
What is your remembrance of the Woodstock Festival and the late 1960's and early 1970's ?
Answer 7.
"Woodstock was a one-off (one of a kind) phenomenon. It was terrific and I'll always remember it. To have 300,00 (500,000) plus people in one place with no violence was incredible. The camaraderie of all those there was unbelievable. Bear in mind we were there for one day only as we were in the middle of a long tour. In contrast, the Isle Of Wight Festival in 1970 turned rather nasty and the love and peace era was definitely at an end.
One of the things I'm doing at present is a series of lectures titled "Woodstock Revisited"
sub titled "From Mansfield to Woodstock - Ten Years After - A History" and I cover all these subjects. A two hour, one man, audio visual presentation with a bit of drumming thrown in, it's going over a storm here in the UK. I'd like to bring it to the States. Any suggestions?
Question 8.
What is your take (opinion) on the songs played live on the Ten Years After set-list, and also did you want to do more and different tunes and material?
Answer 8.
"I always thought the Ten Years After sets were a little short and would have been happy to play longer. I also thought that in certain venues we could have done an acoustic spot similar to the ones we used to do at the Marquee Club in the early days. We grouped round the mic centre stage. Alvin sat and played an acoustic guitar, Chick played "steam" piano (which is an ordinary non-electric piano), Leo was on an upright string bass and I had just my snare drum and played with brushes. We did two or three tunes, one of which was "Don't Want You Woman", I think. I suggested to Alvin we do that again when we played the Hammersmith Odeon concert in the late 1980's, but we didn't. A short time later, everyone followed Eric Clapton'a lead and did "Unplugged" concerts for VH1…MTV. What can I say?
Question 9.
About your Ten Years After diary (book), when will it be published? And also, what years and topics will it cover?
Answer 9.
I'm working to publish my book. It's more of a story than a diary, covering from the time I started playing with bands, through joining Alvin and Leo, Woodstock, the albums, tours, the business set ups (arrangements) and downs and loads more.
Question 10.
In your opinion Ric, will Ten Years After ever tour or record again with Alvin Lee?
Answer 10.
As I see it at present, no. But as Leo says, "Never say never".
Ric Lee 7 / 15 / 02

Ric Lee 2005

Ten Years After's one and only drummer is not getting older he's getting better all the time.

Taking his old favorite and signature drum solo "HOBBIT" and kicking dynamic new life into the old crowd pleasing favorite for Ten Years After then and Ten Years After "NOW"

He continues to strive for perfection. Hear it, and see Ric in action performing it live and meet him in person on tour "NOW"
TEN YEARS AFTER: THIRTY-TWO YEARS LATER
By GERRY GALIPAULT
(Feb. 3, 2002)

It dawned on Ric Lee one day while shopping in a record store in Germany two years ago: Ten Years After is sorely misrepresented on compact disc.
The drummer for the British blues-rock quartet immediately sought to right a wrong.
"I got in touch with EMI, because I realized there were only like two of our records out (on CD)," Lee said recently. "The rest of it had been sort of deleted. I went to EMI and said, 'What's going on? This is our history that's going down the tubes here. Can't we put some stuff together?'
"There were licensing things all over the place to smaller labels and there was little quality control over it. Nobody really cared about it. And there were different pricing levels. It was harming the catalog, really."
EMI agreed and decided to revamp Ten Years After's classic albums from the early 1970s. First up in this year's reissue campaign, however, is a previously unavailable album, "Live at the Fillmore East" (Chrysalis/EMD), initially released last summer in Britain and issued stateside on Jan. 8.
Recorded less than a year after the group's seminal performance at Woodstock in 1969 and just before the release of its heralded "Cricklewood Green" LP, "Live at the Fillmore East" captures Lee, guitarist-vocalist Alvin Lee (no relation), bassist Leo Lyons and keyboardist Chick Churchill at the top of their game. The 12-track, two-CD set, replete with psychedelic jams and nostalgic nods to such rock standards as "Good Morning Little Schoolgirl" and "Roll Over Beethoven," was recorded by engineer Eddie Kramer, best known for his work with Jimi Hendrix and for building Hendrix's Electric Ladyland studio in New York.
"If you listen to the Fillmore album and think of it in the context of (Alvin) and me playing off each other," Lee said, "it's more apparent on that album than anywhere else. Which is why I like the album so much. We really did kind of spark each other.
"And the sound quality is fabulous. I'm knocked out with it. Eddie said at the time that it was the best drum sound I ever had. For Eddie to get it under the conditions he was in - it was pretty hairy - makes it even more amazing.
"I was talking to him about it. He said he got all the gear covered up with tarp and sheets because as soon as the band started playing, dust came piling out of the ceiling. He was right under the stage. He didn't want to risk anything getting into the phasers or whatever. He was working under a sheet with a lamp."
Lee has fond memories of Bill Graham's cozy 3,564-seat theater at Second Avenue and Sixth Street in New York City.
"Alvin says he remembered the jamming, which I do, too," Lee said. "But unfortunately when you got the chance to play, you were either too stoned or too drunk, so you wandered off to the hotel. He remembers jamming with Janis Joplin, and Bill Graham had set it up for us to jam. Loads of people showed up. Janis always had a bottle of Southern Comfort with her, and she was swigging that. She gave one to Alvin, which he thought was a sweet wine. He drank it, and he was never that big of a drinker, but he collapsed basically. The next thing, he woke up at about 6 or 7 in the morning, and the whole theater was deserted and he had to walk back to the hotel on his own."
During that three-day run at the Fillmore in February 1970, Ten Years After headlined with John Hammond, Zephyr (fronted by Tommy Bolin) and Doug Kershaw. Few bands in those days, though, dared to share a stage with Ten Years After, known for working its audiences into a frenzy.
"We used to go on with the idea that nobody could follow us," Lee said. "That's how we basically built up our whole thing. Blood, Sweat & Tears had us taken off a tour around about the same time because they couldn't follow us; we had done like three dates of what was going to be a 15-date tour with them and they said 'We want this band off the tour.' The same with Country Joe and The Fish. We played the Fillmore with them, and they said they would never follow us again. We used to drain the audience.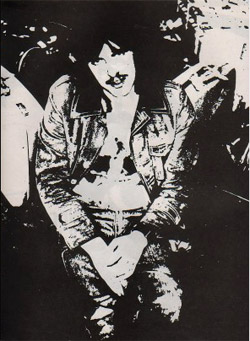 As you can hear on the album, those were wild shows."
Back then, endless touring and burgeoning FM radio were the only avenues for a band like Ten Years After. The group spent much of the early 1970s on the road, racking up 28 tours of America alone.
Touring was a necessary evil, Lee says, but it may have been the band's undoing.
"In a lot of ways, I think that's what caused a lot of the cracks," he said. "When you're in that mode, traveling every day, it can make you go cuckoo. Initially, we were traveling by car in America; you'd do an East Coast tour and then a Midwest section and then the West Coast. Then you'd do a Texas and Southern section. In the early days, we went into markets to try to break us out, like New York and Boston. Those we would do by car or station wagon; we used to fly the gear in. Then we got to flying later.
"I used to enjoy the early days, that Fillmore period. For instance, we used to do the Boston Tea Party, which we would do for three nights. You got time to know people and got to the know the towns. I used to love to play golf, otherwise you'd be hanging around bored stiff or getting stoned. I liked to get out and do something.
"But that's the way you built a band in those days. We didn't tend to make singles. One of the conditions at the beginning of the deal with Decca (in the U.K.) was that we wouldn't do a single first and then follow it with an album, which was the normal modus operandi. We insisted that it be an album deal, otherwise we were going to look elsewhere. We didn't want to be one-hit wonders, a flash in the pan."
Their albums sold well, fueled by such FM hits as "Love Like a Man," "Baby Won't You Let Me Rock 'N Roll You" and "Choo Choo Mama." Their lone U.S. Top 40 hit, "I'd Love to Change the World," is a mainstay at classic rock radio.
"I was talking with Alvin the other day, and he's quite right," Lee said, "we consider ourselves musicians rather than pop stars. Woodstock was a good and bad thing for us. We got saddled with 'I'm Going Home,' as though that was the only thing we could do. On that Fillmore show, things like 'Spoonful' and 'Help Me Baby,' showed how we used to jump and change the shows a lot in those days. We'd jam a lot. After Woodstock, that tended to go out the window completely and we started doing formulated performances."
Today, Lee and Lyons form two-thirds of the rock trio LLC. Signed to New York-based Blue Storm Music, they're working on a new album. Alvin Lee continues to tour with his Alvin Lee Band, mostly at European festivals. Churchill also has his own band and, like Alvin Lee, lives in Spain.
Lee would love to see a Ten Years After reunion, but he's not banking on it: For whatever reason, Alvin Lee and Lyons aren't on speaking terms.
"I think the rift is too big," he said. "Alvin and Leo have known each other for so long; it's like a marriage that's gone wrong. It doesn't look reconciliable to me. We'll see - never say never."
The sun may have set on Ten Years After, but Lee says it's been a good life.
"I can't complain," he said. "The albums are still out there; the fans are still around. I live in the countryside (of England); I have two wonderful children - a 9-year-old and a 6-year-old. Can't get any better than that."
Released in 2001

Ric Lee re-mastered for quality sound

TEN YEARS AFTER
LIVE AT THE FILLMORE EAST 1970
- Double CD Box Set -


click here to order

Photo by George Pericharos
RIC LEE'S SOLO PROJECTS:
SAVOY BROWN live in Harelbeke, Belgium – Saturday April 15th, 2000
Kim Simmonds (guitars, harmonica, vocals)
Nathaniel Peterson Jr (bass, vocals)
Ric Lee (from Ten Years After – drums)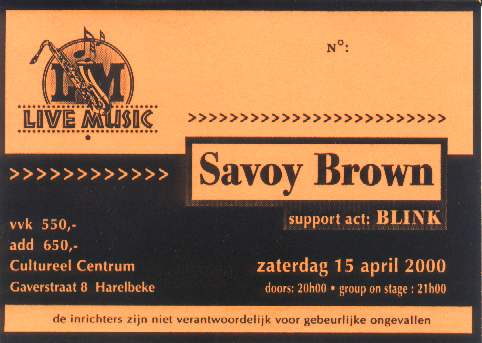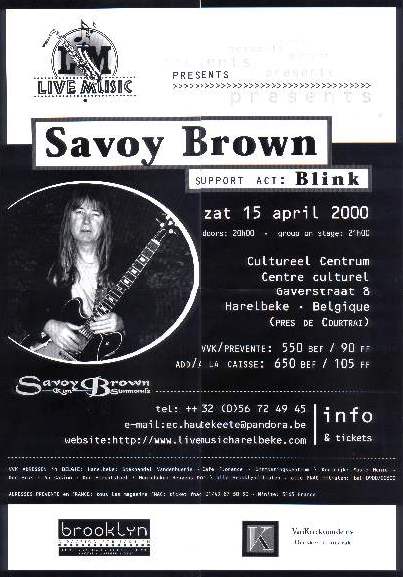 the REVIEW !
Savoy Brown fans in general, and readers of Shades Of Savoy Brown in particular, already know that Kim Simmonds is a First League guitar player and band leader. Those who had the pleasure to meet him, know how nice a human being he also is. Two months ago, when I first learned of Savoy Brown's planned performance in Harelbeke, Belgium, I asked Kim if he would agree to sign my huge collection of Savoy Brown vinyls and CDs. Not only did he agree, but the way he treated us (yours truly and a friend of mine who introduced Savoy Brown's music to me 32 years ago), was beyond all expectations. Not only could we attend the soundcheck, but Kim and the guys later invited us in their private room backstage. No need to go into details here, suffice to say that Kim stopped eating his soup in order to carefully unpack my LPs and sign them one by one, making comments on their excellent condition and giving his artistic opinion on some of them ! He also signed some CDs and singles, and we talked about various things (you know how a fan feels when he meets his idol and gets to talk to him during 15 minutes – it's like being in heaven). I then asked Nathaniel to sign my copy of The Blues Keep Me Holding On, which he did with great kindness. We then left the room, but at this point, Kim asked Nathaniel – "did you sign Raoul's CD ?") . Another proof of Kim's nice attitude towards the fans.
Back in the hall, and the opening act (a Belgian band called Blink) entertained us with 60 minutes of pure 50s rock and roll (Gene Vincent style).
At approximately 10.30 pm, Savoy Brown took the stage, generating a warm applause when the promoter introduced them. They started with TOO MUCH OF A GOOD THING (from Bring It Home) with Nathaniel on lead vocals. Next was A HARD WAY TO GO (from Raw Sienna) with lead vocals by Kim – unusual as songs from the Chris Youlden area fits Nathaniel's natural voice better. Then came a long instrumental intro to a slow blues number, that I recognized as being LITTLE RED ROOSTER (from The Blues Keep Me Hanging On) as soon as Nathaniel began to sing. Is it still necessary to say how good a blues singer Nathaniel is ? Back to Kim on lead vocals, with FIFTEEN MILES TO GO (from Live And Kickin') with an excellent crowd reaction. Nathaniel gets back to his best "Chris Youlden" voice next (and that is a compliment), with a splendid version of I'M TIRED (from A Step Further). Time for Kim to switch guitars now, and announcing a slide instrumental, which happened to be BLIND ALLEY (from his solo CD Solitaire). A friend of mine begged me before the show, to ask Kim to play MR BROWN'S BOOGIE (from Bring It Home), which is his favorite number from recent years. I didn't have to, as this was the song they played next (Nathaniel on lead vocals). The rule of alternating rockers and slow numbers was again respected, as they next stepped into STAY WHILE THE NIGHT IS YOUNG (from Raw Sienna). Another excellent Nathaniel vocal performance. MISSISSIPPI STEAMBOAT (from The Blues Keep Me Holding On) came next, with another fine vocal by Kim. We then all stepped aboard the TRAIN TO NOWHERE (from Blue Matter), another Chris Youlden era song sung by Nathaniel. Then came a very long medley; first with Nathaniel on lead vocals for WANG DANG DOODLE (from Street Corner Talking). Well in fact one can nearly qualify this as double lead vocals, as Kim added a strong second vocal harmony on this one. The song was elongated to include a long drum solo by Ric Lee, which was appreciated by the audience. There was also a jazzy mood during some of the instrumental parts of this performance, which reminded me of the jazzy moments of the Lookin' In album. Next in the medley came SAVOY BROWN BOOGIE (from A Step Further). Not a very long version unusually, and soon the tempo was slowed down for CAN'T GET NEXT TO YOU (from Street Corner Talkin') and then up again for another slice of SAVOY BROWN BOOGIE. Kim then announced that it was over, and said thank you and goodbye. But we all knew they would come back, and less than one minute later they were back onstage for the encore. The intro to TELL MAMA caused a vivid audience reaction, and Kim sang the lead vocals for this one, Nathaniel adding the harmony. A long version of LITTLE WHEEL was the last song they played, and they then left the stage for good.
An excellent performance is the exact description for the evening, but I can't help but feel that the show was shorter than usual. Well 115 minutes is by no means short, but the last time I saw the band (in 1996) , they played for 160 minutes. But there was no opening act in 1996, and with the band taking the stage at 10. 30 pm, one can easily understand why the concert didn't last as long as usual.
Unusual also is the fact they didn't talk much between the songs; they only introduced a couple of songs and the rest was done without the in-between-songs chat.
As to Ric Lee, well the least I can say is that he fits into the band's sound perfectly ! I just hope that he stays with Savoy Brown after the current European tour. But considering that the original Ten Years After have now reunited and regularly performs, it could be wishful thinking.
Another unusual thing ? Well, they didn't play Louisiana Blues ! And that is MOST unusual, as Kim said many times that it is one of his all time favorite songs that he likes to hear and to play. Maybe they planned to play it as the second encore, but as they didn't come back on stage for that, obviously they couldn't play it....
Thanks again to Kim, Nathaniel and Ric for an excellent evening of excellent music.
RIC LEE'S BREAKERS
---

Ric was (still is) the fine drummer in mythical band Ten Years After. As the band remains inactive during long periods of time (as Alvin Lee also develops his own solo career), Ric keeps himself busy with his own band, Ric Lee's Breakers.
In February 1995, Paul Samson (from heavy metal band Samson) joins them:
Paul Samson (guitar, vocals)

Ian Ellis (bass)

Ric Lee (drums)
They toured promoting the album Milan (recorded by Ric and Ian, with Tony Crooks on vocals and featuring special appearances by Chick Churchill and Leo Lyons, both from Ten Years After). Their tours usually saw great guests jamming with them, such as Chris Farlowe or Dick Heckstall-Smith.

Around August 1996, Paul Samson leaves the band, as the band split because Ten Years After started playing gigs again.


Ian Ellis Bass
Bass guitar

•

Harmonicas

•

BG vocals

•
Ian Ellis is a superb Scottish bassist and vocalist with an enviable pedigree. During his career he has played with the Alex Harvey Band, Savoy Brown, Steve Hackett, Pete Townsend and the late Paul Samson, to name but a few. His solid, driving bass-lines perfectly compliment Ken Ward's thundering drums. Born in Scotland, [D.O.B. classified] Ian now resides in South London.

Ian's Bio-Disco

Bands
Clouds, Alex Harvey, Savoy Brown Blues Band, Southside, Steve Hackett, Ric Lee's Breakers, Mick Clarke Band, Cream'd, Tyla Gang II
RIC LEE with Stan Webb's Chicken Shack (1979-1981)

In May 1980 Stan put together yet another version of Chicken Shack. The only survivor from Banbury was Paul Butler, joining them on bass was Alan Scott and ex- TYA drummer Ric Lee. Alan Scott was soon to be replaced by Andy Pyle who was ex-Juicy Lucy, Savoy Brown, Blodwyn Pig, Colosseum II, Kinks, Keef Hartley Band amongst others!

The Roadies Concerto line up

Stan and this line-up, augmented by Tony Ashton back on keyboards recorded the live Roadies Concerto album (released April 1981)which featured a more bluesy sound.
ROADIE'S CONCERTO

1.
2.
3.
4.
5.
6.
7.
8.
9.

Tell Me
Why I Sing The Blues
Back Door Man
Black Night
So Far Back
End (Prisoner)
Poor Boy
Shake Your Moneymaker
Hideaway




Tony Ashton
Paul Butler
Ric Lee
Allan Scott
Stan Webb

Producer:

Keyboards
Guitar, Vocals
Drums
Bass
Vocals, Guitar

Bazza, Stan Webb
The Incredible Kidda Band - March Music
- Biography 1979 by Ric Lee -
Note: Ric Lee became manager of the Kidda Band for a short time in the 1980s.

The Kidda Band consists of Alan Hammonds (Lead vocal and songwriter), his brother Kidder who lends his nickname to the band (Second vocals/keyboards), John Rollason (guitar/vocals) and his brother Les (bass), Dave 'Legs'Lister (guitar/vocals) and Paul Gardner (drums). All of the band lives in Nuneaton except Paul who hails from Rugby.
Alan (23) was originally a dustman and has the dubious honour of being one time boyfriend of the local police chief. At a recent gig he started a riot and offended women's' libbers in the audience by stating his preference for 'feminine' women. The group's songwriter, he 'starts with a title' usually to do with a personal experience and 'the rest of the song follows from there'. His musical influences are The Rolling Stones and Marc Bolan.
Kidder (21) must have been the youngest coal miner in the country, but now prefers to try his hand at gold mining rather than working down a pit. He is most famous for having won the Cadburys Chocolate Competition for painting at school for these consecutive years! His musical influences are ELO and Eric Clapton.
Les (21) was on the dole for so long at one period that he started to receive invites to the office parties. This terminated quickly when he started accepting the invites!! His musical influences are Slade and the Alex Harvey Band.
Dave (23) was the smallest juggernaut driver in England and spent the early part of his life as a pendant on his mother's charm bracelet. Influences are Brian Robertson of Thin Lizzy and Diana Ross.
Paul (23) was a local council worker for the Health Department and spent many years 'up to his neck in it…' in the sewers of Rugby. His influences are Cozy Powell and Status Quo.
John (23), the Kidda Bands' answer to Robert Redford, is probably the most volatile and dynamic guitarist to arrive on the music scene since 'supersonic' Syd Little.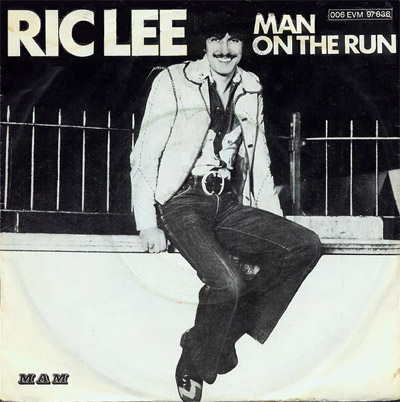 Rare 45-Record
Side A: Man On The Run (Jones) - Side B: Free Fall (Jones)
produced by Ric Lee and John Jones
1976 M.A.M Records Ltd.
Eddie Hardin's

Wizard's Convention 1976

Extended CD Issue 1994

Drums: RIC LEE
on the song "Until Tomorrow"

Electric Guitar: Ray Fenwick

Bass Guitar: Mo Foster
RIC LEE PROFILE
Beat Instrumental December 1971
Although we have a Player of the Month column for December, we felt that Ten Years After drummer, Ric Lee, deserved special mention, so we decided to Profile him.
Lee is the perpetual student of drumming and is examining in great detail all the different aspects and rhythms of his counterparts around the world. He is currently immersed in studies of the Afro-Cuban rhythms and feels that Santana are falling down because of their lack of exploration and that they have been overtaken by Osibisa.
Lee has also been developing his own techniques of Afro-Cuban drumming and feels that any white man could play this type of music. "If you saturated yourself enough in the environment, you'd have to adapt to its influences eventually," he said.
Lee was brought up on the strains of the big bands and Gene Krupa, Buddy Rich, Louis Bellson and Duke Ellington. He considers that Krupa, is probably his greatest influence, although his admiration for Rich runs very high. "Krupa raised the complete status of the drummer by developing the solo routine and bringing the whole concept of the drummer to the fore. Before Krupa the drummer just sat there and tapped out the rhythms." Lee says, it's the job of the drummer to kick the band along, and to have the necessary dynamics. He must also, however, be able to play all different styles of music at a moment's notice. He names Buddy Rich as one of the finest exponents of dynamics, and drumming. Rich, he says, would be able to play in a 20-piece orchestra just as easily as he could in a four piece group.

One of Lee's greatest ambitions is to play in a big band, and to help him along in getting the feel of a larger band he is trying to persuade the other members of Ten Years After to aid him during his drum solos by doubling up on a variety of percussive instruments.

Lee first became aware of modern blues, as interpreted by Ten Years After, with Big Bill Broonzy, and other 12-bar blues artists. However, he got bored with them quite quickly as they lacked variation. He now says he prefers to play his own blues.

Blues are important to Lee. Depending on his mood he says he can affect all the other members of the band, and their playing. "If you're feeling bad you can sometimes really get good blues," he said. "I suppose it's the same with any other drummer, though," he added. He says he is now developing a new drum solo as he feels the present one, which has caused audiences on both sides of the Atlantic to stand on their feet, and shriek with excitement, has reached its limit.


"I first of all work to a framework of key ideas, and start with the basic rhythms. When something acceptable gets going I build it up with some jazz, and blues influences. Then I put a bridge in between the two for contrast. About this time the technique starts creeping in.

I always do the same pattern solo but it never is exactly the same solo, if you know what I mean. I hope the new one is as good as the other one turned out to be," he said.

Lee is, at present, using a Gretsch drum kit comprising a 24´´ x 14´´ bass, 14´´ x 6 ½ wood shell concert-type snare (he said he prefers the wood shell from the more popular rock metal snare), a 12´´ x 9´´ tom-tom, two 16´´ x 16´´ floor tom-toms, a 19´´ heavy ride Avedis Zildjian cymbal, two 16´´ thick crash cymbals and two 15´´ hi-hats.

He has, however, two other drum kits. He uses a Ludwig for rehearsals and another Gretsch in the studios. Every one of his drums is miked-up through the PA, because he says he can get a really balanced sound that way.

---

Note:

The first drum solo that Ric mentioned was "Shantung Cabbage".

The new drum solo that Ric was working on is called "Hobbit"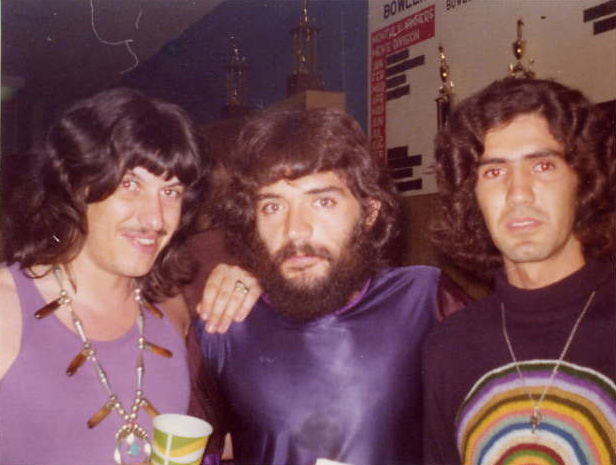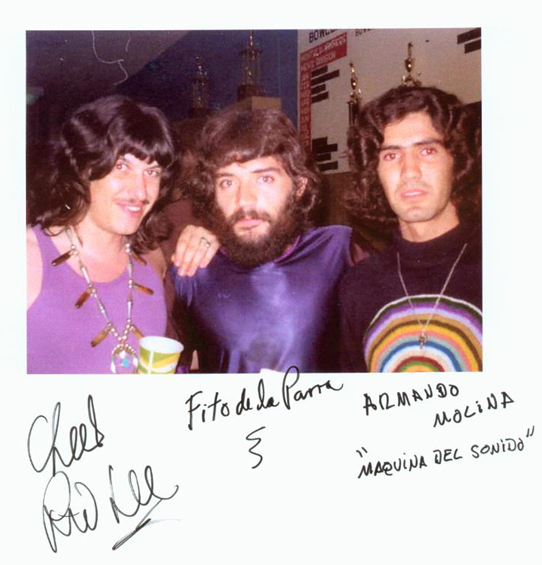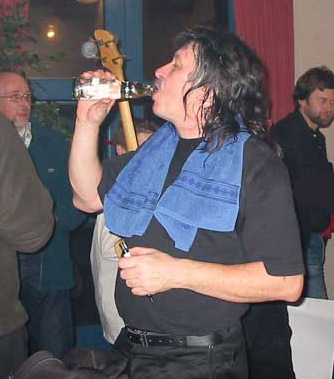 CHEERS EVERYBODY!