TEN YEARS AFTER
DVD
"LIVE AT FIESTA CITY"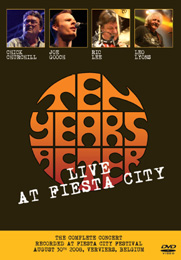 Now Available
www.tenyearsafternow.com/tya/shop.htm
£15 inc p&p
We finally made it! Having promised a DVD for nearly five years, we've finally done it. What you see and hear is exactly as recorded on the night, no overdubs or technical doctoring, just TYA's music played from the heart.
It was our honour and pleasure to be invited by Francis Geron, manager of the Spirit of 66 Club in Verviers to play at the Fiesta City Festival on 30th August 2008. What a great gig it turned out to be with a large, enthusiastic audience. Thanks for inviting us, Francis.
Included on the DVD as added bonuses are interviews with each band member, biographies plus a photo montage synchronized to "I Think It's Gonna Rain All Night", a track from our latest studio album Evolution.
We hope you enjoy Ten Years After Live at Fiesta City as much as we enjoyed making it.
Ric Lee July 2009