LINER NOTES for "ONE NIGHT JAMMED"
by Leo Lyons

Ten Years After Line-Up is Now (since September 2002):
Joe Gooch, guitars, vocals and the three original band members:
Chick Churchill, Keyboards – Leo Lyons, Bass – Ric Lee Drums.
The recording was taken from the front of house mix at The Heimathaus Twist, Germany on the 17th February 2003 except for "Big Black 45" which was recorded in Naima Forli, Italy on the 7th March 2003.
"Ten Years After thrives on the feedback and energy of an audience. The musical challenge is trying for that elusive lick hoping to pull something new out of the air. There are moments throughout this, straight to disc, recording where I felt it happened. "Fixing it in the mix´ was never an option and what you hear is exactly as it was on the night. There are some scary moments but in music as in life nothing's ever learned by playing it too safe. We hope you enjoy this "One Night Jammed."
Leo Lyons April 2003
Front of house engineers:
Hans Bäumer (Heimathaus Twist recordings) and Renato Lombardi (Naima Forli)
Post production, mastering – Leo Lyons
---
Review by Dave
Introduction:
I find it more than a little strange to be writing a review on a "Live Ten Years After Concert" that has since been deleted from the Ten Years After catalogue. It served its purpose by offering the fans a first glimpse of what the band was about now, as it introduces Joe Gooch as their new guitarist, front man and songwriter.
The band played twice at BLUES NIGHTS at the "Heimathaus" in Twist, Germany. The first gig being in August of 2002 was only their second gig playing together ever. Our coverage of this event has been well documented in our concert review.
In the spring of 2003 the band returned, this time well prepared to be recorded in order to capture their live performance.
We were the first ones in, hours before the venue doors officially opened to the public. We watched as the recording equipment was being set up, installed and adjusted. We talked with the sound man / recording engineer but didn't have many questions to ask. In fact, we didn't really put a lot of emphasis on the recording aspect of the event, it was just there. Our main interest was with the band members themselves.
Backstage:
Everything was normal, relaxed comfortable. For the veterans of TYA this was nothing new, just another gig. For Joe the situation was a little more pressurized, as so much rested on him to remember everything he was suppose to do, on time and hopefully without any major mistakes. Under pressure I watched as Joe becomes a focused professional musician and secondary entertainer. He handles the stress by getting into his guitar, which acts as a handy and friendly safety valve. If he's nervous he hides it very well, but I also assume he has to be a little anxious about what's coming.
On Stage:
The band always hits the stage on time and ready to rock. I imagine Joe is happy to be getting on with it, as he's now in his element, just him, his guitar and talent.
I also notice that Leo, Ric and Chick are more aware and alert to Joe's actions and playing, with Joe everything is unpredictable, and in constant flux. In short, the veterans have to be ready to jump in at a moments notice and support Joe with whatever is called for, they are his only life line and safety net.
The Performance / Recording:
As I just set up the background of the event for you, it all become a moot point, as the cd starts with three seconds of audience applause, the forth second Joe says Danke Schön and on the fifth second the wailing guitar of the first notes of I Woke Up This Morning come screaming out of the speakers.

1. I Woke Up This Morning, is a great way to kick off this concert and cd. A familiar song, strong vocals and a guitar that is like a shot of adrenaline into a now older band. The members may be clinically older but you'd never know it, not by watching or in this case listening. 4:18
2. Hear Me Calling, is another Ten Years After standard and the band jumps right into it only two seconds after I Woke Up This Morning has ended. Once again Joe's vocals are as strong as his guitar playing, you soon learn that you'd better hang on because this band isn't about to cut you any slack. At 2:25 Chick attacks his keyboard with a flurry of vengeance and grace as only he can do. His statement is, here I am remember the original Ten Year After sound…well that's me friends. The whole song ends on a powerful high note. 5:58
On stage: Ric Lee comes out from behind his drum kit to centre stage to say hello to the audience and thank everyone for coming out. He then introduces a song from their "Undead" album "I May Be Wrong But I Won't Be Wrong Always" an old Count Basie number. The song sounds fresh and vibrant, Joe's guitar work is fluid and strong as his vocals also stay vibrant. At 1:50 into the song, Chick slides prominently into the mix with a solo that swings, followed by Leo Lyons bass solo which the audience not only recognizes but outwardly shows their apperception. At the end of the song Leo, with a little note of surprise announces that, "that was Chick Churchill on keyboards". The visual was Chick was going ballistic all over his keyboard during his solo and throughout the entire song. As I was sitting only a foot and a half away from Chick, at his feet and close to being in a position under his keyboard, I can tell you this was the case indeed. 5:28
3. Bad Blood, although the original version of this song ran 7:09 on the "About Time" album this version clocks in at only 3:51 and to be honest, that's the perfect timing for a live version of this song. It starts off strong, gets right into the groove and flows right into the chorus and rocks right along to the end. Joe again causes the song to thrive and become an urgent appeal to roll on river roll on…while Chick does what he does best, supports the melody with vibrant fills and adds life to the mix, thus keeping everything in perfect balance.
4. Love Like A Man, the famous Leo Lyons riff that came about during a Ten Years After jam session sometime around 1969-1970 and became a world wide hit for the band. Here it is again given the chance to showcase not only the guitar players skill and dexterity but also to provide a vehicle for the rest of the band too. Ironically it runs the same 7:09 that Bad Blood ran on "About Time".
5. Big Black 45, another Leo Lyons composition and runs 3:22 - A nice little rocker, done to perfection and could have been longer but more in this case would only be less. Better to end the set on a high note.
The visual: This is the end of the first set, Leo announces they need to towel off and get ready for the second set, get yourself a drink and relax a little. Funny how we were the first ones there in the afternoon and we got out the back door to go an put some of our things into the car, but now the second set is starting and the crowd is flowing out into the parking lot, just trying to get back inside.
6. Red House, starts as we're outside. The whole song is captured here on this cd and can be found nowhere else. The band is tight, Joe's vocals and guitar are prominent, but then so is everyone else. Chick adds the texture and flavour, Leo adds the bottom and soul, while Ric's drumming provides the urgency to the proceedings. While the song is 10:13 in duration, never is there a weak point to be found. It's the type of song and performance where you could listen to a whole half hour or more of it, when it's performed in this way.
7. I Can't Keep From Crying Sometimes, another Ten Years After standard, which the band jumps right into after Red House, without a break in between. The interaction between Chick and Joe is tremendous, while Leo and Ric provide and control the rhythm section. This sets Joe and Chick up to proceed as they please within the basic structure of the song. This is the freedom that was missing before and has since been found, corrected and projected in the interest of the band as a working whole. This middle section of the song has been replaced by pleasant keyboard and guitar interaction in an artistic and tasteful manner. 11:30
8. I'm Going Home 8:53
No one needs a long discourse on this song, it's the raving Ten Years After theme song and encore super deluxe, performed at supersonic speed. The difference here is that Joe kicks new life into this classic, while sticking to the basic roots of the melody. It becomes variations on a theme. A new passion and energy that the audience can see and appreciate. Not since the Ten Years After performance at Woodstock has the band sounded this good. Having heard close to one hundred different recordings of this one song, I'd say I'm in a better position than most to state that as a point of fact.
9. 50,000 Miles Beneath My Brain 7:00 Once again, and the same as above, the band is "NOW" Joe kicks new life into an old Ten Years After "Classic". Although the lyrics don't stay true to the original, it makes no never-mind as the real message is in the music itself. Joe does this number a real service, as nothing is missing from the original version.
10. Roll Over Beethoven 4:36
The Visual: Joe was exhausted by the time this number came around, his vocals sound a little strained but he still found it in him to pull it all off to perfection. The guitar work never fails, Chick's contribution is right on the money, Leo never misses a beat and as for Ric, I have some special notes on his performance at the end of this review.
In Conclusion:

This is the "Official Ten Years After Bootleg" for the band it more than served its purpose. It's not perfect, and the band wants perfection so this release has become obsolete on that level and has untimely been superseded by "Roadworks".
For me as a real fan, it will always have a place in my heart as it will for Brigitte too. We were there in every aspect of the event, from start to finish and all points in between.
Sometimes I don't like the flaws, or the imperfect sound quality, or the audience talking in the background….but don't try to take this recording away from me….it's perfect on a different level….we were there!!!!
About Ric Lee:

Ric is, and will always be a jazz, big band swing drummer at heart. His precision and soul run in that direction.
On "One Night Jammed" Ric Lee covers all the bases without exception, but more than that he proves to be not only a great jazz influenced drummer, but also one of the best rock and roll drummers, past or present. His drumming on this recording is inspired, driven, and passionate. Like two sleeping giants, Ric Lee and Chick Churchill have come of age together and stand out on this release like the two titans that they are.
Case in point, listen to "Roll Over Beethoven". While Leo is running the bass lines all over the composition, Joe is keeping the rhythm and lead guitar rocking right along, Chick is sweating all over the place, working his ass off, and behind it all, under sideways and down is Ric Lee.

---
Amazon Reviews:

1.

Review from Bulock "Bullock Honey" in Germany
From Amazon.com Reviews August 29, 2005
"This album is a great live CD with the power of a hurricane.
All songs of the legendary TYA set list are here and it is a great joy, to hear this super musicians play again.
Alvin Lee is not there, but the new front man Joe Gooch is the better axe-man, no question!"
2.

Review from Schrempf "Alvin" from Linz/Austria from July 22, 2004
"A phantastic new live album from Ten Years After now, and without Alvin Lee. The new guitar man Joe Gooch (27 year old) is SUUUUUUUPER, absolutely first class, a guitar master, no question. So it's not a shame that the band is working again with a new front man,
it is a big surprise how good and top they start in the 21st Century. Don't forget to listen to the new album "NOW" because this is a five star album, unbelievable / incredible!!
Their live shows in Germany June 2004 was more than amazing, it was world class and sold out!!!
3.

Review from "Clap Your Hands" from August 30, 2005
From MV20 "Cornel" Croatia
…and stamp your feets, here's some splendid music, you can't beat. Ten Years After are back, with a unbelievable Live session, like in a fairytale. Joe Gooch / Leo Lyons / Ric Lee and Chick Churchill – We Love You All!
4.

Review, from Knudhelm in Luxemburg, August 23, 2005
TYA are back without Alvin Lee, but what a performance!
The new front man Joe Gooch plays Alvin Lee on the wall, believe it, because that's the true.
All great songs from the TYA history are there, in a hell of live adrenalin. SUPER!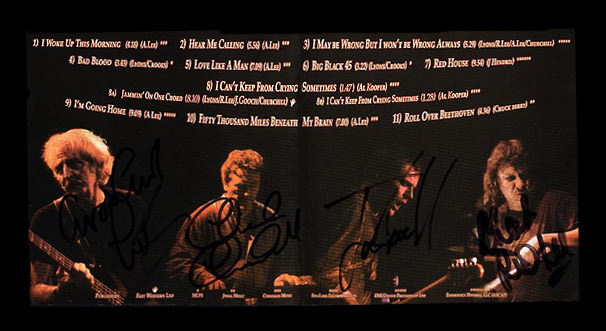 TEN YEARS AFTER - One Night Jammed Gets Jammed! By Martin Popoff
Hard rockin' and bluesy '60s act TEN YEARS AFTER (see www.tenyearsafternow.com) have been reformed and playing to sell-out crowds all over Europe (and Canada!) in support of their studio album Now and their live album - designed to introduce fans to Alvin Lee's replacement 27-year-old Welshman Joe Gooch - One Night Jammed. But that live album is soon to be unavailable, replaced by a new live album in the spring.
"We've got a bit of time off," explains bassist Leo Lyons. "We just got off the road. We had been on the road in Europe and we'd been promoting the new Now CD, which is going very well. And I'm pleased to say, aside from one show in the entire 26 or 28 dates, we sold out. So we're pleased about that. Now, of course, we've got some time off, but I'm a workaholic (laughs), so I like to work at one thing or another. We've been recording a new live CD, so that's got to be ready. It's got to be out in April, but it's gotta be ready in January."
On whether the band plans to record a single or a double (naturally, with these jam pros, one demands a double!), Leo says that "well, I think we recorded three nights. Let's see what we've got; it may be a single (laughs). When Joe joined the band, we recorded one show and put that out - very quick recording, no retakes, no extra nights, no messing around. That was basically to introduce Joe to the band and to all the people who say 'Yes, but what do they sound like without Alvin Lee?' And we just deleted that record so we're going to replace it with a new live CD."
Commenting on the Now album, Leo says that "it's Ten Years After where it would be now, if it had continued going with the same fire (laughs). In other words, I think we've regained the fire we had in the '60s - '68, '69. It's very difficult to give you favourites on the album. I've gotten so close to it. I can tell you a few tracks that are popular with the fans. You know, I never play anything I've been involved with for years after (laughs). Popular tracks are 'Time To Kill', 'King Of The Blues'. That one is a rock blues shuffle, which is quite a popular style with most of our fans. 'Time To Kill' is slightly different. 'Hundred Miles High' is kind of a psychedelic retro song. 'I'll Make It Easy For You', popular with the ladies. It's a slow song; you know, if you want to get the ladies, play a ballad (laughs). 'Reasons Why', another rocker. Some heavier riffing stuff. 'When It All Falls Down', or 'The Voice Inside Your Head'. It's quite a varied thing, but then again, Ten Years After did always go off on tangents here, there and everywhere."
In closing, I asked Leo if anything stood out with respect to the recent touring. "The interesting thing is the amazing number of young fans that come and say, 'Oh, my father told me about the band' or 'We saw you on television so we had to come to the gig and I brought my friends.' So that's the most positive thing that is happening for us, because we're not really a retro band that is going around playing their old hits and having a declining circle. I mean, we're trying to move forward now. A lot of people might say, 'Oh, that's impossible to do,' but of course it's not. You're only limited by your own vision."
See www.martinpopoff.com for info on my 14 books, including... The Collector's Guide To Heavy Metal: Volume 2 - The Eighties NEW!!!! The Collector's Guide To Heavy Metal: Volume 1 - The Seventies Rainbow: English Castle Magic UFO: Shoot Out The Lights Blue Oyster Cult: Secrets Revealed! The New Wave Of British Heavy Metal Singles The Top 500 Heavy Metal Songs Of All Time The Top 500 Heavy Metal Albums Of All Time Contents Under Pressure: 30 Years Of Rush At Home & Away