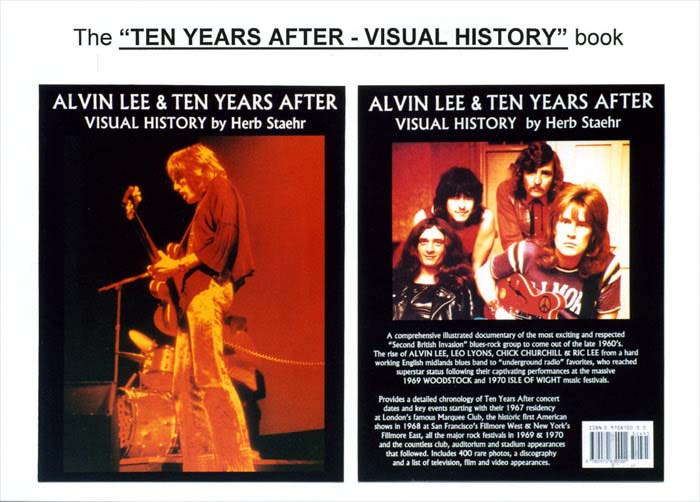 The second printing of Herb's book is now available once again at Amazon.com for 20$.

To purchase, type Herb Staehr in the Amazon search window. The seller is "Big Sister, Inc."
A new 192 page book documenting the career of the influential "Second British Invasion" blues/rock band and their legendary lead guitarist Alvin Lee. Provides complete coverage from the early days in Nottingham through the most recent tours in 2000.

A prolific touring band, Ten Years After performed at almost every important rock venue and festival in the 60s & 70s. From London's Marquee Club to the opening weekend at San Francisco's Fillmore West, from Woodstock to the Isle of Wight Festival and beyond, dozens of rock's most memorable and historic concert events are recalled in words and pictures. Profusely illustrated with 400 rare concert and backstage photos, posters, handbills & vintage ads that list appearances of Ten Years After and many other major bands of the period (Doors, Janis Joplin, Jimi Hendrix, Jeff Beck, Led Zeppelin, Pink Floyd, etc.). Includes Ten Years Later and the Alvin Lee Band.

This limited edition 8-1/2 x 11 perfect bound book is printed on coated matte paper with a full color laminated cover. It is a must have for anyone who would like to revisit or learn about the concert events that helped shape classic rock!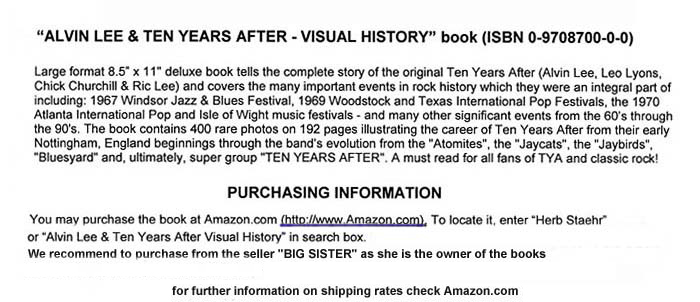 | | | |
| --- | --- | --- |
| | | |
Many Thanks to Claudia Staehr for the second printing of her brother's book.
It means a lot to every Alvin Lee & Ten Years After Fan
Customer Reviews
Avg. Customer Review:


A brilliant book, August 23, 2001

| | |
| --- | --- |
| | Reviewer: Rod Steanson from United Kingdom |
There are fans, and there are FANS. And after paying several thousand dollars at a London auction house, a couple of years back, for the Gibson 345 guitar used by Alvin Lee at the 1970 Isle of Wight festival, Massachusetts-based long-time Ten Years After fan, Herb Staehr, has most definitely earned his place in that latter category. But he didn't stop there. For during the last few years Staehr has been meticulously marshalling his extensive collection of TYA and Alvin Lee memorabilia into the production of this mightily impressive book - to the best of my knowledge, the first one ever written about either this seminal British band or its brilliant guitarist frontman. It is - as its title implies - primarily a photographic history of the development of TYA, from its early sixties roots as a three-piece teenage band known as The Jaybirds, to its evolution into the four-piece stadium supergroup of thirty years ago. And what astonishing photographs there are. Staehr has not only unearthed literally scores of rare and previously unseen photos of the band in its glory years, but also fascinating images of the aforementioned pre-TYA Jaybirds. Following the break-up of the band in the mid-seventies, he has produced here a comprehensive catalogue of pictures detailing the development of Alvin Lee's solo career right up to the present day. Photos of the various TYA comebacks and reformations are also included, as well as images relating to the solo careers of other band members. So, if its photos you want, there will never be a better place to come, or a better book to buy. They include not only the examples listed above, but concert posters, album sleeves, ticket stubs, magazine covers - you name it, it's here. But Staehr has also provided a wealth of literary information too. There is a band biography, an impressively researched and massively detailed "concert chronology", album and gig reviews, extracts from interviews with band members and associates, all concluding with a comprehensive discography, a listing of T.V., film and video appearances, and finally an extensive biography. It goes without saying that this superb book is a "must buy" for all fans of Ten Years After and Alvin Lee. Yet its appeal should go wider than that. Anyone who was a fan of late sixties and early seventies blues-rock, or who counts themselves a member of the "Woodstock generation", or who just likes a darn good rock and roll read, will find themselves glad they purchased this book. No band rocked the blues like Ten Years After. No-one has recorded and written about that fact as well as Herb Staehr has done here.

The Holy Grail
,
June 27, 2007
By
Kurt Streng

"Mizzoula"

(Clarkston, MI USA)

I've been a TYA fan for 25 years. I own every album TYA and Alvin Lee has produced including seeing them when possible. All these years, it's been a search for more info on the band. Herb Staehr did an incredible job documenting the band and writing this book. It is certainly a must. The info you can pick up is priceless and really gets you "behind the scenes". You'll appreciate how hard the band worked, touring constantly and still produced some of the greatest rockin blues ever. Thank you Herb. Many links have spawned from the excellent book which have led to many live show recordings and web sites out there.
great book, July 3, 2006
By
pietro anania

"anania@infoline.it"

(lamezia terme cz italy)

in the deep of british blues with the complete and accurate work made in this book!
Great and rare photos within' an very good analysis of musicians and his music with date concerts over the years make of this book an must for fans and collectors.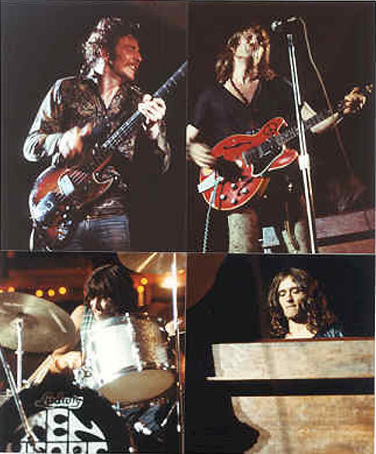 Herb's alternate Cover Design for his book
| | |
| --- | --- |
| | |
Woodstock 1969 - Photos courtesy of Herb Staehr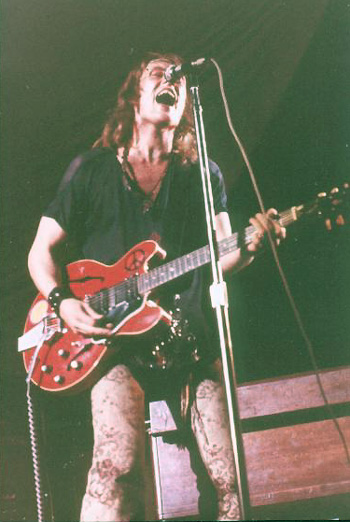 Advertisement for Herb's Book in GOLDMINE MAGAZINE, March 2003
THE OFFICIAL TEN YEARS AFTER BIBLE:
ALVIN LEE & TEN YEARS AFTER - VISUAL HISTORY
by Herb Staehr
About the author, his book, and our common bond:
We became associated with Herb Staehr at about the same time we started our website, his book had just been released and this was just what was needed to ignite the fire of interest in Ten Years After once again.

Not only is this the most comprehensive detailed and extensive resource concerning this fantastic English Rock and Roll Blues Band from the 60's and 70's - but it will always be our number one reference source for facts, correct dates, and information about the band's long history. Many fans and professional photographers contributed to the overall content
of Herb's book and he has thanked them in the dedication section".
Some of the people mentioned in the book have since become our trusted and respected friends, and now joined together we have all become part of the larger Ten Years After Family.

Herb is a great writer, we can safely say that Herb's book is considered to be the one and only Official Ten Years After Bible for any fan, old or new it stands alone in a positive light and with all due respect paid to the members from this classic band.

Herb Staehr single handedly started the Ten Years After ball rolling again and as such is also the leader in this new movement to promote Ten Years After in its new incarnation of Leo Lyons, Ric Lee, Chick Churchill and Joe Gooch. So if it is your desire to remember "TYA - The Classic Years with Alvin Lee" we strongly recommend that you purchase Herb's great book.

If you would like to experience a live perfomance of Ten Years After Today with the present line-up, keep an eye on our
current Tour List, and we invite all of you to come out and have a good time.


Brigitte and Dave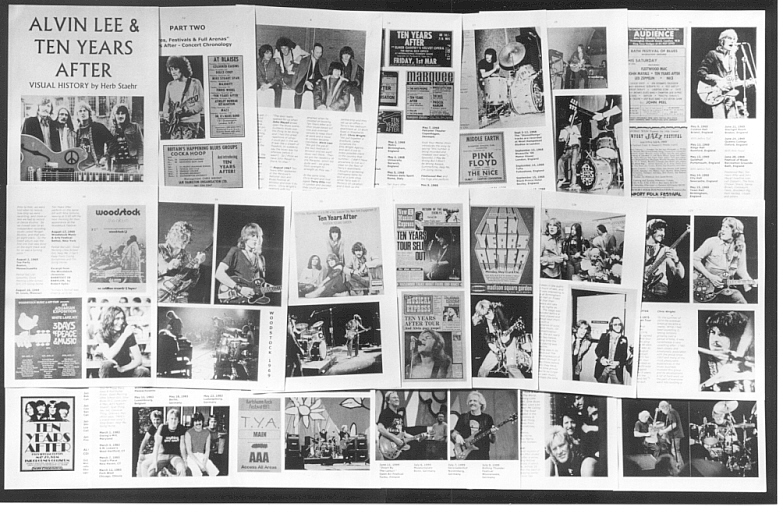 HERB STAEHR
Editor of the Book "ALVIN LEE & TEN YEARS AFTER - VISUAL HISTORY"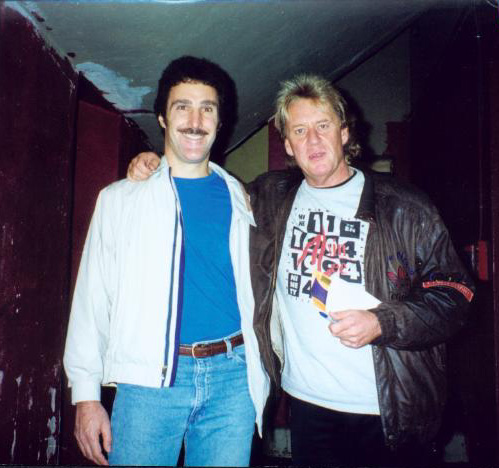 Herb Staehr's private collection: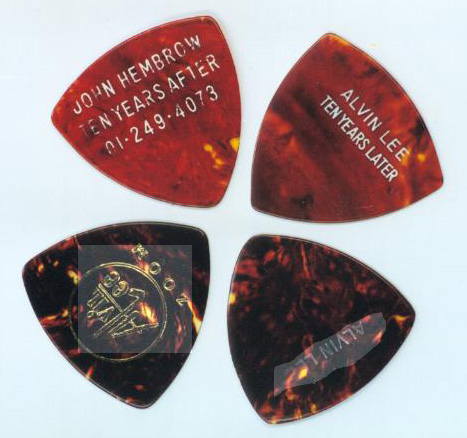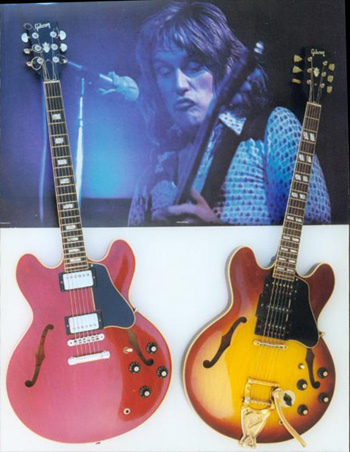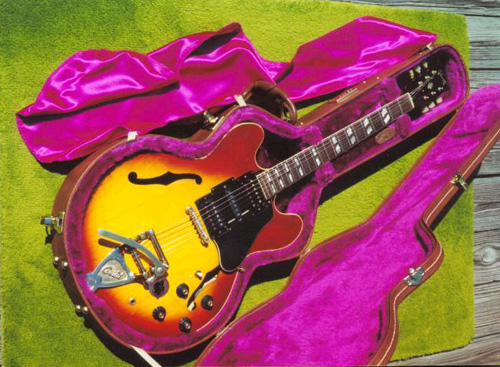 INTERVIEW WITH HERB STAEHR


WHEN DID YOU FIRST GET INTERESTED IN ALVIN LEE & TEN YEARS AFTER?

Ten Years After wasn't my first interest. I loved music from an early age, and my first record was that RCA Victor ELVIS PRESLEY album (with the big fluorescent pink and lime green letters) containing "Blue Suede Shoes", "Tutti Frutti", "Money Honey", etc. I've still got it - it says it's a "New Orthophonic" high fidelity recording, whatever that means? I think the next band I liked was Bobby Vee & The Cricketts (forgive me - I was only 13 years old!). Then of course the Beatles arrived and everybody, including me, got swept up in that. I saw them at the Boston Garden on September 12, 1964 and it was 35 minutes of shrill screaming from start to finish, I don't think I heard one note! I also went to the Beatles Shea Stadium, New York concert on August 15, 1965 as part of a World's Fair package tour. The bus left Boston for New York at 5:00 AM for a day at the fair, then on to the stadium for the Beatles concert and back to Boston - all in one day! I remember that I was hallucinating on the bus ride home due to shear exhaustion. The following year in 1966, during a trip to Europe (my parents were from Germany), I was able to visit the "Star Club" in Hamburg where the Beatles played early in their career. Little did I know that the Jaybirds also performed at the Star Club at about the same time I was there. Anyway, that is me standing in the doorway in the photo on page 4 of my Alvin Lee & Ten Years After book.

By 1967, my senior year in high school, the "psychedelic era" had arrived and people were hallucinating for different reasons. I remember seeing the San Francisco groups such as Jefferson Airplane and the Grateful Dead at Boston venues like the Donelley Memorial Theater (since replaced by a parking garage) and the Psychedelic Supermarket. There were also some excellent local groups like the Ultimate Spinach performing at the time. We were still innocent (high school kids were innocent back then), but our older brothers and sisters attending college in Boston or Cambridge told us about all these great places and the bands that played there. One of those venues was the Boston Tea Party located on East Berkeley Street. This was an old theater that was Boston's version of the Fillmore East. All the top band's played there and this was where I first saw Ten Years After play just a few weeks before the Woodstock Festival. I was hooked by the energy and intensity of their performance and became an instant fan right then and there. I missed their Sunday night performance at Woodstock because the friends I went with had to be back at work on Monday. When it started to rain hard on Sunday afternoon it seemed like a good time to leave! My other "cameo" appearance in the book is on page 41, front row (third from left) on the cover of the Woodstock movie program which was sold in the theaters.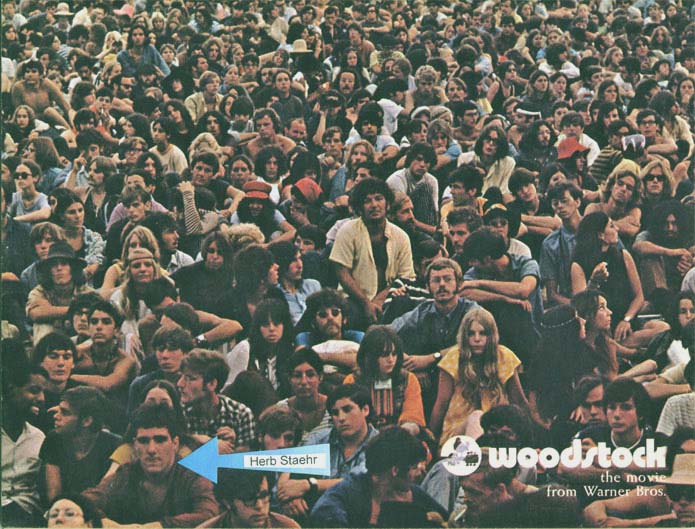 After the Woodstock film was released in May of 1970, Ten Years After was suddenly thrust into the larger venues. In 1970 they sold out Harvard Stadium in Cambridge (after playing the Tea Party earlier in the year) and by 1971 they sold out all 16,000 seats at the Boston Garden. By 1972 they were selling out consecutive multiple night appearances at the Music Hall. This escalation in the popularity of their music was not unique to Ten Years After. Other major groups of the period like Led Zeppelin and Jethro Tull made frequent appearances at small venues like the Tea Party before they (seemingly overnight) began to fill the stadiums. Just how much of an affect the Woodstock movie had on moving rock music from the clubs to the arenas is hard to calculate. But following the "Summer of Festivals" in 1970, rock had surely become a big business and most of the intimacy and spontaneity that had existed in the club atmosphere of the 60's was gone forever. It all happened very fast, but the five year period between 1966 and 1970 was an extremely exciting and productive period for Rock n' Roll.

WHEN DID YOU DECIDE TO WRITE A BOOK ABOUT TEN YEARS AFTER?

Starting in 1970, I used to tape a lot of concerts with a Sony TC-110 "Solid State" tape recorder that I received as a birthday present. I think the first show I recorded was Creedence Clearwater Revival at the Boston Garden in July, followed by Grand Funk Railroad, the Rolling Stones, Led Zeppelin and just about everyone else - including, of course, Ten Years After. All those tapes sat in a box for a long time. Then in about 1983 I received a complimentary copy of a record collector's magazine and noticed a section in the back titled "tapes for trade". This aroused my curiosity and I sent a few people a list of the tapes I had. After several years of trading tapes with people all over the globe, I accumulated a ridiculously large number of both audio and video tapes. When Toni Franklin started up the Alvin Lee website, we decided it would be interesting to add a section listing concert dates. As a result of my tape collection, I already had a good start on this and other fans have been sending in new dates to add ever since.

After seeing similar books about other bands, I thought it would be fun to use what was in my tape and memorabilia collection to put together something on Alvin Lee & Ten Years After. I was also a bit annoyed that a band with such an interesting and important history did not have their story documented in print. So, what started out as fun eventually became work and it took four years to finish the book from conception to publication. It took a lot of effort to track down photos, because I wanted to include pictures of all the major concert events and festivals (Woodstock, Newport Jazz Festival, Isle of Wight, etc.) that Ten Years After performed at. I'm my own worse critic, and I've been too involved with the book to judge if I've done a fair and satisfactory job, but I hope other fans will get some enjoyment from it. If I've succeeded at doing that, then I'm satisfied.

If nothing else, I think Alvin Lee & Ten Years After deserve all the credit in the world for bringing their music to the people. While many other bands sat back and did one album and one big city tour a year, Alvin & TYA were constantly on the road playing what the people loved to hear. In my opinion, this is what a real rock & roll band is all about!

| | |
| --- | --- |
| | |
Photo by Joseph Sia - check his website at: http://www.joesia.com
---
About Joe Sia: "This was the man who took all the Woodstock, Fillmore East, Capitol Theater,
Newport Jazz Festival and Madison Square Garden TEN YEARS AFTER pictures that are included in my book.
From 1969 - 1970 Joe was TEN YEARS AFTER'S personal photographer in the USA.
Joe lived in Connecticut and probably had the biggest archive of 60's Rock Photos on the East Coast.

"Joe was a good friend, a big fan of the music, and a great photographer - we miss him"

Herb Staehr
---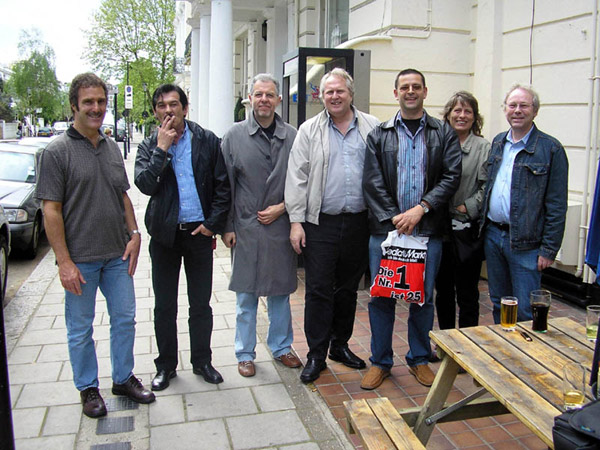 Herb with friends and fans in London during the Cream Reunion Concert, May 2005
Herb, Gunter, Dieter, Andy, Peter, nn & nn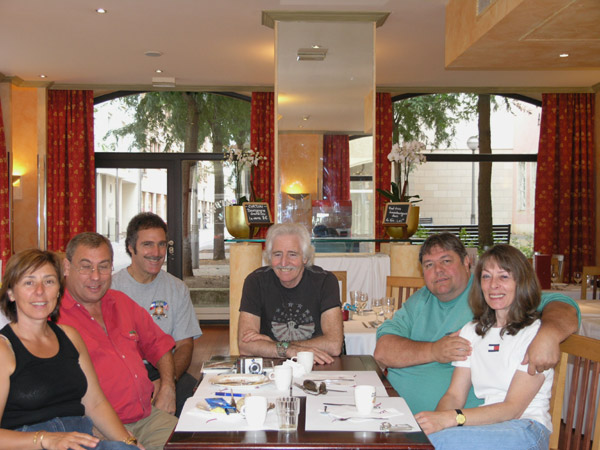 Nathalie, Patrick, Herb, Leo Lyons, Dave, Brigitte in Luxemburg, September 2007

Rock In Peace HERB
A good friend, devoted fan and biggest supporter of the band "Alvin Lee and Ten Years After".
Please sign the guestbook at "The Boston Globe" Magazine
Herbert Rhett Staehr
58, longtime resident of Hingham, passed away on January 12, 2008.
Herb was an avid mountain climber, traveler, teacher, music collector, caregiver, author, and friend. Born in Hartford, Connecticut, Herb was the son of Liselotte and the late Otto Staehr. He is survived by his loving sister and best friend, Claudia, and his close and adoring brother Tom. Herb graduated from Massachusetts Maritime Academy, and traveled the high seas for three years before beginning his career with Factory Mutual Insurance Company (FM Global) where he traveled extensively in the United States, South America and Europe in his capacity as Instructor and Chief Inspector. Herb had a passion for climbing and hiking in the Swiss Alps, which he did extensively with his family and others who could keep up with him. Herb was a devoted friend and follower of the band Ten Years After and often traveled with them in the United States and Europe. He authored a book chronicling the bands long career. His circle of friends sharing his musical interests and collections is worldwide. He was an avid fan of the Red Sox and the Patriots, and a compassionate, warm and wonderful friend to all who knew him. Funeral arrangements by George H. Downing & Son, HINGHAM, MA. Services are private. If desired, donations may be made in Herb's memory to the Dana Farber Cancer Research Institute, 10 Brookline Place West, 6th Floor, Brookline, MA 02445-7226.


Published in the Boston Globe on 1/20/2008.

We are in shock to have lost our good friend so suddenly.

We will miss you forever Herb and love you always.

Dave and Brigitte

In Memory of Herb Staehr

I was saddened to hear that Herb Staehr, friend and author of the book
'Alvin Lee and Ten Years After - A Visual History' passed away on Saturday 12th January 2008.
Herb can be seen sitting in the audience, front row, on the cover of The Woodstock album
but of course that was not his first gig. He followed the band's career since the very beginning.
He was the band's historian. His book is the scrapbook we never kept for ourselves
and I will always treasure my copy.
In the past five years we've come to know him as a kind, intelligent and witty person.
He's been a great supporter to all band members past and present.
We'll all miss him but we won't forget him. I know I'll be looking out for him at the next gig.
With condolences to his family from all of us.
Leo Lyons