CD REVIEWS
ALL KINDS OF BLUE:
This CD from Richie Arndt and the Bluenatics is their very first release and features Richie Arndt all Guitars and Vocals, Detlef Blanke on Bass and Vocals,and Frank Boestfleisch on Drums and Vocals. This CD was recorded March / April / May of 1997,and the liner notes state the following: "Although it may not be authentic enough for the purists or hip enough for the kids of the 90's we hope you like the way we play the blues" This is the attitude of Richie Arndt and the band,it is that plain,simple and honest. No frills or wasted space of any kind,the songs flow and you never get the feeling that they are fighting to get to the end of one song and on to the next,as with some bands we have heard in the past.
That is what makes this band stand out as something special, in simple terms the music is performed in a mixture of different styles,funky,rock,blues with a ballad kind of song that is their trademark, called "When the Train Comes". Once you've heard this song you'll never forget it, or get it out of your mind. On this CD there are two versions of this excellent song, the first is in the studio length and is 6:31 long, the other is the Radio version which is 3:42.
First song on the CD is a cover version of Stevie Ray Vaughan's "Tightrope", which is a great opener followed by "Letter to My Girlfriend" (great mouth Harp by Dieter Kropp on this track and on "Help Me"). Track 4 is "You've Done Me Wrong", another catchy little tune,and track 5 is called Fool for Ya Stockings. Track 6: a song called "Anything You Want Me To Do", written by Ted Horowitz who is better known to most Rock and Roll Blues fans as the one and only Popa Chubby who is the King of the New York City Blues.Track 7 is "Sweet Little Angel", track 8 is "Need Your Love So Bad" and track 9 is "Too Hot to Handle". Track 10 is "Make your mind up" which leads right into the classic tune called "Help Me" which is a great song anytime / anywhere but the way Richie delivers the vocals and guitar work he makes it an extraordinary piece.
As if this wasn't enough to make you want to go out and purchace this CD it is also layered with great Organ and Piano work performed by Achim Meyer and Backing Vocals by Britta Niemann. In conclusion this CD is not intended to knock you off of your feet but that's exactly what it does.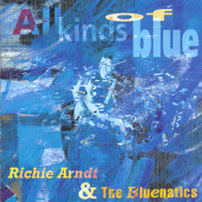 ---
RICHIE ARNDT & THE BLUENATICS - LIVE AT THE COLOSSEUM
:
This is their second CD release recorded in Delmenhorst, Germany on February 6th and 7th 1999 the liner note states "It was meant as a documentation of our live program and we added only a few guitar and backing vocal overdubs in the studio" For those of you that are not very fond of live recordings for one reason or another you will find this the exception to the rule,for those of you who do like the live sound of a good concert this CD is for you without a doubt. This captures the live enviroment of a good band in a perfect venue,and at their very best. Once again the songs are not rushed along and they flow very well into each other,Richie's voice is mellow at times and only as strong as needed to support the song, and to get the feeling accross.That's what is so impressive about the second effort of this band, it is in control at all times,it is dynamic and in good taste for all listeners. The line up is the same on this outing as on their first recording,the sound quality is the best we have ever heard for a live gig,and there is not one flaw in their performance. The standout's on this CD are "Love is a Fire", written by Richie,a great version of "Little Wing" and "Third Stone From the Sun" by Jimi Hendrix and "Nightlife" by Willie Nelson and my favorite is Peter Green's (early Fleetwood Mac blues band) "Black Magic Woman". There is a good Bass Solo by Detlef Blanke,and also a good Drum Solo by Frank Boestfleisch. All in all it is fifteen tracks from a great German Blues Band playing good Rock and Roll to a crowd of happy fans,friends and family. Attend one of their concerts and you too will feel like a part of this wonderful family.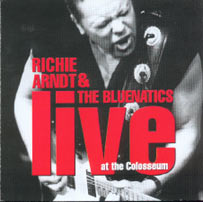 ---
Richie Arndt and the Bluenatics "RORYMANIA"
Featuring: Henrik Freischlader – Gregor Hilden – Alex Conti
TRACK LIST and TIMES: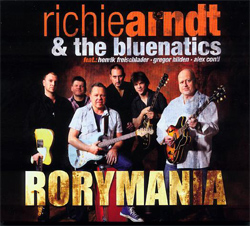 Laundromat - 4:16

Hands Off – 4:07

Ain't Too Good – 3:40

Too Much Alcohol – 6:01

Bankers Blues – 3:18

They Don't Make Them Like You Anymore – 3:44

Calling Card – 4:55

Pistol Slapper Blues – 2:19

I Fall Apart – 5:46

Cruise On Out – 3:21

Wave Myself Goodbye – 3:27

Rory – 5:27
REVIEW:
1. Laundromat – Starts off with a kick ass guitar riff that swings as much as it rocks in true Rory style. Richie's vocals are forceful, strong and powerful. The band is in total sync and rolls along perfectly from beginning to end. Not only on this song but throughout the entire cd.
You'll be really disappointed that this song has to end.
2. Hands Off – is one of my all time favourite Rory tunes, and Richie and band do it proper justice. The keyboard work is as refreshing as the guitar work itself. The drum work gives the song a real walking shuffle feel and adds the perfect accents to the structure. The bass guitar is strong and supportive, but lays low as needs be and lets the others get a good workout.
Each musician does the same, backing off temporality, slowing the pace down and then kicking it alive, bringing it back up again. Far from an easy task, but it really shows the professionalism of the entire band. It's individual expertise through a collective effort, that brings it all together for one hell of a brilliant performance.
3. Ain't Too Good – Brings the proceedings back down to reality for a few minutes, for a bittersweet blues ballad. Richie's vocals keep the slow number interesting, as well as his guitar playing. The rhythm guitar work on this number is extraordinary, each instrument supporting the other which makes this song a ballsy ballad. It's so well executed that if forces you to give it your undivided attention – it'll suck it right in, and the reverb will make you tap your feet and make your body sway. That's how good it is.
4. Too Much Alcohol – This song was a favourite on Rory's Irish Tour Album 1974, and once again Richie and Band kick some new life into an already good song and make it a great one besides. The reason being, Richie's vocals are loud and strong and with the extra echo being added, it gives the number an authentic pleading sound that reflects the meaning of the lyrics, an I'll tell the world my story. The subtle background guitar work is impressive, as is Frank's drums and Jens bass work. The credit goes to the band for professional restraint and mutual respect. The lead guitar work is sensational.
5. Bankers Blues – A beautiful acoustic number, the guitars sing right along and the keyboards excellent. Put on a set of good headphones and try to pay attention to just one instrument – it's virtually impossible. There's so much going on here.
6. They Don't Make Them Like You Anymore – A Jazzy – Swinging number – I defy anyone to sit still during this song. As if the first five songs weren't good enough, this one really turns the entire band loose for a type of short jam session…..the song should have been about eight minutes longer in my opinion. When a band is this good, they make it sound so easy, when in fact it's really very intricate and complicated, just in the rhythm and tempo changes alone will make your head spin in amazed delight.
7. Calling Card – A smooth slow blues. Once again the band is in exceptional control here and that makes all the difference in the world. One guitar working off the other, and no one trying to top the other, it's so damn exciting to listen to.
8. Pistol Slapper Blues – A drum shuffle like a train on a track, a wonderful guitar picking rag and band interaction. Richie sings with real emotional emphasis. The guitars are many and varied, so much going on all the time, for a song that's only 2:19 long. So enjoyable.
9. I Fall Apart – This song just proves to me that there isn't a weak number on this cd. Guitars wail, vocals are clear and precise, drum and bass build to climax and the feedback helps the song to its conclusion.
10. Cruise On Out – Is very much in the same line with Laundromat, where Rory is saying come on with me, lets have some fun, and leave your blues far behind, at least for a little while.
11. Wave Myself Goodbye – This tune is a perfect beauty. The keyboards are very prominent, as is the excellent slide guitar work, guitar picking and vocals.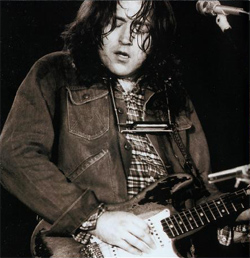 12. Rory – "The Restless Man Wouldn't Talk But He Would Play" is the truth.
"Your Life Will Come and Your Life Will Go But Your Music Is Still Here" is more truth. The rhythm section of this song is reminiscent of the Doors "The End". From the quietly haunting introduction sounding like a foggy Ireland shoreline in first morning light, to the eastern sounding guitar work that slips insidiously into a sullen lament to our beloved Rory.
Fading away into the sunset and right into an Irish sea. What a fitting tribute and vision the music creates to honour our fallen hero of the blues.
This song is a real emotional tear-jerker, and it doesn't take much at this point after listening to all this heartfelt Rory music.
Rock In Peace Rory!
INTRODUCTION / EPILOG
Rory died on June 14, 1995 at the young age of 46.
I don't think there were any of us that weren't surprised and in total shock upon hearing the sad news of his passing. How could this be possible? It was true, and it was indeed a very sad day for the blues.
I would bet that my first memory of Rory's passing was the same as thousands of others. That beat up, wood-bare fender Stratocaster guitar and his wearing that red flannel shirt. But that memory was back in 1972. His band "Taste" and his performance at the historic Isle Of Wight Festival in 1970 stand out.. His Irish Tour and two album record release in 1974 was a brilliant representation of the man and his music. At this point in time he was established as a serious musician, honest real - dedicated, a genuine performer giving heartfelt performances the music of his life and ours.
Dead at 46, it's now thirteen years later, and it still hurts. I never met Rory, only through his music. Never sent him an email or knew someone who knew him – nothing of the sort. But just as with John Lennon's death we know them as a part of us, and that's all we need to know.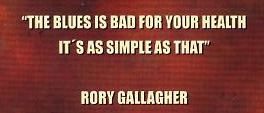 Rory was private, only his music was public.
He wore his heart on his sleeve, he was a rare talent.
He ain't no saint, and don't start him to talkin´.
He read crime stories, liked mysteries and paid tribute to Dashiell Hammet in his song Continental Op.
The rest of Rory's personal life, his likes and dislikes and all the rest is for those who knew him personally to explain and fill in the blanks. This is as far as I can go without getting into ignorant and worthless speculation.
LAST NOTE:
When I listen to the beginning of Richie's song "Rory", it reminds me of the Vikings ceremony for the death of a friend or fellow warrior. They place the corpse into a boat, set it on fire and then push it out into the open sea. The final act for a hero. Fire and water, dust to dust but the music lingers on, long after all is gone.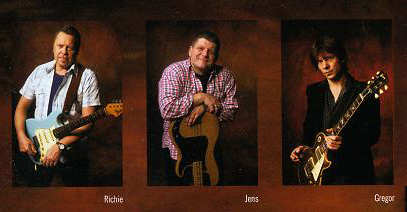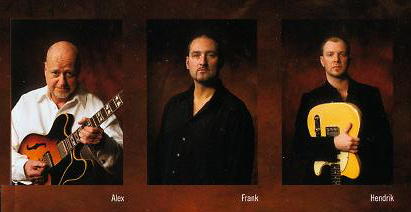 What Makes This A Very Special Tribute:
Richie, like Rory himself, is a happy blues player. Both their vocals are strong and honest while telling any story - sad / happy - or event, they sound so enthusiastic and eager to please. Both represent great performers on stage and die-hard perfectionist in the recording studio. Both are exceptionally talented and proud of their craft and accomplishments. Both men, live for the music!
I have heard no other Rory Tribute that covers the mans essence perfectly. Richie and his Bluenatics have nailed it. All twelve tracks on this collection are in respect to the man, his music and his life. Richie doesn't dwell on the sadness and sorrow of Rory's passing, but instead he offers up just the opposite, a celebration and joyful exuberance of Rory's short existence here on earth.
As you listen to the songs on this collection, you'll find yourself being diverted from any feelings of melancholy or remorse, instead, you'll find joy and happiness and be transformed into Rory's Special Positive Light.
Knowing Richie personally, and being able to call him a good friend, I can say in all honesty and candour, no one could have done it better or from the heart and soul – from one musician to another – Richie, band and featured friends carry the scared torch further on down the road!
Rory would be very proud, and I'm sure he is smiling!