Carvin Jones and the Carvin Jones Band
In Concert at the "Bistro Hotel Tiefgang", Hannover, Germany - February 25, 2009
The Trip There:
A nice easy one hour ride to the northeast to Hannover. The weather wasn't bad for a February evening, a little damp and cold but nothing extraordinary to contend with.
The driving was good, just a lot of traffic for a Wednesday night.
With our new GPS system in good working order we expected to make good time.
Except, when we got close to the venue the lady speaking on the GPS system got very confused. She was telling us to zig when we should have zagged. She led us right into a shipyard, where huge boats we all sitting in dry dock (on land and waiting for yet another summer to arrive). Monster boats, cabin cruisers with huge propellers staring at us. We were looking for a boat club hotel, but at the moment we both thought that we came across Bates Motel instead!
Come to find out, we were in the back of the hotel. The GPS lady led us right into a dead end road, and she kept insisting that we drive on another one hundred meters to our destination.
We turned around, took a quick right and then another right, back on to the main road – where we saw two men standing there, directing traffic (us, as we were the only ones on that dark deserted road). The one man asked "are you here to see Carvin Jones"? Yes we are, "right down that short road he instructed. The little parking lot had a dozen or so cars sitting there.
The Venue:
We stepped inside the venue, it was fresh and clean and looked newly remodelled. We bought our tickets, got our hand stamped and entered. There was a nice little bar there on the left, a good size stage, professional looking lights hung from the relatively low ceiling and the place was warm and comfortable.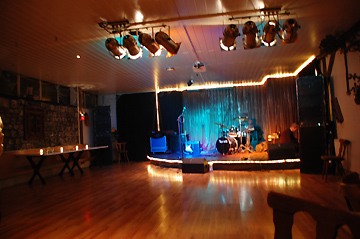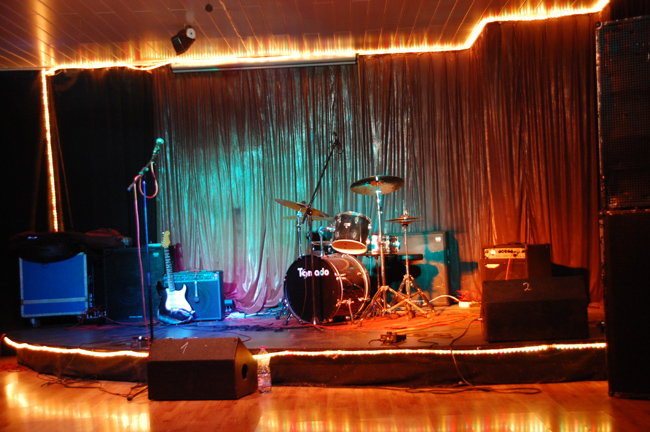 As for the location, I still have no idea where the hell we were, but we were there and on time.
This gig was scheduled to he held at another venue, at another location. The trouble soon became very apparent – 1. no one else was either aware that Carvin was playing tonight, or
2. could find this location, or 3.wanted to come out on a Wednesday evening. For whatever reason, the audience consisted of Brigitte and I – the bar maid – and nine other people. This was the total count for tonight.
With all due respect to the two promoters, this was the first gig at this new location and apparently the word didn't get out to the blues fans and music lovers in time.
We felt sorry for everybody involved here. Their hopes were high and they were prepared for many more to show up. It didn't materialize!
From Sadness to Gladness:
Let it be properly noted that almost 200 people attended the concert in Wetzlar, 250 people were in Mechernich, Eifel and Carvin Jones Band also played two sold out shows in Celle!!!
There's nothing worse than a live hot band playing to a vacant room, but no one here was about to let Carvin or the band feel any disappointment. In point of fact, I got the impression from the drummer and the bass player that they relished the relief of having to perform and entertain another large crowd of spectators. They just shifted down, made themselves comfortable and felt at home with this gathering. I'm sure that Carvin may have felt differently, but none the less he put on a great show, for this now private party.
Amazing, that a bunch of strangers can all be thinking the same thing. Thinking, it's such a shame for the band, but we'll make the best of an adverse situation.
Hanging Out Backstage:
We came here to be with our good friend Tony Tilotta and to see Carvin Jones again.
We last saw Carvin back in 2002 when his rhythm section consisted of Leo Lyons, Ric Lee and Chick Churchill from the band "Ten Years After". This was the beginning of Ten Years After's famous return. They filled in for Stevie Ray Vaughn's rhythm section called "Double Trouble" who were suppose to back Carvin in Europe, but after the 9/11 tragedy in America, no one wanted to fly any where.
Carvin was walking around aimlessly, playing with his cell phone – text messaging and just being generally distracted. He did manage to catch a little nap before the show. As this is the last leg of their tour, they're all in need of some much deserved and needed rest.
I approached Carvin, and asked him if he remembered Brigitte and I (damn stupid question I know) I should have done it differently somehow. How would anyone remember something like that after seven years? Carvin said no, and I then reminded him about Ten Years After backing him in 2002 – ahhhh ya I remember that…..where's Mr. Tilotta Carvin? Oh, come with me he says, where we are taken backstage. Great to see Tony again, it's been so long, the last time was in Hamburg at a TYA gig, but we stay in close contact by email.
Tony looks great, having lost about twenty pounds, he's happy to see us, but very disappointed about the turn-out - or lack there of…..I said Tony, don't worry about it, it'll be alright, we're glad to see you and spend some time together. ( it just came back to my memory, that we first met Tony at that Carvin Jones gig back in 2002 with TYA).
We spent about forty minutes with Tony and the band, then we all headed out front to the stage area.
Warming Up:
The drummer started his warm up practice, as he played right along with the blues music playing through the monitors. The bass player soon joined in and started his procedure as well.
Carvin was waiting till the last minute. – When he did come out, he was ready to play.
He reached into his black bag and pulled out about ten cd's and five dvd's for sale. He then put on his black hat, that matched his black shirt and the pitch black curtain behind the stage, grabbed his guitar and blasted out a few chords to get everyone's attention.
Friendly Fire 9:00:
Some of us sat down, others stood in awe, and the rest took photos and moved around for position. Carvin blasted through the opening number, and before the applause, he flew right into the next one, and then another before pausing to for the wave of applause. At that point we all were standing at attention and giving him and the band our solid support.
Track Listing:
Cold Shot

La Grange

Foxy Lady

Crossroad Blues

Going Down Slow

Red House

Slow Blues

Funky Stuff

Drowning On Dry Land

Hoochie Coochie Man
The concert was in two sets lasting about 45 minutes apiece.
During the second set, Carvin handed his guitar to a member of the audience, who proceeded to join the band for a little jam session, while he became part of the audience and watched The house promoter also joined in with some excellent blues harp playing with the band…with Carvin back on guitar.
Towards the end of the show it was Carvin and the audience saying to each other – one more – one more – just one more time.
We were all lined up in front of Carvin, he in turn stood right in front of each of us, and individually played for us, as if it were just a one on one concert. He shook our hands, and thanked us personally for coming out to see him. He made damn sure that we felt respected by him and the band, just as we tried to make him feel our respect and love as well.
After Event Activities:
With the concert over, everyone divided into groups, some sat with the drummer, some went to the bar, Brigitte talked with the man taking photos and I joined the bass player to have a little chat.
The bass player is a little guy who resides in Naples, Italy the home of Mount Vesuvius, where Brigitte has been and even brought home a piece of lava. Between his heavy Italian accent, and my mumbling / slurring north American accent, and the loud music playing in the background – we still managed to communicate, exchange ideas and compare notes.
We soon realized how much we're alike, our taste in music and our different countries.
Politics, money and people. He and I talked backstage before the concert and now afterwards, it was a wonderful experience for both of us. Don't ever let anyone tell you that language is a barrier – that's total bullshit – people that are open and friendly will always find a way to get along and exchange ideas. All you have to be is honest, then overcome your differences and insecurities.
Tony, Brigitte and I spent a great evening together. We thank him and the entire band for such a wonderful time – in the dead of winter here in Germany.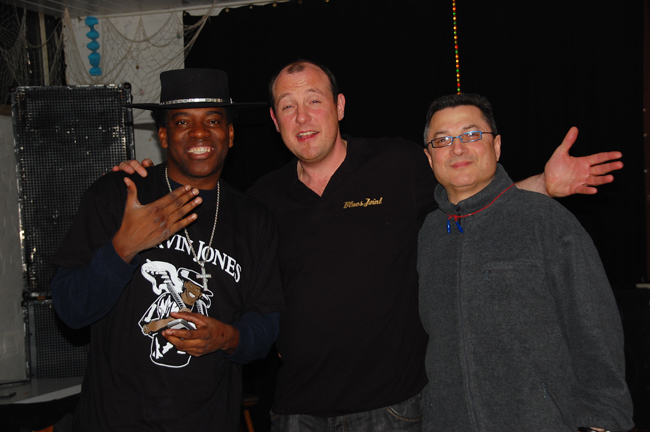 Carvin Jones, Kay (www.bluesjoint.de), Tony Tilotta (booking agent / musician / photographer)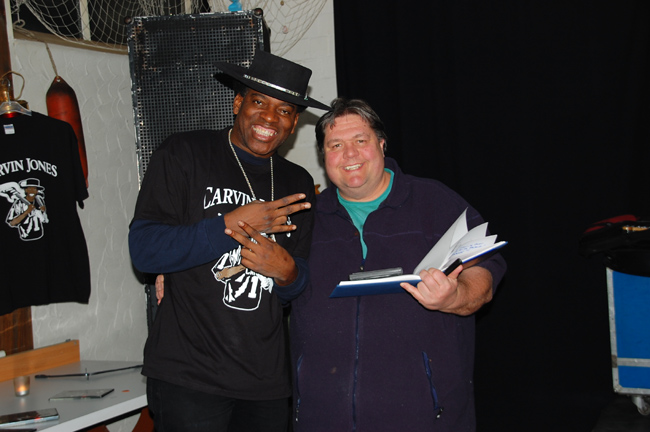 Carvin and Dave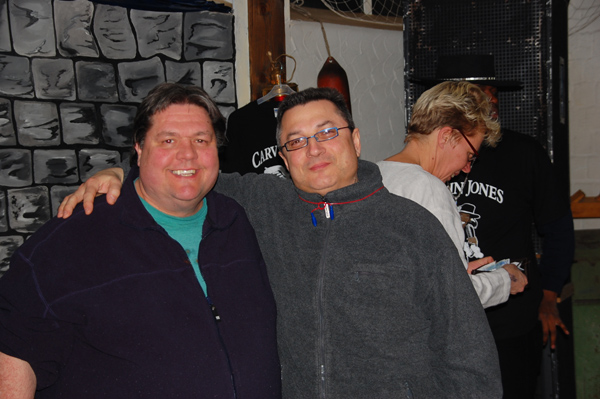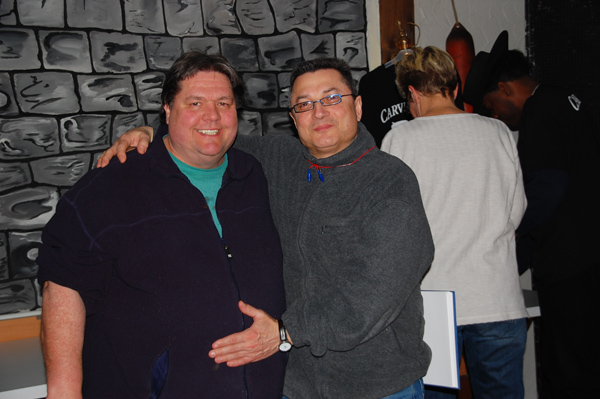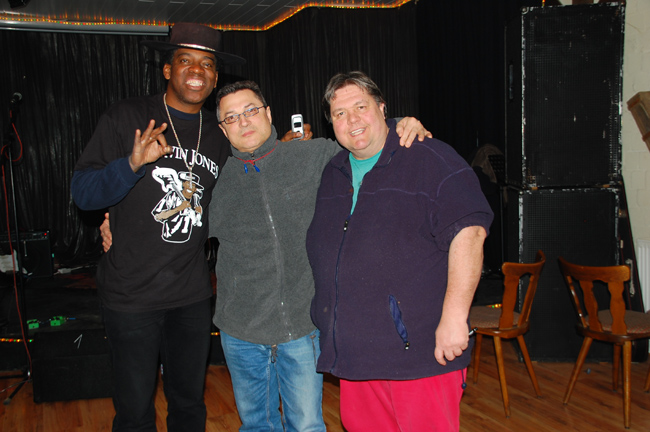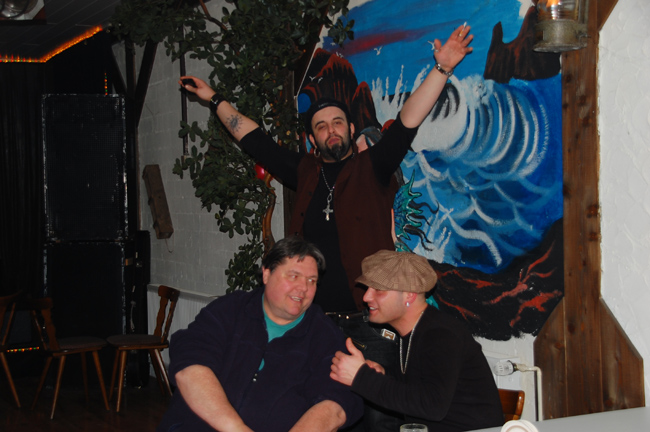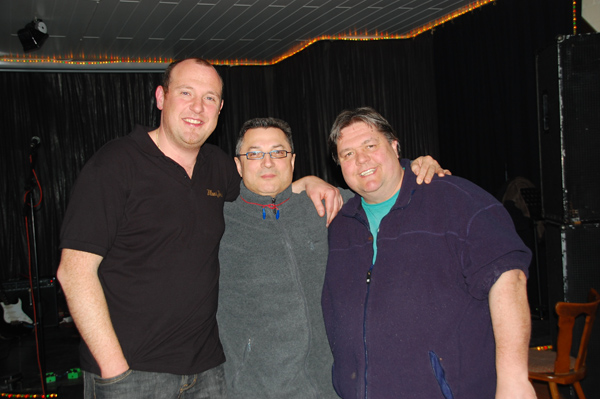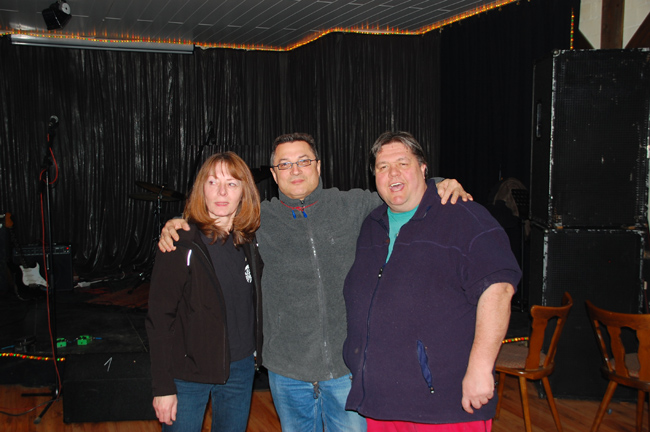 In Conclusion:
Quality over quantity – strangers become friends and music is the catalyst. Conversation overcomes ignorance. A feast of friends as opposed to the giant family.
We'd be more than happy to return there again! Where ever it was that we were!
Thanks to the band, the staff and the owners…and thirteen new friends!!!
Much respect from,
Brigitte and Dave