PETER GREEN & Friends – Concert Review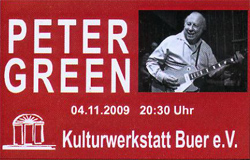 4 November 2009
Melle - Buer, Germany November 4, 2009
Pre Concert Blues:
We have been to many concerts at this cosy little venue "Kulturwerkstatt Buer", and until this very moment the parking lot has never been filled to capacity. It's raining, it's starless and it's bible black.
On tap for tonight it's Blues from Greeney himself. As we walk down the slippery slope of the cobblestone walkway, two men turn around and comment to us about the dank rain and this being the perfect conditions for a blues concert of this stature. Right you are my friends, now if Peter shows up at this gig, things will be just perfect.
In the last ten years or so, Peter has been very erratic to say the least. Concerts have been booked and promoted, only to be cancelled at the last minute. When we were at this venue a week ago to see Kim Simmonds and Savoy Brown, there was a poster in the window advertising Peter Green coming the following Wednesday. I said to the man at the ticket counter, are you sure he's going to show up? I can't believe it myself, as we've been so close to meeting the man once before. On that occasion Ten Years After turned down that tour offer with Edgar Winter, but their ex-guitarist Alvin Lee jumped at the chance. That was back in 2004, and now here we are at the Peter Green alter once again, five years later, and waiting for the "Green God" to appear. If he does appear, the next question arises, what kind of condition will the living legend be in on this occasion?
It's a real crap shoot folks, you's pays yer money and you's takes yer chance friend – 55.00 euros suddenly becomes a bet on the long shot!
Waiting For Godot:
We have bought our tickets in advance and hand them in with great trepidation. Now viewing this great turn out I reckon the odds are now down to 50/50 in favour of the Green God showing up. It has all the elements of a Sherlock Homes Mystery or a book by Samuel Beckett called "Waiting For Godot". Somehow I feel as though we're all playing a specific part in this rock n´ roll theatre tonight.
I first look upstairs at the balcony section from the main floor below, to where I usually like to sit. I watched Savoy Brown, Robin Trower and David Gogo in the past from upstairs, but it's already filled to capacity, with hands, feet and beer bellies hanging over the railing.
So much for that option, it's a definite dead end. But, to my pleasant surprise, there is an open spot right at the end of the stage, and there are two other fans parked there in lawn chairs, yep my kind of people, this is like a neon welcome sign to me and now all I need is a place in which to sit. Under a wooden table behind me are two big square wooden blocks of wood, just perfect for planting my ass for the next two hours or so. So, I slide one out and drag it over to the end of the stage without and resistance from the audience, I'm now in a prime position. The folks in the lawn chairs smile at me, so all conditions appear to be go.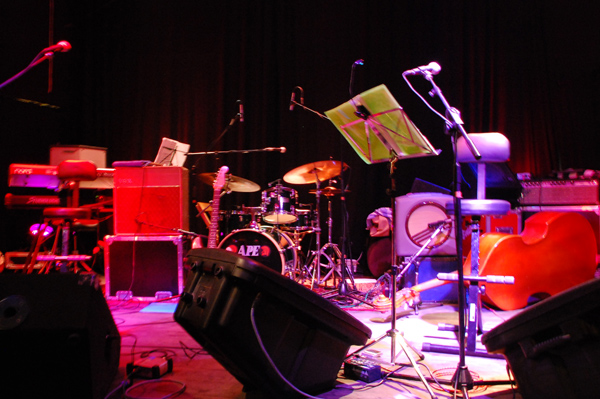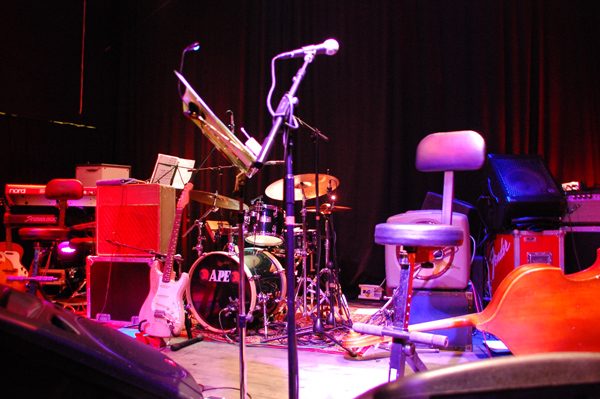 Enter "The Green God" Himself:
Now in position I have a chance to scope out the situation first hand. Instruments, amplifiers, a shit load of cables and wires all over the place. I'm looking through the ever growing crowd and trying to find our friends who were going to meet us there, but all I see is warm faces with drinks in hand. I see the front line of hard core music / blues lovers. I shoot a quick glance to Brigitte who's standing about ten feet from me and centre stage, we exchange smiles of visible apprehension.
I now look over at the other end of the stage where the band will come out, onto the stage very soon. My eyes drift back over to Brigitte, and to my surprise her face is ashen, mouth open with eyes as big as saucers – and she can't speak, only point at me or in my direction anyways. So I look over my right shoulder and I see a big belly and shirt. Up the shirt and to the face I look and it's him – Peter Green standing right next to me, God is standing right next to me – I'm tempted to kiss his shoes or wash his feet at the very least, but in reality, I look up at this giant of a man and simply say: "oh hello Peter how the hell are ya?" I stand up and offer my hand to shake his, to which he looks down at me, not with contempt but a look that says that I should've known better. Peter kindly but very quietly says to me, "I do not shake hands, I am a musician". I understand I tell him. So good to see you here Peter, you look great, welcome.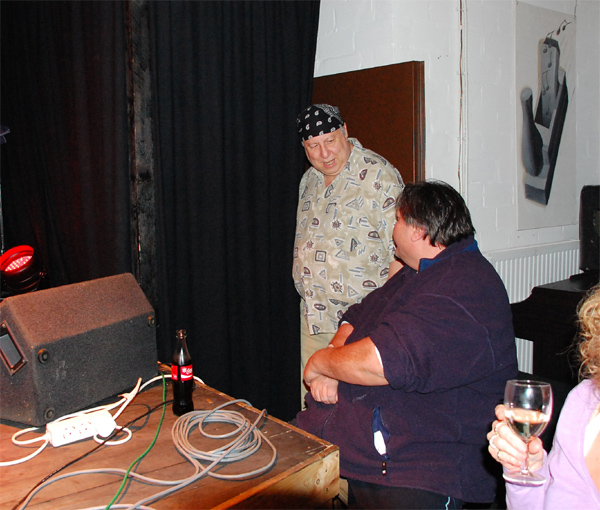 I take my seat, and return to my thinking process. I look at Brigitte who is taking photos in our direction. I'm trying to decide what to do next here…I look up again and say…."Peter we have a present for you, would you like it now or later?" "A present, for me, really". He's now smiling on the inside but you can also see traces of his impish smile start to appear on the outside as well.
"It's not music is it" he says with a note of annoyance in his tone, I laugh a little and I am more than a little relieved that he is interested and friendly enough to stick around and check it out. I reach into our bag and hand Peter a copy of Herb Staehr's fantastic book on the history of "Ten Years After" who Peter is well aware of for sure. I tell Peter that Herb was a close friend and he died of Colon Cancer almost two years ago, and I'm sure he would want you to have a copy of his book. I notice that Peter is thinking and impressed. He opens the book and fingers through it, stopping in different places from time to time, he is focused and impressed. To which I say, what do you think of Alvin Lee's playing? In a quick reply he says, "I do not make comments on another musicians playing, I am a professional musician". I say to myself, oh well (the song enters my head at lightning speed – don't ask me what I think of you, I may not give the answer that you want me to, Peter is at least consistent with his personal beliefs, good to know. I say "Peter can I ask you a stupid question", "sure but I don't have to answer stupid questions" I continue, close enough to whisper to him – "are you aware that you are a living legend, a hero to all of us?"
His response, was simple and concise, "I work for a living".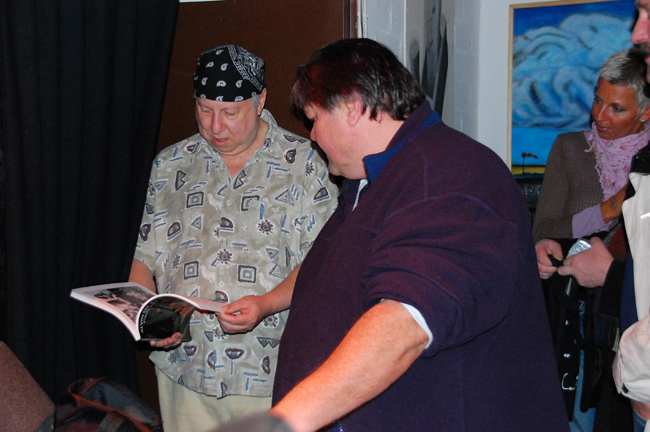 I also asked him if he would be signing autographs later on, after the show? His reply was, "I will" he said, "but one each, some people want many more than that" I said, I'm one of them Peter, I have twelve cd's right there in this bag….I smiled at him and he smiled back. He made his position very clear and I respected that too.
After a few minutes he says, "Will you hold on to this book for me until later, I go onstage in a few minutes and I can't take it with me ya know, I have nowhere to"…of course I will, and thanks for at least looking at it…have a good show!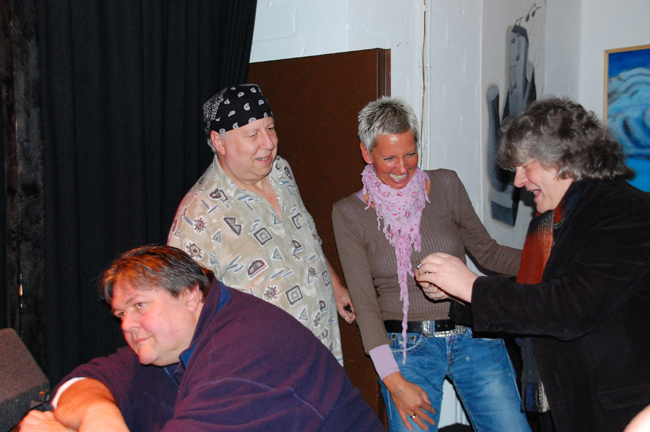 My Impression of the Soft Spoken Peter Green:

Quiet, soft spoken, compassionate, very professional.

My personal impression about Peter, you see what you look for, what I saw was a man, who is a musician a big man with a head scarf, a plain man in plain clothes, just an average ordinary guy with charisma and an extraordinary talent. He is a survivor, a giver, a man of faith.

I watched him as he stood beside me, I got the feeling that he was checking out the vibe in the room. He seemed to be studying the stage looking at the audience and deep in thought.

I had to really take my time in approaching him. Like a professional poker player Peter is hard to read, hard to get close to, but is willing to accommodate his fans up to a point. Later on wait in line, one person at a time and be quiet and respectful.

On stage I said to myself, Peter is in balance, finally, he is happy to be working and really had a great time entertaining all of us. He was calm, focused and did his best to please everyone.

Just a very nice unassuming guy is all. In this way nothing has seemed to change from the days of the old Fleetwood Mac Blues Band. A band that he is somewhat reluctant to talk about at any great length these days – old news to him and I believe he is trying to be progressive of mind and cut the past loose. In the moment is right where he's at these days.

Show Time:

Peter disappeared behind the curtain the same way as he popped out twenty minutes ago.

Now it was show time. The bass player and Peter come across the stage, heading right towards me, I immediately stand up and come to attention, out of respect. Then all of the sudden Peter broke out into full smile, having seen me give him a standing ovation. The two people sitting next to me chose to stay seated, (they both have back problems) but pointed to me, and looked in my direction the moment Peter smiled.

The entire band consisted of:

Peter Green – Vocals, Support Vocals, Harmonica, Guitar

Mike Dodd – Rhythm Guitar and Vocals

Julian Grudgings – Piano – Organ and Vocals

Matt Radford – Double Bass and Electric Bass – (Ex – Nick Lowe)

Andrew Flude - Drums and Background Vocals

Peter takes his place, on a cushy stool right in front of me. He has a little podium in which his lyric book and set list are on, and all in order for this nights performance. The band gets into position, and once ready they wait for Peter to settle in, which takes a few extra minutes. The audience is silent as if waiting for a special holiday church service. A long sermon, from the most prominent blues preacher in the world.

It is my personal opinion that Peter is still checking out the vibe, and seeing just how respectful the audience really is towards this slight delay. Peter is very much in focus and extremely in tune with his surroundings…he is really just trying to catch the vibe and the groove before starting. To break this pregnant pause, Mike also on guitar talks to the audience a little and then directs his attention to Peter in a very empathic and casual way. Peter is now ready and gives the nod to begin.

They open with the entire band performing: "Key To The Highway" a classic upbeat blues tune that everyone and his brother has preformed at one time or another. At the end of the song the audience responds with thunderous applause.

2. "Tonight I'll Be Staying With You" (Bob Dylan)

3. "Long Grey Mare" which is a standard Peter Green Fleetwood Mac classic.
Once again the audience loves it all. Including Peter's Harmonica break during the song
which was flawless.

4. "Many Rivers To Cross" (Jimmy Cliff)

5. "Wild Horses" which is country music sounding, and much like a Bob Dylan song at heart.
It still goes over very well, with respectful audience approval.

6. "When The Lights Go Out" which has a lot of Ray Charles Hallelujah I Love Her So
mixed in it. Very well done.

7. "Oh Pretty Woman" not the Roy Orbison version, but the Gary Moore version.
A nice little blues / rocker with a fantastic stomping beat to it.

8. "Fool For Loving You"

9. "Give Your Heart Away"

10. "The Stumble" – (Freddy King)

11. "Off The Hook" (Jagger / Richards) which Peter likes very much and is seem smiling
throughout the entire song.

12. "Dark End Of The Street"

13. "OH WELL" which as most of us know is one of the best known Peter Green standards
of all time, and this version is no disappointment and he loves playing it as well.
Peter is now safe, comfortable and on his own turf here, heading down the home stretch.

14. "Albatross" (Gooney Bird) – You can't imagine coming out of that

"Oh Well" rocker frenzy
and right into a surrealistic – meditation – solitude of
Albatross, but they did it so perfectly, with the cool calm precision of an open heart
doctors hand. They slid right into it seamlessly, and it stunned everyone in the venue.

15. "South Bound Train"

- A well played song with a lot of passion and spirit!

16. " The Thrill Is Gone" the old (B.B. King) classic and again done to perfection.

17. "Supernatural" which Mike says is from the "Hard Road" Album and Peter's reply is
"now known as soft pavement". Peter still has a great sense of humour.

18. Is the first encore: "Sitting In The Rain" It was beautifully done.

19. Is the second encore: "Black Magic Woman" which is another Peter Green Classic!
Covered by many other bands of which only Carlos Santana managed to do the song
proper justice. A big hit for Santana and never a hit for Peter Green and Fleetwood Mac,
sorry to say.

Post Concert Activities:

During the concert I didn't see one friend who was suppose to meet us there. After the show we finally found each other. Reinhard, Paul and their friends, Wolfgang and the regular crew of concert goers and photographer friends of ours. We shake hands, hug each other and then compare notes about the concert we just witnessed. Everyone had something to say about it. Nothing negative about this concert, but previous ones that many attended with Peter Green and his Splinter Group. Some shows Peter was very erratic, would come on and play one or two songs is all. At others his amp was turned down so low that he was completely inaudible to the audience. I know this to be a fact because a good friend of ours walked across the stage and turned it up for Peter. Many Many stories like this, and it seems like everybody has one to tell. Between 2001 and 2004 seems to be the really rough spot for Peter. Even on his live dvd from 2003 he says on stage, "I was sick and what I said about giving away all of my money wasn't what I meant at all". Although viewing that dvd (2003) Peter was alright in those concerts, standing and playing, singing and harmonica were all well done.

The final happy event for this evening was going upstairs and having Peter Green sign autographs. It wasn't announced at all, you had to be observant and watch the flow of people and get in line. Posters, cd's, record albums….the usual array of items, and even Wolfgang had his brand new Peter Green Anthology Box Set signed …. But only one autograph per person was allowed as Peter informed me pre-concert!

Brigitte's View:

"He Touched My Heart, he really did" Brigitte told me after the show. She didn't know what to expect before the show, but now she says it was a great concert, she loved his voice and his playing. She came away with a brand new attitude and respect for the man. She also told me that Peter has been through so much, that he's lucky to be alive, having survived the torches of the dammed ! He sang and played through his soul. Passion came from his heart. Truth came fourth in his words. We did get to see Peter Green up close and personal. Before, during and after the show. What we found for ourselves on this rainy night in Germany, was the real Peter Green today. At 63 he's paid more than his fair share of dues, he is an established musician in the top order. He has nothing to prove, nothing to loose and everything to gain.

There is only one Peter Green, and we are here to praise him and pray for his continued healing process, and good health. Peter didn't disappoint, in fact he inspired a room of die hard fans…that the best love to have is the love of life itself.

"Hail to the Green God – we have come here to praise him and not to bury him"