GETTING TO KNOW DA FUDGE: BACK STAGE
Review by Dave and Brigitte
As I sit here writing this review I have on my new set of Koss Pro4AA Headphones sent to me from the States to Germany, and the music is the new Vanilla Fudge CD, a remake of most of their hits re-done and updated with style.
We got to the Blues Garage not long after the band arrived, and headed right for the backstage area (back room in this case) I saw Tim Bogert right away and said "Mr.Bogert good to see you, I'm Dave Willey and Brigitte is outside because she's too shy to come in", Tim said "well hello Dave Willey pleasure to meet you". Tim and I had exchanged e-mails in the last two years and have struck up quite a good friendship along the way.
Next I met Bill Pascali who is just a damn nice person, open and honest, but in my vast ignorance not the person I was expecting to see there as I was looking for Vince Martell and Carmine Appice. Most of us Fudge fans know all the members of the band-- Carmine,Tim, Vince Martell and Mark Stein, but now here I was with two people I knew and two people I didn't, so this threw me off course right from the start. Mark hasn't been with the band in quite a while and I soon learned that Vince Martell was ill and unable to make this tour of Europe. So now I had to revaluate the situation and start all over again, but this time while they all watched me try to be quick on my feet and try to get all the players straight, so here's who we have: The Fudge on this European tour consist of Tim Bogert (bass), Carmine Appice (drums), Bill Pascali (keyboards, organ and vocals) and Teddy Rondinelli (guitar, vocals). Teddy's brother Bobby Rondinelli is the renowned drummer for Blue Oyster Cult.
To my left is the one and only irrepressible Carmine, what do you say to a man of his stature? Only one thing I could think of "you're the greatest drummer in the world", I know this sounds like kiss-ass crap to win him over but it's the truth. He is simply the best of his profession, where Tim jumps in and says "he knows it Dave but if you didn't tell him he would've told you he is the greatest drummer in the world" so now the ice is broken and thanks to Tim the fun can begin and we can all relax with each other.
Carmine is exactly what I expected and yet even some things I didn't (see sound check later). Carmine calls it as he sees it, I asked him if his new book will be a kick-ass balls to the wall kind of book or is he going to pull his punches? Tim again jumps in "Carmine never ever pulled any punches about anything in his life, he'll tell it all just the way it is", the shows, the groupies, people dead or alive, it's the only way he knows how to do it. To me Carmine as a person is a lot like Ric Lee - always professional, business smart / street smart all in one, I also wouldn't want to piss-off either one of them.
Tim Bogert, by the way reminds me of my own Uncle Rodger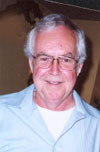 , they look a lot alike in build, mannerisms, and attitude, so when first meeting Tim there was an instant liking, as if we were never strangers, and I can only assume that he felt the same way too, because Brigitte and I spent every minute with them backstage, before and after the show, a good three hours worth of time together, and we never got in their way, or were asked to leave.
So Tim and I now had a chance to talk together, I told him I liked The Fudge record called "The Beat Goes On" (this is an album now on cd that's a musical tour of history). It is for special taste only and not for everyone but for me it was a wonderful recording and experimentation for the band in the late 60's. I had a copy of this with me and Tim and I looked at it together. Tim said glad you liked it Dave,"most people didn't, they just didn't understand the concept" he continued "it runied us for about a year and a half after it was released". I asked him what he thought about it now looking back, "well I went in and did my job and I liked the way it came out in the end" financially it was a disaster. I can't quote Tim here but I got the impression that we both agreed it was a work of art, or trying to be an artistic attempt to express the mood of the times, to me it worked very effectivley. (I think my copy was the first time Tim ever saw of that recording in CD format)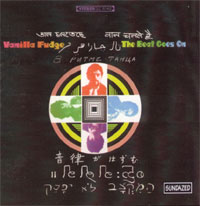 Being that I'm from upper New York State and the members of The Fudge are from NYC and New Jersey we all had a lot in common, so this made it very easy, at one point I asked all the members one by one where were you on 9/11 and the stories started to unfold Carmine was with Jim McCarty (ex Cactus member) in Califorina, Tim was in Califorina (where he lives) but it was Bill who gave the most heart wrenching story of his love and devotion to his family, because he has children and on that day the kids either didn't feel well or just stayed home, and the one who went into the city to work got out safe and sound. Thank God!!!
SOUND CHECK TIME:
So Tim and I were just starting to get into a great conversation, I said I'd like to talk with you about Rusty Day and your time with Cactus, Tim said "sure what do you want to know---", someone says "Tim you're on stage for sound check", we never got to finish that topic----and here's why!!!
Problems with the sound check:
Most times it is just a routine procedure check equipment, speakers, monitors, mikes ect., but the organ was missing and plans had to be made to resolve this problem and in a hurry. We sat at a table with Teddy and talked about his time playing with Leslie West and others, he can imitate Leslie exactly-- language and all, he had me rolling laughing, but we were the only ones having fun. Everyone else was trying to get things in order and this was creating some stress--- with all the why's and who is responsible and well what do we do now? Carmine came over with a big smile on his face and said "I guess all this shit won't look very good in your concert review about Da Fudge".
Funny thing is do you really think Carmine really gives a shit after all these years of being a Rock and Roll star " who writes what", hell no---but guess what--- hell yes--- they really do care about everything that goes on around them.
While the band sees all these problems as negative I observe something special in their response to these situations, I expected Carmine to have an outburst of some kind, I thought heads would roll and someone's ass would have to be kicked but no, he was just firm and direct, and said "get so and so on the phone, as soon as possible so this problem can be corrected and so it won't happen next time, this is unacceptable and needs to be resolved, if that doesn't work call...." All very matter of factly and calm, but heated and stressful at the same time.
The band all works together, on and off stage, what ever time it takes to get it perfect they do it, because it all counts.
So now we get to have our first listen of Tim, Carmine and Teddy but still no organ for Bill.
It does show up, thanks to Henry, and I get to help lift this beast up onto the stage, it's all starting to get better.
Backstage we go again, until the show begins, time for Brigitte and I to just watch and listen to the inner workings of the band, in the meantime Tim has signed every Fudge, Cactus, DBA, and BBA cd in our collection and now we need Carmine to do the same. Let me tell you all first hand they did everything we asked of them and they are as much fun to be around as the members of Ten Years After, what a class act and great bunch of guys to know. Everyone signed our guestbook with a "ya of course, give me a pen, sure where is it, what else do you need what can we do for you".
Before the concert at the table with Teddy, Bill comes over and asked us to use his video camera and digital camera to record the show for him, so I take the video and Brigitte handles the digital duties, then Henry (the owner asks us to sell the merchandise for the Fudge) nice request and nice to be trusted--we're very proud. (in the end the band handled the responsibilites). After the show the crowd went crazy, so excited to get close to the band. (Thank you once again Henry and Ramona Gellrich, owners of the "Blues Garage" in Hannover).
Preface to the Concert Review:
First of all we personally have to qualify this review:
Tim / Carmine / Bill / Teddy---in no way restricted the use of anything we saw or heard during our time together, nothing was suggested to us to be private, personal, confidental, or off limits.
With this in mind this review is written with all do respect to these living legends of Rock Music. Also please keep in mind this is our first meeting with the the band members in person.
THE FUDGE IN CONCERT:
Full house, older fans as well as young / new fans come to witness the magic that happens on stage at a FUDGE concert.
Tim is solid as always, Carmine is in great form as always, Bill is on top of the music and ready to rock, and Teddy is the one leading the way on guitar.
The highlights were: Bill pounding sounds out of the organ, rocking it back and forth and making it sway all over the place, Carmine's drum solo in which he milked everything out of that kit for everyone to see, Tim did a Bass solo that would put most players to shame and make them switch to another instrument altogether, I kept wanting to scream out "Grease it out Timmy ", as Rusty Day used to tell him on the first Cactus album during the song OLEO. The fact is it was Teddy that put the punch into the band the more he projected to the audience the harder Tim, Carmine and Bill let loose and the more the energy climbed to supersonic proportions, then Carmine got the people cranked up by talking to them, then Tim was thumping his bass, and Bill was working the crowd into a frenzy--and it never stopped all night. Working off of each other and as with all Fudge music it runs the emotional gamut from rockers to ballads from Concorde to church hymn and right into "Do Ya Think I'm Sexy" (Rod Stewart / Carmine Appice) written tune. Then there's "You Keep Me Hanging On" of course, it's a song that never gets old and its held up well over the years and tonight it sounds fresh, new and bright with a warm glow around the audience and reflecting back onto the band----and that's the magic!!!
Five hours to set up and almost two hours on stage, and as Jim Morrison used to say: give us "An Hour For Magic" and DA FUDGE did just that.
A very long encore and it's over, backstage Tim has a blister on his finger and then laughs and says "Just Like The Old Days--All Over Again" Carmine comes in and needs some Ice for his shoulder. All in all these men are survivors and that's what counts, living the life they love, cause there is no other.
Brigitte is out front and I'm with them backstage, Tim and Carmine start talking about the show, a missed note here, an off drum beat there, a mike stand or two that Carmine accidentally knocked over trying to get out into the audience---I relay this information to show the human and professional side of these two men, who have been playing together and been friends for the last 35 years or so, not to point out a little flaw here and there because only they noticed these things so it is really a non-existent event to us the fans, but they care and that's why they're still around and Kicking Ass!!! QUALITY and INTEGRITY
So dinner is served to the band, Henry comes in to tell them what a great show it was, sorry for the delay in getting the organ on stage, and he'd love to have them come back again, and then it's time to say good-bye. They are all exhausted and travel begins at 7:00 AM and it's now 2:00 in the morning. Our parting is short and sweet and the whole evening memorable.