The History of Ten Years After is Seemless, Intact and Energized: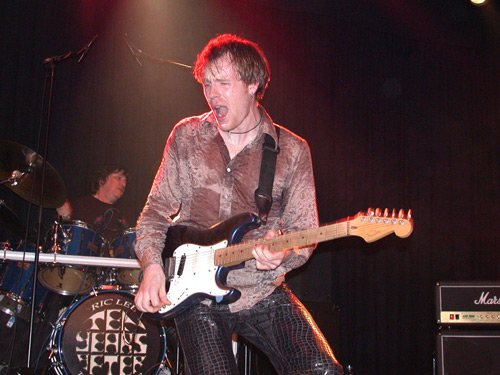 Concert Review -- Ten Years After in Osnabrück Germany ---April 10, 2004
Review and Photos by Brigitte & Dave
The best concert we've ever attended
The venue is called "Lagerhalle", the band is Ten Years After with Joe Gooch on guitar and vocals. The venue is on a side street you enter through a side door, our names are on the "friends of Ten Years After guest list" so we are able to walk on through with no delay.
The place is already half full and we're running a little late this time, as I had to work this Saturday from 8 to 6, so this feels a little strange, not to be the first ones in and on this occasion we also won't be the last ones to leave.
The venue appears to be nothing special but in very short order we will feel very differently. The main hall is where you enter, and the entrance to the backstage area is on the left hand side of the room, walk through the door, hang a right down the hallway and you're there. What we soon discover is that the main concert hall and the backstage area are parallel to each other, with only a wall dividing them. So in this case the band can go directly onto the stage and off again without delay or resistance.
Ric and Chick are out shopping in the town, while Joe and Leo are backstage, also our friends Torsten and Jens are out having dinner somewhere so we just settle in for a little semi-personal chat with Joe and Leo. My main talk with Joe was that about the band's sound at their last concert we attended in Holland, to Joe from the stage vantage point, it could've been a little better but it was acceptable, he's played "under much worse conditions" in his life.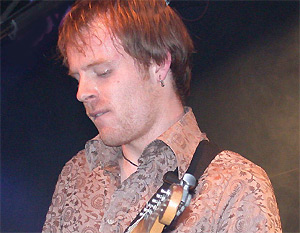 Joe continues "every venue is different, with its own characteristics and inherent set of problems, we try to adjust to them and the environment as best we can". Joe and I have had honest discussions like this in the past and he always has been up front and straight forward, he has nothing to hide and no reason or time to play head games.
It was during my next conversation with Tom Lyons that more is revealed, the simple truth is that the monitors were the problem and their sound technician that was at the Holland gig is also here this evening, so we'll see how things unfold.
Leo Lyons
Our time with Leo was relaxed and this time Brigitte wanted to ask him some questions (big step for her as shy and timid as she is). Leo as with Joe is a straight shooter, he pulls no punches, plays no games, ask him a direct question you'll get a direct answer, but as in the old (Peter Green / Fleetwood Mac song called OH WELL), you just might not get the answer you want me to (that you're looking for).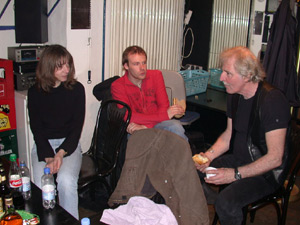 Leo always the gentleman doesn't try to deflect or confuse the topic or his response. Leo at the most will add some dry humour to the situation and give you a quick smile and a possible wink, all in good fun and understanding. I remember asking him, "will it bother you, if I ask you a question on this topic" his reply was "you might bore me but you won't bother me" and that folks, is the Leo Lyons that we have come to know and respect.
Leo with Brigitte, is soft spoken and attentive to her needs and concerns, she is not only comfortable but content which for her is rare under the best of circumstance
Half Hour to Showtime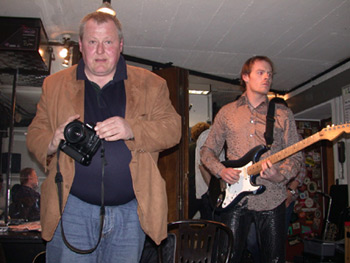 Torsten and Jens are returning from dinner and Jens has brought with him a new digital camera just for this event, all I can say is it must have cost a few thousand dollars more than Brigitte's so this is really starting to become special night.

For us it's only an hour drive, for Jens and Torsten it's about three and a half hour drive from Hamburg, so when we get the chance to meet it's a real treat for everyone. Sometimes we just sit and listen, other times we join in, but most of all we learn what one of the best rock and roll bands in the world is all about.

When you get Torsten and I together with a dozen of other people backstage things start to move very quickly and time flies faster. Not long after they enter here comes Ric and Chick to add to the mix of this cozy little family. Stories start to flow, questions are being asked, information is exchanged and answers from all different angles are flowing back and forth, everything is normal and progressing just fine.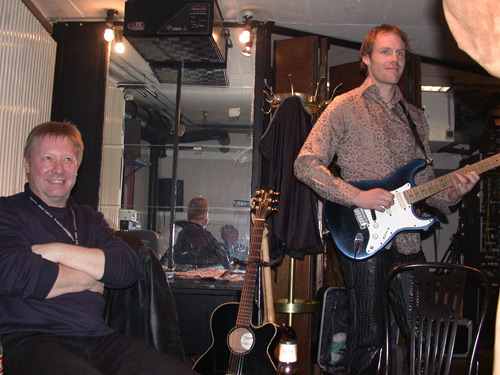 This "behind the scenes" view is special because you get to observe how the band functions before, during and after the show. Who helps who, who needs what when and how they interact with each other, the venue owners and with the fans like ourselves. I personally lost track of how many times we've been with TYA but it must be rounding the fifteen mark in the last two years, and everytime it's different for us, but for the men of TYA they act and react with the same professional style and good manners that you would expect from a seasoned group of rock and roll veterans and an up and coming future guitar legend named Joe Gooch.
Opening Band / Pre Show Preparations
They do a great job and play some good music, the crowd loves them. While they're on stage Joe picks up his guitar and plays right along with them while sitting backstage, and understand that Joe is playing by ear and it's coming out his fingers at the same time, that's an example of just how fast he learns. Forty five minutes of this band and their job is done.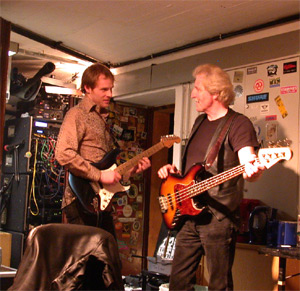 I have given you the setting from our position, and now the pace picks up as TYA is the star attraction. At this point each member is getting ready individually and collectively for what's to come, and what I found interesting is Ric may have a little joke or comment with Leo and Chick a short exchange will follow and then the rest of the time moments of intense individual focus. The joke or comment isn't planned but yet also not spontaneous, I learned from observation that this moment is the same as a signal from pilot to his co-pilots to prepare for take off, it's just a mutual confirmation that all systems are green and go!!! This is the simple type of event that speaks volums to a fan like myself, Ric listens to the tone of the reply and the legenth and input of the response and then he can judge accordinly. That verbal and in most cases noverbal interaction would go virtually unnoticed to any one else, but I find it an important ideosyncrasy that later will be a factor in their stage performance. All it really amounts to right now is that everyone is on the same page, at the same time and is ready to Rock and Roll tonight.
Concert in Osnabrück—Ten Years After Rocks a Packed House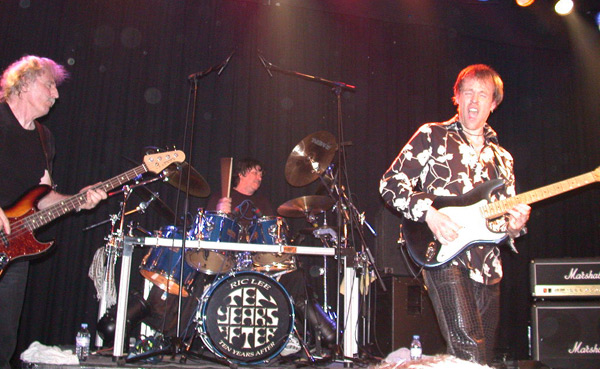 The place filled up fast, people were lined up outside still waiting to get in and the band is more than ready to please them. The bar is at the back as if placed on top of a little hill because this place is set up like a large movie theatre with staggered platforms for the audience to stand on and enjoy, there's not another place left to stand and not a bad view from anywhere in this venue. No one is restrained to seats and everyone can move around at will to any position he or she desires.
One of the unexpected highlights for me was being able to watch our friend and long time Ten Years After fan and collegue Torsten Strube have the great honor to go up on stage and personally introduce the band. I think Torsten would agree it was the chance of a lifetime for any fan and he was like a kid in a candy store. He did an excellent job and the depth of our friendship has grown, to witness your friend being the happiest man on this planet is a real thrill.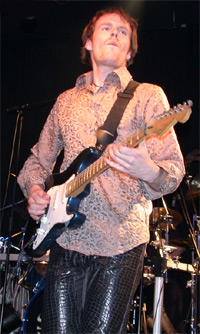 I can't remember who took the stage first, I'll guess Chick then Joe then Leo and Ric, what I did notice is another thing that makes this a very special band, Leo bows to the audience, Joe has direct eye contact to acknowledge them, Chick waves his hand and has a big smile on his face and Ric raises his drum sticks high and this audience like every other audience that we have been a witness to is getting in tune with these four musicians. I can now put my finger on exactly what makes a Ten Years After concert extraordinary, it's a ceremony, not just a Rock and Roll show, it is a sacred event, a precious moment. It's magic happening right before your eyes. I've been trying to figure out just how this happens and what a revelation it was for me to finally discover how this comes about.
The individual members get themselves into a positive groove, then collectively the band becomes one, and upon entering the arena they're one solidified unit,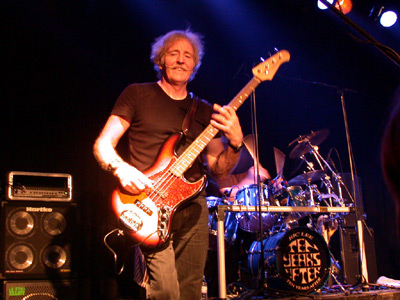 an unstopable force to be reckoned with, this all happens within seconds, not minutes and the room is electrified, and I don't mean just with anticipation but it's in the air and spreading like nitrous oxide. It's infectious, like being in love for the first time or riding your new bike on your own, or getting a long letter from an old friend or lover. In the time it just took you to remember these warm thoughts Joe is banging out the first notes to "I Woke Up This Morning" you're wide awake but it's the same feeling as being on a picnic in mid Summer. A Rock and Roll dream, "Hear Me Calling" "Big Black 45" "I Can't Keep From Crying" is the soundtrack. Of course you're standing there in body but in spirit you've forgotten all about the real world, the band is in control and you've allowed them to take over.
The reaction to their new songs is incredible. Now you're listening to their third or fourth number of the night, and the energy and passion that they're projecting into the audience has now been to the back wall and is now heading in the direction of the stage. It's a wave that continues throughout the whole two hour show and with the fan excitement rising and the volume increasing no one is immune from this positive vibe.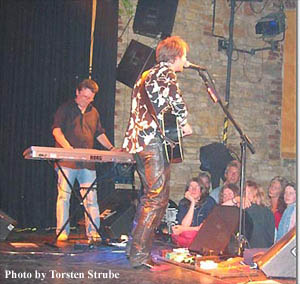 Joe is now doing a Ten Years After song called "I'd Love to Change the World" on acoustic guitar and as you can see in Torsten's photo the audience is calm, aware and content.
A sensitive ballad full of emotion.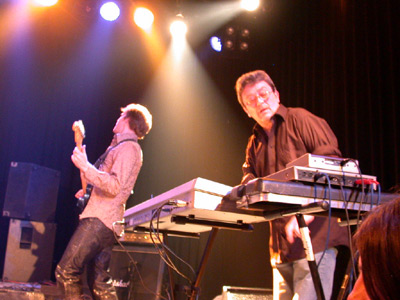 About the band at this point: Chick is just Chick and having a great time and checking out the female fans in front of him,
Joe is into the groove, into his guitar and responding to the crowd, Leo and Ric miss nothing that's happening on stage or in the audience and here is a quick example. Some people decided that they wanted to dance and not just in one place, but in a five by five space so other people were getting bumped and pushed alot, one woman got a little too close to the man in front of her, he turned around and started dancing with her, her man didn't appreciate this interaction and voiced his opinion loudly. Ric came out from behind his drum kit, walked to center stage and said "hey, we're all here to have a good time mate, calm down" easy as that.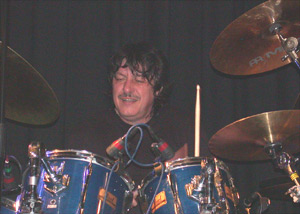 The next event happened when an over zealous fan jumped up on stage and headed towards Ric, the fan then proceeded to do the best version of the "Wayne's World We're Not Worthy" salute, only in this case it was a solo performance by a fan expressing his admiration for Ric Lee's drumming ability on Hobbit. Tom Lyons had to escort the fan out through the backstage area and back into the concert hall, no muss no fuss, no hard feelings in the least. It has all been in good fun and in a positive spirit. (on a personal note: The larger the audience becomes the more these situations seem to spring up, it is a true sign where Ten Years After with Joe is heading, bigger venues and a fan base that's increasing every day. Also I dread the day that we have to sit in our seats to watch our favorite band in a huge venue from thirty feet away.)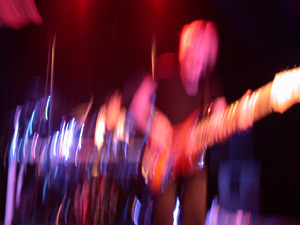 Towards the end of the concert another wonderful event took place, stationary Leo (as if you could ever refer to Leo Lyons as anything stationary)
is now disconnected from his amp and heading over to have a little private jam session with Chick. Leo is now free to roam where ever he likes thanks to the radio pack that allowes him and his Lakland Bass to travel around unrestrained.
Joe is getting better all the time, he learns quick and he's really into TYA the music and the veterans he works with. Backstage with Jens and Torsten, Jens said "within five years Joe will be one of the top five guitarists in the world" this coming from Jens (who has extensive music experience and professional musical knowledge) took me by surprise. I have been thinking of TYA and Joe week to week and month to month but Jens just put the overall picture into perspective. I think that Jens' quick comment was another real revelation for both Torsten and I.

Backstage
The main show is over, and the band isn't exhausted yet but sopping wet drenched in their own sweat, Joe's shirt is now dripping water looking as if he just stepped out of a hot shower, he quickly puts on a new shirt and drinks a whole bottle of orange juice-one gulp half gone, two gulp all gone.
Encores
I lost track - two or three but at least four more songs including "50,000 Miles Beneath My Brain" "Choo-Choo Mama" and some good old Chuck Berry to top off a perfect night.
Backstage Again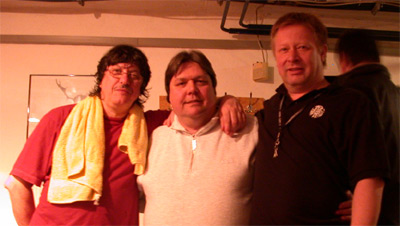 Yes folks, I earn my stripes as the official towel passer-outter and TYA groupie water boy, no problem for me, in fact sometimes I can come in quite handy, as Joe hit his head coming down the stairs to the backstage area and I knew where the first aid kit was located for the medical supplies needed. My day job is working as a nursing assistant, but Tom is attending to Joe's care in a heartbeat.
The rest of the evening was more observing and listening, to the band members and shortly to their fans.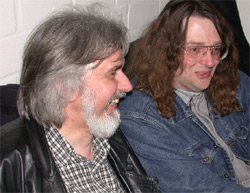 Two fans in particular were Thomas Pfeifer and Reinhard Pieper who both attended Joe's second gig along us in Twist, Germany in 2002. Thomas came to me looking for a TYA Polo Shirt, we went out front and asked Leo,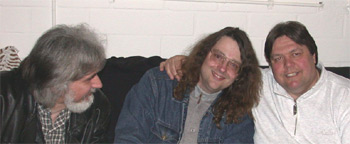 who asked Ric who said we've sold all of them, I thought it was for that night only, but no, there's no more to be had at all. I offered Thomas another shirt he said no thanks he had his heart set on a polo shirt. I said Thomas, give me your address and I'll send you my brand new one from home, still in the box. I figure anyone who has supported Ten Years After over the years and now again, right from their second gig in Twist deserves a special present, as for Reinhard, his request to Brigitte was a copy of the One Night Jammed CD, both our packages arrived at their respective houses last week.
The Men who put the Magic in Ten Years After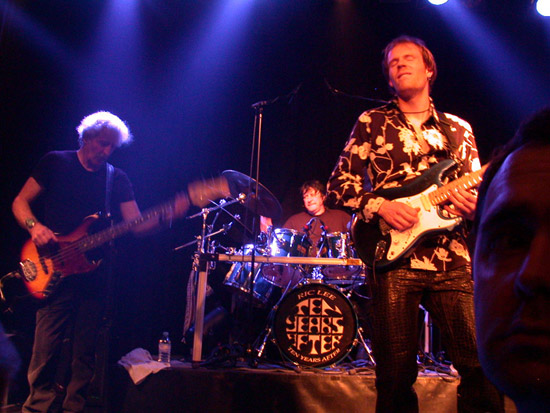 It makes no difference if you're discussing the "Classic Ten Years After" or the "Ten Years After now", this band can only be called "Ten Years After" if the quality of the music is present. How the music is created and what goes on behind the scenes is inconsequential to the real question are they exceptional, extraordinary and making their fans happy? There is no doubt that the Ten Years After name means top shelf, for they can be nothing less. The legend lives on seemlessly.
They have the same ingredients now as they did back in 1967, we refer to passion, energy, an over abundence of raw talent and the desire to be happy and make others happy while they do what they have always done best, making music.
On stage: they're professional and give one hundred and ten percent of themselves to their audience. Off stage: They're honest, open, straight shooters and just damn fun to be around.
Are you going to feel this magic happening at one of their concerts? In simple terms yes, all you need to do are a few simple things:
First: when you get to the venue stop and say hello to the person standing next to you, compare notes, buy a drink or two and get comfortable with your surroundings.
Second: When the band comes on stage watch their body language and gestures, they're just as happy to see you there as you are to see them. They are showing you respect in a way that few other bands in the world take the time to do. This creates a warm atmosphere and a personal bond between you and them, if you're receptive you're in for a great time, if you're not receptive then you came for the wrong reasons and it's not the job of the band to deal with or help you solve your problems.
Third: After the show every member of Ten Years After is accessible for autographs, conversation or just shaking hands with their fans, old or new - everyone is welcome.
Nothing this band does is for obligatory reasons, it all comes from their heart, they will give back to you "the audience" double what you give to them.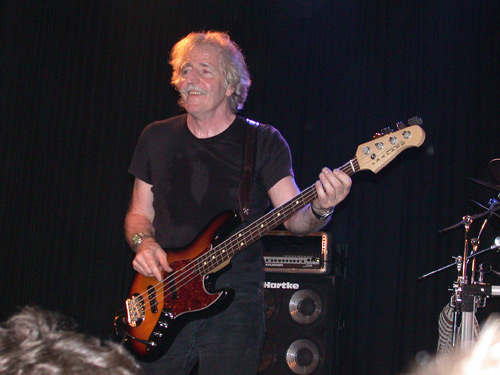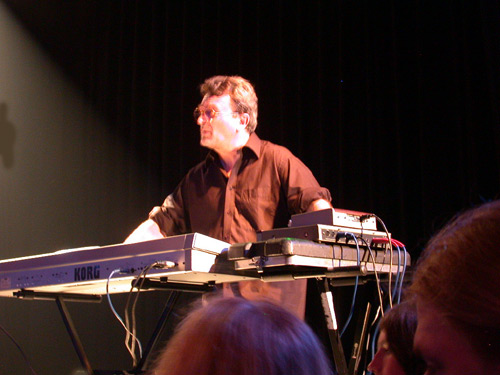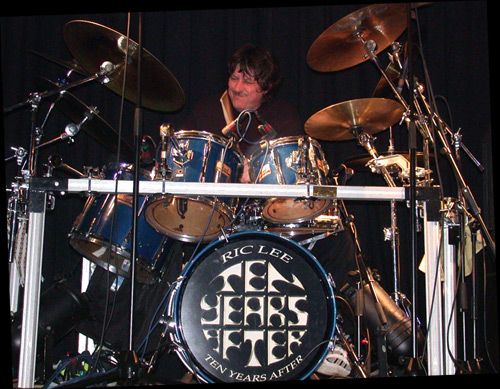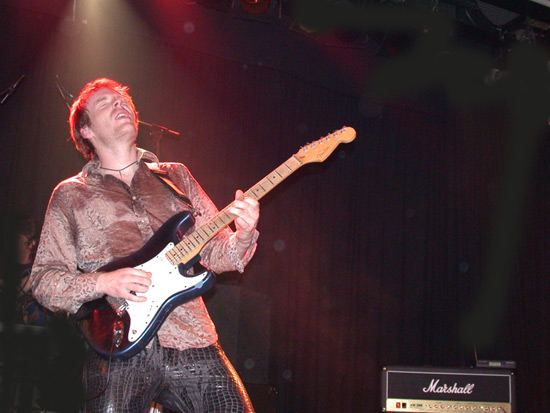 If you're a real fan of Ten Years After or just like great Rock and Roll
JUST GET THERE and THEY'll DO THE REST!!!