OSNABRÜCK CONCERT AT THE "ROSENHOF"
FRIDAY NOVEMBER 9, 2007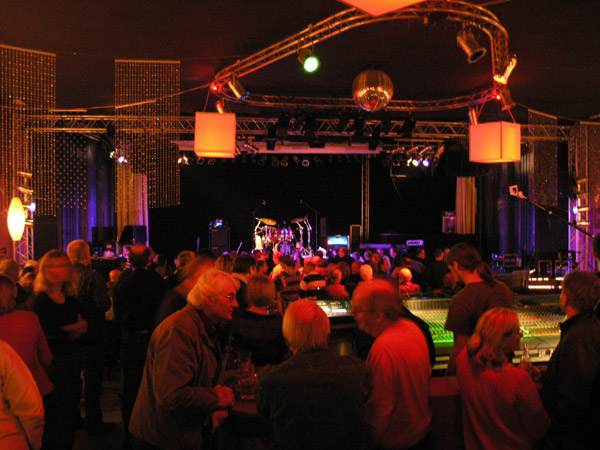 The fans speak out:
"We were together at the Ten Years After concert on Friday November 9th in Osnabruck, and I enjoyed it very much. It was a lovely Rock and Blues night with some Woodstock guys playing from their heart and a young fellow playing the stars from heaven on his guitar.
I certainly will visit the concert again when TYA will play near Oldenzaal, Holland.
Much Greetings from,
Henk op de Weegh
"Yesterday I was in Osnabruck to the Ten Years After show with some friends. We all have had a very pleasant rocking evening, and I want to thank you for playing so well and so long!!! It was one of the best concerts I have seen overall. It is always nice to have a place just in front of the podium and to be part of the hardest TYA fans. Next time you play near by, we surely come again.
Ten Years After Forever
Greetings from Gerard Schouwink
Hengelo, Holland
"Joe Gooch is simply fantastic, absolutely fresh and Ten Years After "Now" are fantastic. They accomplished a hard feat, to draw audiences and sell out houses with a new guitarist. I mean, could someone actually equal Alvin? Once thought of as impossible or simply unthinkable, but it has come to pass."
"Joe plays more sensitive and evocative guitar solos, surpassing his predecessor on this and many other levels. His version of "I'd Love To Change The World" provides a better dynamic and technically more effective statement than the original." Joe has amazing finger dexterity and is one of the most thrilling discoveries after so many years of big new surprises in the music world. Joe stands heads and shoulders above many a lesser player, because his playing is very tonal, as is Leo Lyons too."
"Leo plays hard, heavy handed and with incredible youth and vigour. To watch and listen to him (Leo) soloing and playing is an experience not to be missed. He punctuates songs with a pumping thumping rhythm, with a definitive accent like no one else, it's his trademark and no bass player in the world can match his performance, there's just no competition."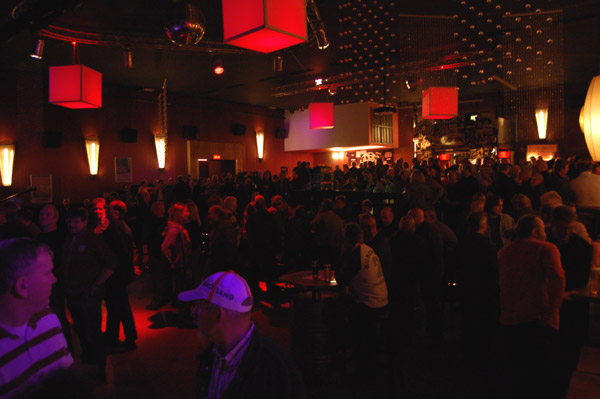 Notes: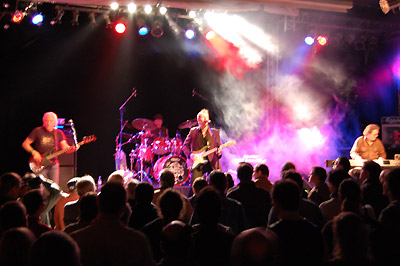 Throughout the show the audience stood enthralled and focused. Facing the stage, watching the camera crew doing their respective jobs with quizzical interest, and the band playing as if their lives depended on it.
As stated above, everyone in the audience would return or travel to see the band again. This is the true testament of just how far the band has progressed in the last five years with Joe Gooch at the helm, Leo as the rudder / keel master, Ric as the captain and Chick as executive navigator. A very well oiled machine.
The Camera Crew:
Are the same professionals who did the outstanding dvd's for "Foreigner" and
"Y & T (Yesterday and Today) and now they're here to capture another live performance by Ten Years After.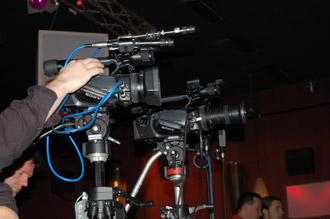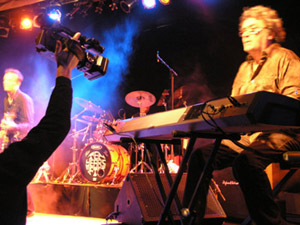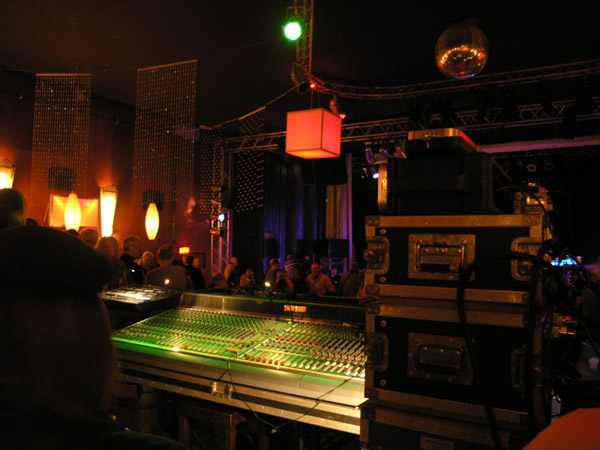 Three cameras are set up right next to Wolfie and the huge mixing board. There's also a boom camera like the one in Luxembourg, as well as three portable remote cameras for the stage shots. I counted seven all together, along with people in the audience doing their personal filming.
I witnessed the checks and double checks before the concert began. Timers were calibrated and set into motion, and then reset once again. The set list was reviewed and the crew was well prepared / versed to handle the extra long show.
Coming to Osnabruck this evening we were unprepared for all this extra activity, we were expecting just another good concert by TYA – and the rest was just another bonus for us.
Sander Veenstra - Leo's bass technician:
Hello Sander: Thanks for everything this year, great meeting you in Luxembourg and here in Osnabrück - always good to see you.
All the best to you, your family and the band in 2008!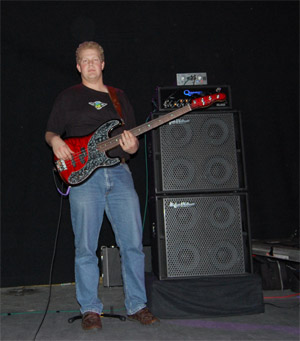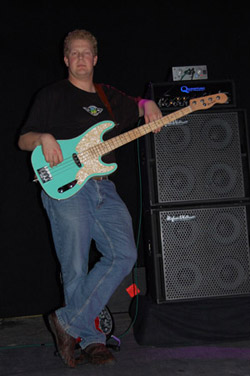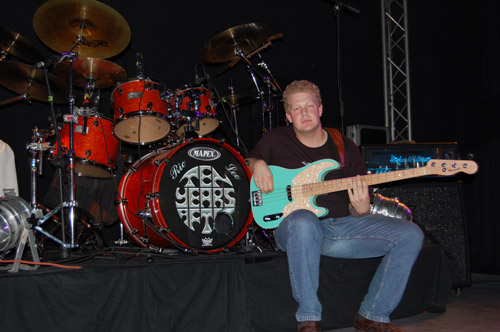 Our friends were again out in force.
Anita Ranisch, Reinhard Pieper, Wolfgang Pilgrim (concert promoter) and photographers were there with us….along with many other familiar faces.
| | |
| --- | --- |
| | |
| | |
| | |
| | |
The Concert:
The set list was expanded for this performance.
The band was in good form.
The film crew were very attentive to detail.
Wolfe controlled the mixing board from start to finish, while also adding some echo to Joe's vocals in the right places.
All in all another very good show.
We submit Brigitte's excellent photos here, to be the visual proof of what we and the other fans witnessed first hand on that night
Enjoy Friends!