Ten Years After – The Heroes of Woodstock 2009
When first hearing a this 40th year celebration of Woodstock 1969 happening forty years later, I wasn't at all sceptical about it coming off without a hitch, but only that in the end it will be the last time that Ten Years After and the other bands in attendance will be a part of anything like this.
I knew that it would go over well, because people keep asking for these events, and truly want to see their heroes perform live on stage, even after all of these years and with some original band members missing, or now dead and gone. The national news media has been covering this event extremely well and the promotion has been far better than what I'm use to seeing for an individual Ten Years After concert here in Germany, that only covers a five kilometre area. People were more than ready for "The Heroes of Woodstock" concert.
Ten Years After's tour of the USA started in Livermore Maine on August 9th and according to Leo Lyons, he found himself in the middle of nowhere, playing somewhere but had no idea really where he had ended up. That's Maine Leo welcome to the land of evergreens and potatoes. The great American North East. On August 12th the band played in New York City, to which I'm sure everyone in the band was happy to see daylight and civilization once again!
On the 13th they played Westbury, New York – On the 14th they played in Ledyars, Connecticut at the famous MGM Grand Foxwoods Resort and Casino. One of the highlights of this event was that Herb Staehr's sister Claudia and brother Tom were there to see the band, and meet up with other Ten Years After fans, and they were really looking forward to it.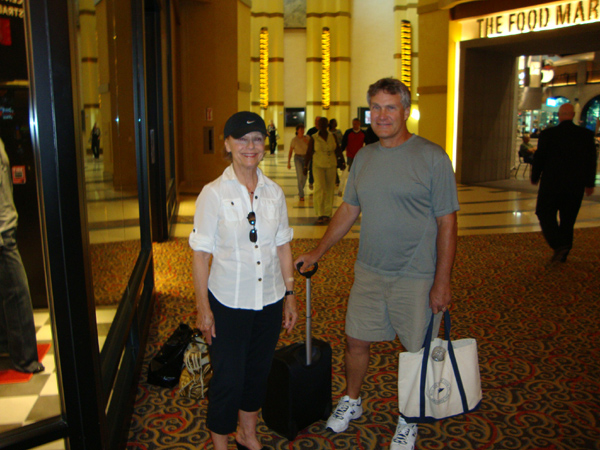 Claudia and Tom Staehr attended the "Heroes of Woodstock Concert"
at MGM Grand Foxwoods on August 14th, 2009

Please enjoy Claudia's videos at YouTube
| | |
| --- | --- |
| | |
Claudia Staehr
Tom and I were at the "Heroes of Woodstock" show at the MGM Grand Hotel theater at Foxwoods in Connecticut on Friday, August 14. Of all the bands (Big Brother and the Holding Company, Canned Heat, Jefferson Starship, etc.) TYA outshone them all without question and was the only band asked to play an encore ("Choo Choo Mama"). The band started the set with "King of the Blues", "I'm Going Home", (Tom will fill in the rest of the program!). There were some technical difficulties (at one point Joe had no sound!) but the great tech crew fixed that problem pretty fast. I'll let Tom post his own review (he was at the original Woodstock in '69 with our brother Herb). The band sounded great and I emailed Leo and told him he moved like a "20 year old!" Unfortunately, Tom and I did not get to meet the band due to a major mixup in communication. Tom met them in Vancouver last year, but I never have and was really looking forward to it. Oh, well, they have lots of concerts scheduled in Europe this fall--maybe I'll have to go see them "on the other side of the pond"!
Claudia
---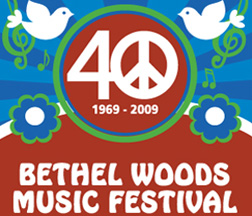 Saturday August 15, 2009 – Bethel Woods Center for the Arts
This was the Grand Daddy of all events on this tour. This was the moment, that everyone was focused on – the exact date of the original Woodstock event and on the same land. Forty years later !!! As I write this the concert is long over, history was made and is now as safe as yesterday, the yesterday that they all came to pay homage to.
Just as an aside Leo Lyons played on the Leslie West album entitled "As Phat As It Gets" and on this Woodstock occasion Leslie is getting married on stage and right in the middle of his set, to his long time girlfriend. Wonder if Leo will be giving the bride away or be Leslie's best man – I don't think so – but never say never! The spirit of Woodstock lives on in us all.
Bob Bergstrom
bob@olympicpatentworks.com
My son and I saw Ten Years After in Winthrop, WA USA last weekend – absolutely first class amazing performance. I just ordered a bunch of Ten Years After CDs. Joe Gooch is fabulous. Thanks for a remarkable hour of music.
You guys rock!!! My wife & I just got home from seeing The Heroes of Woodstock. Ten Years After stole the show, Thank you for your hard work




Joliet, IL
maller.jenna@gmail.com
www.stillrockinproductions.com
On Behalf of Dale Thomas and Still Rockin' Productions, thank you for a great show in Lowell, MA. If there is anything we can do for you, please do not hesitate to contact us. You guys put on a great show! All the talent and energy that you guys brought to your performance made it incredible.
Just wanted to thank you guys for an excellent concert experience last night. Although you are all fine musicians, I was especially intrigued by Joes guitar work. He had very unique styling riffs with a full sound that he made look effortless. I actually left the concert wanting to hear much more of your work. Thanks again
Loved the show last night in Westbury!!
You were awesome!!! My husbands still mad at me because I posted on my facebook that watching you guys live was better than any sex I have ever had... he took it all wrong... we've had some great sex ..
but you guys F'n ROCK'D!!!!! Im tryin to get some tix for Bethel...
We're comin up anyway even if it's just to see the museum.. haven'd danced in the field since before the arts center..
Jonie was right... put up a parkin lot:)
Maybe I'll see ya again on Saturday!!!!
God Bless!!

Peace!!!
Show was great last night at the NOKIA in Times Square. Totally dug it. thanks fellas.
Looking forward to seeing you guys in California this month.. You have a awesome band..
So it is, that by August 26, 2009 the Ten Years After participation in the Heroes of Woodstock Festival will be written down in history and sealed over once and for all.
I personally have no desire to be witness to The Woodstock 50th Anniversary Celebration….. for me, this 40th event sealed for me….once and for all.
Time has run out, the party's over, the fat lady has sang more than once and the spirit lives on in our hearts - The song is over, it's time to shave and go home!!!
On Saturday August 29th Brigitte and I will welcome the band back to Germany from yet another triumphant American tour. Another notch in their magnificent career belt buckle.
They'll be playing in Northeim, Germany at the Waldbühne Open Air Festival dubbed as
"From Earth to Universe" Earth to Heaven, and what a brilliant way to end the final Woodstock outing for Ten Years After. On the highest note possible!
by Dave and Brigitte