Ten Years After Live In Soest, Germany
October 28, 2010
Travel and Arrival :
Very easy, open road and only one hour and fifteen minutes to get there. Met up with Anita and Erdme standing outside of the café, that is connected to the venue, the four of us headed inside and ordered a round of drinks. We waited for about half an hour before entering the venue.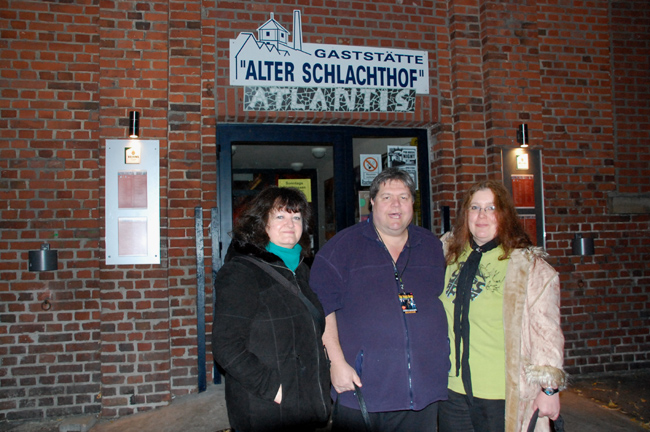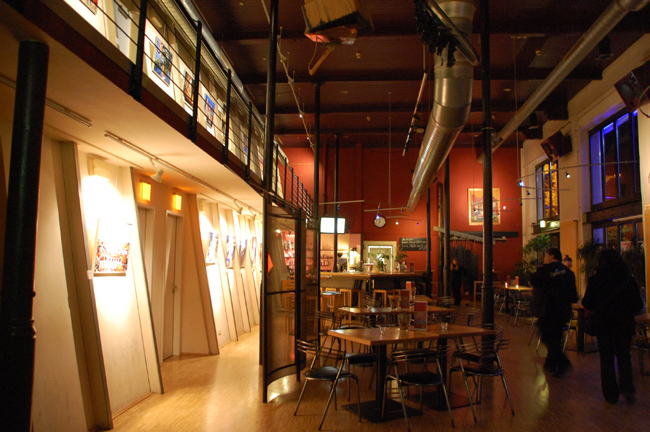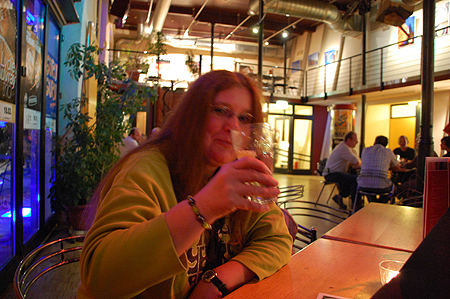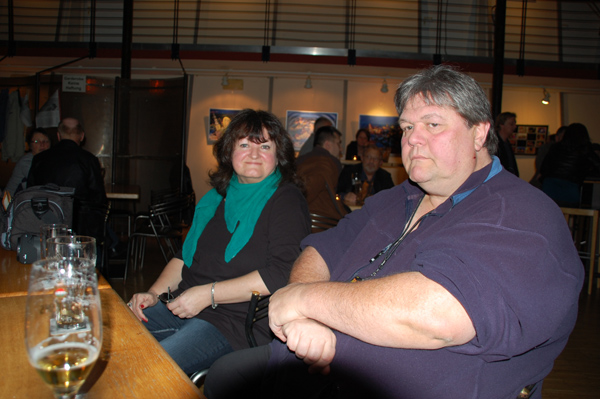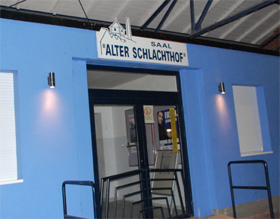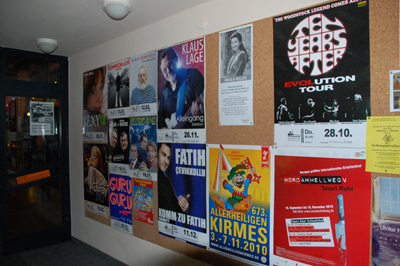 The Venue Door:
Nice place, but the first thing I noticed was, that there was entirely way too many security guards for one little venue. I handed in my ticket and went over to introduce myself to Sarah.
I met her on face-book, she is a lover of 1960's and early 1970's blues and rock music.
She acquired this love of Classic Rock and Original Blues, from both her parents.
I had invited Sarah and her friend to come to this concert, but unfortunately her friend couldn't make it, so we hung out together throughout the concert. I told Sarah she'd be in good hands, so not to worry. Sarah is a very mature twenty one year old , she's smart, quick and cute. She is also very independent and a joy to be around. her eyes and facial expressions are a delight to watch, because whatever's on her mind, is also reflected on her face.
Getting To Know Our New Friend:
I first had to apologise for me being in the café and her in the venue. Then I had to calm down enough to listen to her words, and respond in my normal tone. As if nothing had happened prior to us meeting. It was lucky for me that she understood my frustration perfectly. She made it very easy for me, she just carried on as if nothing had happened, smart young lady she is. I thanked her for that. I was still hyper, after all the driving and heavy traffic it took to get there.
I started rattling off questions at her, and she surprised me by answering each and every question in a totally straight forward honest way. Directly honest, with a "matter of fact" sense, that was both refreshing and relaxing.
She is soft spoken, with clear bright eyes and natural red hair, that wasn't blazing red, but with a soft tone like a hot glowing sunset right before dusk.
We then moved towards the stage, and settled in by four large inactive monitor boxes, that made a good table. Not the best position to view the concert, but she never complained.
Front Row Stage:
Brigitte and Anita got themselves right into position as usual, front row centre. Right in front where Joe will be standing. Cameras at the ready, and waiting patiently, because it seemed to take an incredibly long time for the band to come on stage, but this was just my personal opinion. The doors opened at 7:00 and the band came on at 8:00 sharp. I chose this place to stand because it was right under the stage sound system, so it would not blast my ears to death, and Sarah didn't question my choice. This was good for the time being, as I had other plans for a better location in which to view the band performing. Just as I had done for Juliette Bellier in Luxembourg a few weeks before.
Back-Stage Area:
Where we were standing, the stage was to the right and the entrance to the backstage was right behind me. Brigitte had her Ten Years After Concert Passes on as did I, we used them in Luxembourg and felt we should have no problem here as well.
In most normal cases the venues accept us willingly and welcome our presence. We never had a problem having access to the band, because we never got in their way or caused any problems. This time we were not allowed access. And I rebelled vehemently, once again due to the heavy handed and obnoxious security staff presence.
ONE HELL OF A PERFORMANCE:
The smoke machine starts smoking its steam - vaporous fog across the stage. Chick, Joe, Ric and Leo enter poised for action. It takes Joe less than a minute to get himself in order, then he hits the strings for a little feedback introduction, then slides right into the 1970 classic from the bands "Watt" album, and the first track:

"I'm Coming On". Joe is cranking it up and not missing a note, Leo is following Joe's lead, Chick is keeping up nicely and Ric's drums are kicking the song right along at a fast pace. The song is sounding more like the album version now, and better than the last time I heard it. It has the power and kick as I remember it being.
All the way through this number, the entire band is rocking hard enough to shake the walls and rattle the glasses on the table next door! Joe is pulling out all the stops tonight, he is all over the fret-board like a mad-man – on the strings, over the strings, shaking the guitar and creating his own vibrato without the help of any electronics. Leo is a legendary phenomenon in his own rite, no bass player alive plays or moves like he does, and he would play all night long if you would let him. The song comes to an extended ending courtesy of Joe….stretching it out, and letting it be known that he has arrived, and that he is here to stay! The audience erupts with a loud screech like (tires hitting the tarmac) into a thunderous roar of a 747 hitting its reverse thrusters, to slow it down upon landing. Leo steps up the microphone and introduces the next song,
"King Of The Blues". The count off begins and the band is right into it. The rhythm section is kicking it alive, while Joe stands listening, but Joe allows more than the usual bars of music to roll by before joining in with the others. Timing, it's all in the timing, and he's not in any rush to play his guitar until he's ready. During the song Leo adds his vocals to the number, while Chick's supporting keyboard work from the other side of the stage is impressive. While I can't see Ric, from my position, I can certainly hear him back there no doubt. What the entire band is laying out here, is an energetic and passionate performance, that is the essence of what they're all about – past and present.
The song finishes, and the audience once again is wild with appreciation and let the band know it – in no uncertain terms.
The next number is "Hear Me Calling" – Now this song is a classic Ten Years After staple, their bread and butter from the early days playing in clubs and recorded in the studio, for release on their Stonedhenge album. With a boogie beat, and a natural hook, this tune will warm anyone up on a cold damp day. A cute little rocker, that's guaranteed to pull you in and make you tap your feet. During the early days, the band would keep this song going much longer by adding Canned Heats "On The Road Again" which has the same boogie beat and slips right into the Hear Me Calling groove. Such as the bootleg recordings prove goes something like this: Hear me callin´ hear me callin´ loud, I'm on the road again, on the road again….hear me callin´, can't wait to get on the road again. (just slipping from one song into the other). In the old days, it would start with Hear Me Callin´- the middle part would be On The Road Again and then back to Hear Me Callin´ for the grand finish. This is what I was thinking as the song was playing on. This audience would have loved the old, live version, right about now.
The band slows it down some for the next song, a bluesy ballad called, "Angry Words" from their "Evolution" cd. Let's call it a power ballad, and done to perfection, all the way through.
Joe is on fire, never missed a note, just the right amount of passion, emotion and power.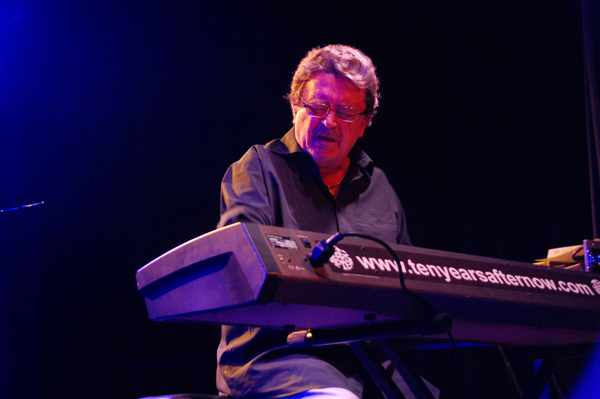 The audience is hanging onto every phrase and accent played. It is also on these slow numbers where Chick Churchill become a vital part of the bands complete sound. When he is in his element he really shines, and it's on the slow numbers that his real talent comes through.
On these Chick could be very conservative, economic and subtle in his playing and still get the mood of the music across. Given enough time that is, but time is of the essence here, and he needs to pack in as much as he can, in a short amount of time, without coming across as over bearing, or appearing to be showing off, thus losing his credibility, and that would be a real shame. On this song, Chick is providing everything that's needed and with the style of a master craftsman. Joe, and the rest of the band allow Chick as much space as he wants, nothing is rushed along here. If he wanted to play another ten minutes, that's Chicks choice.
The song comes to a close, the audience responds appropriately and everything is in balance once again.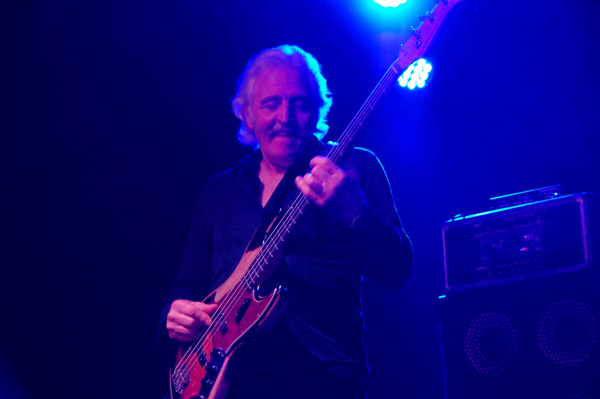 Next comes "Big Black 45" which is another Leo Lyons song from his days with his band "Kick" from the album………. This is a nice little rocker with a great hook and a good story line. A good change-up to follow Angry voices for sure. But it's Joe who kicks ass throughout this song and is outstanding moving around the stage, from one member to another.
Joe gets the audience and band back into high gear and rocking-out!
This is the middle of the show, and so far everything is perfect – from stage to audience and back again. So what song do you inject here: "50,000 Miles Beneath My Brain" from the bands 1970 album Cricklewood Green. Leo introduces this song as being in the realm of Psychedelic and tries to explain Psychedelia to the audience, the audience is oblivious / unaware to the lesson Leo is trying to convey, I'm listening to Leo, and I just smile to myself. Leo smiles at the audience, and Chick starts the organ intro to the song. Joe steps up to the microphone and starts singing the ballad part of the song.
The beginning groove now turns directly into a hard driving jam explosion. In which the band and audience become one in the same. Joe's guitar playing kicks it up a notch, the band follows, and the audience is one step ahead of them all.
The song last close to ten minutes, from start to finish. A perfect performance, and the audience loves every bit of it. Which now leads us to:
Ric Lee's solo - by popular request - "Hobbit".
Ric starts off at full force, and he doesn't let up until the entire nine minutes are up.
He uses every trick in the book, everything he has learned over the years, or techniques he has invented himself along the way, "acquired bits of business" – according to………..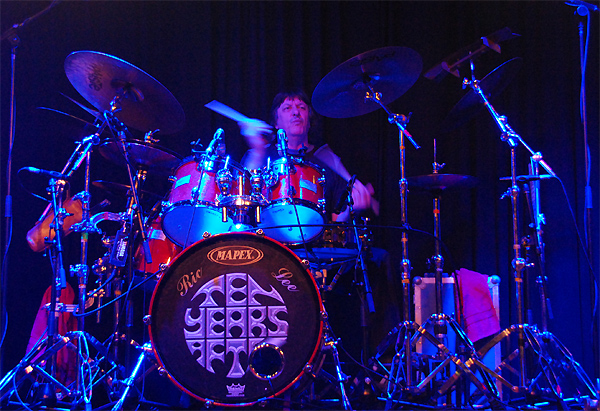 Ric ends his solo on a high note as well – everything remains in balance. As he approaches the microphone, towelling himself off before attempting to speak. He starts by asking everyone if they're having a good time, a weak reply from the audience is returned, not good enough for me Ric says, I said are you alright? A louder yell is returned, and on the third request, an even louder yell and then Ric is satisfied. He then thanks the audience for everyone coming out tonight and making it a good showing. He then points out where the merchandise area is located, at the back of the venue, where he and the others will be for autographs after the show.

Ric then introduces the bands big 1970 hit called:

"Love Like A Man" again from their "Cricklewood Green" album. Like 50,000 Miles Beneath My Brain, it's the bands chance to cut loose and break out of standard song sequence, and making a long band jam of it.

The band really cooks on this song, Joe makes it very interesting by expanding his guitar work in different places. A different riff here, a new lead part there, that made the entire song fun.

Enter "Bad Blood"- A song written by Lyons / Crooks – from Ten Years After's

"About Time" CD from 1989. This is one of my favourite Leo Lyons songs, as it starts off with a slow moderate beat, with enough room for the other band members to add their personal touches and accents as the song progresses. Leo has a proud look on his face, as he plays along, really enjoying his own accomplishment, in giving this number life.

The middle part of this tune is more powerful in its dynamics, than in its volume, as it should be. Another example of a song like this would be Aerosmith's "Dream On" or "God Gave Rock and Roll To You" by Argent. The music and the message have to be in perfect balance for it to work.

The audience follows right along, some singing the words, others swaying to the melody.

It all comes off perfectly from beginning to end, and it ends on a high note for everyone.

The Sound:

The sound tonight is brilliant, every instrument is heard with the ultimate clarity. The vocals and guitar work are outstandingly at their optimum level . Leo and Ric are right in time with each other, and Chick doesn't even have to strain a gut to be heard with the others.

The total sound mixing is simply / fantastically / professionally executed.

Thank you Wolfe and Crew.

Help Me:

This song was on the set list at Luxembourg, but was never played there.

Here at Soest, it is written in on the set list as an after thought, it was played and the review of it is here:

Help Me, written by Sonny Boy Williamson:

In the history of Ten Years After, this song is once again a staple in their set list. But has not been performed live in the last ten years. It's an audience favourite, and a loyal fans dream come true. Joe has never played this live on stage that I am aware of, at least at none of the concerts that we have seen. It was a pleasant surprise for Brigitte and I, as well to our friends who are here with us. As we anxiously await to see what "Ten Years After Now" does with it.

It's a very slow blues number, it starts off slow / sleepy, and most importantly, it needs to be performed with the right mood, feeling and passion in order to make it come off properly.

I will cut to the quick and tell you the outcome, and save you the suspense.

It was brilliantly performed, by four expert musicians, in front of a great audience.

Joe was amazing, his vocals were filled with passion, heartfelt passion and no faking or acting the emotions here. He sang so slow and deliberate, hanging onto every word, dragging the words along one by one, giving each one the emphasis that it deserved.

The song tells the story of a man warning his woman, that if she does not help him, and pull her weight, and earn her keep, then the consequence is – he will have to go and find somebody else to help him. If his woman does not do right by him, she will be replaced.

Very simple, black and white and without any dialog involved.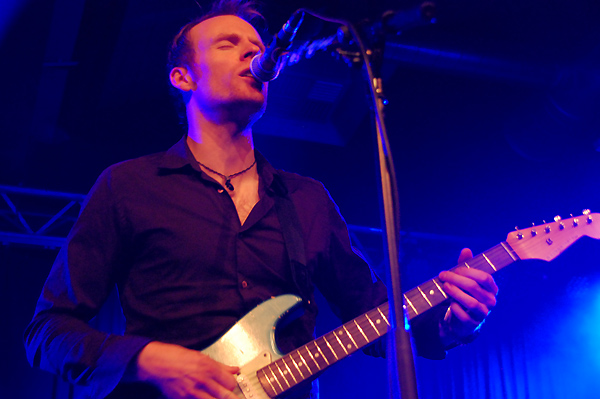 Joe's vocals are perfect, and his guitar work the same. In the vocal parts that need something to back it up, Joe is right on the money between phrases like:

"I may have to wash,

I may have to sew, I may have to cook,

I might mop the floor ..." and in between, Joe is hitting the slashing power chords to pound home the point, that this man ain't messin´ around.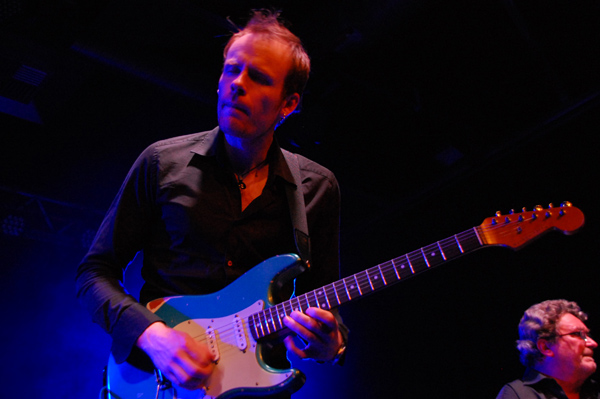 Joe's running the fret-board, bending strings, shaking the guitar, lift it up, drop it down…with a chomp-chomp-chomp .Leo's thundering / driving bass line is providing the bottom for which Joe is bouncing off of – with Ric's bass drum holding the sides together and Chick's filling in the mid range registers and all points in between. You have heard about a wall of sound, but have you ever witnessed it being performed live!!! Then your missing something very special and magical. Simple lyrics, driving blues beat, thundering bass line, screaming, crying, slashing guitar work, sympathetic keyboards pulling at your heart strings, and the vocals of passion, desire and warning.
Hats off to Joe, Leo, Chick and Ric – splendid … you did old Sonny Boy proud!
I'd Love To Change The World:
Once again a change-up in tempo and style. This 1971 Ten Years After hit, brings the audience together in a crowd sing – a – long for a change in the world condition, while Joe sings, "but I don't know what to do"…. " so I will leave it up to you".
Joe's lead guitar work is exceptional, fast furious and laced between anger at the way things are and a ballad of sentimental hope for peace and understanding. The world has changed very little since 1971.
Good Morning Little School Girl:
Once again Leo and Joe stretch out on this number, a great riff of course, with the middle section a jam – with Leo and Joe standing face to face and Ric and Chick in supporting roles to the front men, to the right of Ric's drum kit. Joe and Leo, going note for note – measure for measure – with the audience standing / looking in utter amazement – that such speed could be played on any musical instrument, let alone Leo's bass guitar / Joe's guitar.
Once again Joe was all over the stage, facing Ric and standing next to Chick, then back to Leo or centre stage. The song reaches its hyper-sonic conclusion, and I could swear that I saw heat vapours rising from the stage, from all the instruments!
There is no one in attendance tonight that would blame the band for taking a twenty minute break at this point. Right from the start of this concert, all four members have given their all, through every song. As I sit here looking over the entire set list, I am in awe of the energy that the band has expelled in order to get to this point in the show. They didn't take a break, they only slowed down, as required, to set the mood and get into the next song:
I Can't Keep From Cryin´ Sometimes, is a soulful blues tune written by Al Kooper from his band "The Blues Project".
1966 – 2010 – and Ten Years After Now, will take this old simple classic blues number, and turn it inside out for all to see. Stand it on its head, spin it on its side and whip it into something completely unique. The original TYA version lasted 5:34 in concert in the 1970's it could run fifteen to eighteen minutes depending. Tonight time doesn't matter, the question is, will the audience dig it – groove to it? Where will Joe and band take it this trip?
It starts off slowly, to a moderate beat, but very quickly rises to the groove, and from there it's in flight. It levels off and continues with Joe leading the way. Now, the rest of the band knows where the twist and turns are suppose to be, but with Joe, you just never know what he may decide to do. Although Joe on stage will not pull any sudden surprises, he always gives an indication to the others where he's heading for.
At this point, the band is in a free form flow, of jazzy riffs, rock licks and soaring guitar work. Bass and drums in a tribal beat, with Chick's keyboards chomp – chomping right along at coasting speed.
In the middle of the song, are some old standards that many people today are unaware of.
Such as: Cat / Squirrel – Sunshine Of Your Love – which build up to more classic hits, like Walk This Way and Smoke On The Water. At each turn Joe is running through each rendition of the songs, not walking or ploughing through them but running head on….not with anger, brute force or vengeance, but with "a delicate assault of the senses, combined with finesse, extreme talent and love of playing and music itself". That is the Joe Gooch that we have come to know!
The last part of the song is a band / jam. Joe runs the fret-board, Leo does the same, Ric the most proficient time-keeper in the music business, along with Chick's hyper active keyboard work, pushes the song into a screaming crescendo / right into a turbo-sonic dive-bomb finish / polished off by Joe, pointing the neck of his guitar at the stage floor, as the feedback howl is absorbed by the audience, and into a moment of stunned silence.
The roar, thunderous applause and accolades from the audience is just as overwhelming as the performance itself – where-by Joe and band take a much deserved bow – with all the professional humility that they can muster.
I'm Going Home:
Once again a little history. The original version of this song was on the "Undead" album and was 6:09 in duration. Over the years it has been expanded / elongated / and grown into a ten to fifteen minute potpourri giant, and very similar to the middle section of "I Can't Keep From Cryin´ Sometimes". A rock / boogie / blues / oldies / fun song – to let you know that the concert is soon coming to an end.
I'm baffled, that the band and the audience still have enough physical and emotional energy left, to still play and Boogie – On for another twenty minutes.
The band was outstandingly brilliant!!!
Encore:
Reasons Why
The band rocks its way through this song, as rock should be played. All members have sweat and smiles on their faces. The audience, is still attentive, rocking, singing right along and lapping it all up – every second of it.
Choo – Choo – Mama
Played even faster than Reasons Why – and who can blame the band, as this above and beyond the call of duty in anyone's book! It's my impression that this 4:00 minute song was played in 2:50……. The End.
In Conclusion:
Perfect performance
- Perfect Sound
- Perfect Audience
Excellent Friends, Anita, Reinhard, Erdme and Sarah
By Dave