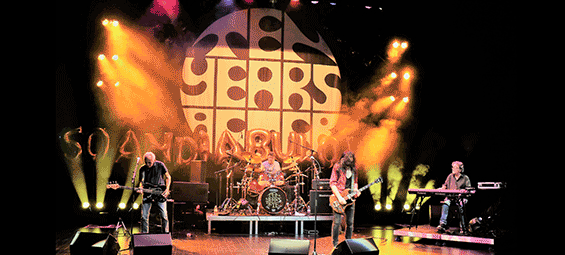 Photo Collage by Colos-Saal
Review by Dave Willey
Ten Years After – Live In Aschaffenburg, Germany / Thursday January 9, 2020 / 8:00 / 10:15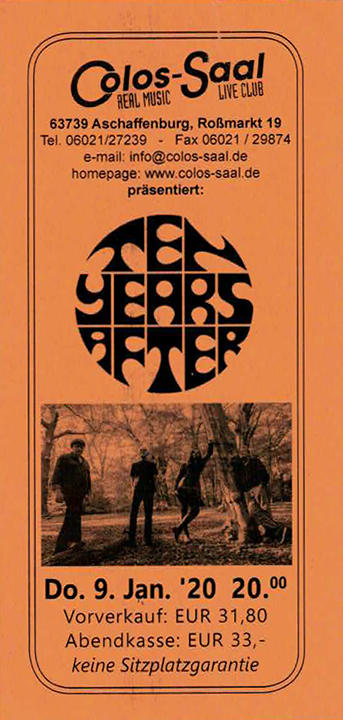 Venue: Colos – Saal. Our Thanks To Ric Lee, Chick Churchill, Colin Hodgkinson, Marcus Bonfanti For A Great Concert Tonight – Just Got Home, Feeling Good, Happy and Blessed To Have Been There, For One of The Most Exceptional Events of This New Year. Just Like The Old Days When Ten Years After Were In Their Prime.
Chick Churchill Was Consistant All The Way Through The Evening. Rarely Have I Seen Chick So Light Hearted, Visually Happy, and Enjoying Himself With His Band Mates and The Many Fans Who Approached Him To Wish Him Well. He Looks Good and Was Happy To See Me – He Greated Me With A Heartfelt Hug, At The Merchandise Area. Upstairs In The Backstage Area, Chick Asked Me How I Was Doing?
On Keyboards, He Was Strong and Made His Presence Very Much Known, As An Active Member of Ten Years After….As He Always Has. We Love You Chick, Thank You For Every Note That You Play For Us, We're Very Grateful Indeed!
Ric Lee Also Looks Great, Rested and Maintaining His Usual Precision Playing. I Heard His Hobbit, Drum Solo, But It Was Hard To Watch Him Through The Wall of Audience Members, Standing In Front of Me. No Problem Though, I Just Wanted To Listen. Make No Mistake About It, This Is Hard Work Ric and The Band Are Doing For Our Benefit. The Audience Acknowledged The Bands Efforts, With Hands High In The Air Clapping Vigorously, With Raw Passion / High Energy and Pure Blissful Goodness. I'm Talking About The Entire Room, From Front To Back and Even In The Bar Area, Fans Dancing With Excitement – Great To Watch! Even Out In The Entrance To The Room, Fans Standing Outside Enjoying The Experience.
Ric and I Had A Chat Between The Many Interruptions. The Band Wanted To Leave, The Staff Wanted To Go Home and Ric Was Under Pressure From All Sides. The Opportunity Just Wasn't Available This Time Around – You Can't Win Them All Ya Know - Laughing!
(I Couldn't Resist That Line (Shameless I Know 1972 Flashback).
We Talked When We Could, I Asked Him About A Book I Just Read By The Troggs Lead Singer Reg Presley, Called "Wild Things" An Excellent Read – Trust Me On This.
I Mentioned The Poor Health Condition of "Fairport Convention's Original Female Singer Judy Dyble (Die-Bull) – The Wife of Count Simon, Who's Listed In The "Stonedhenge" Album Credits. Simon Was A Music Reporter / Reviewer For Melody Maker. Judy Announced Last Week That She's Suffering From Metastasized Lung Cancer. Her Husband Died In 1994. Judy Has Been A Good Friend, For Quite Awhile Now. We Pray For Her Everyday – "Don't Smoke Friends and Fans" - Judy Would Be Happy If You Stopped This Deadly Habbit. Ric of Course Knew Simon, Although Alvin Lee and Simon Were Closer Friends. It Was So Good To See Ric, Chick and Band Once Again Hugs All Around – Love Flows!
Marcus Bonfanti: What A Great Guy As Well As Musician. I Always Enjoy Talking With Him, and Giving Him A Little Bit of A Hard Time. He Asked Me Where We Met Before?
I Replied, I've Never Seen You Before – "You're Messin' With Me" Yes I Am, and I Can't Remember Exactly Where This Took Place. Although We Both Remember Most of Our Conversation, and Have A Good Feeling About It…and He Remembered The Backstage Area, and Most of The People In That Room At The Time. This Was Well Over A Year Ago.
Now, Here We Are Again But In A Different Backstage Area, and Different Venue, But Sharing The Same Good Feelings Towards One Another – A Good Feeling To Know! (From Poco 1972). Marcus Still Wanted To Know The Venue, So He Asked Ric and Ric Said, "Dave, Who's The Guy Who Comes With You Very Often Backstage." I Said, Oh That's Reinhardt Pieper and His Friend Thomas." The Husband and Wife Friends of Yours Ric, Were There Too." Now Ric Remembers and Fills Us In On The Name and Place of The Venue. We Were At The Rosenhof In Osnabrück, Germany On January 11, 2019 One Year and Two Days Ago. Give Him Credit For A Good Memory At 74 Years of Age, You Have Our Respect Ric.
I Told Marcus How Much I Loved Their New CD, A Studio Recording Sounding Live In Nature. I Asked Him If He Knew The Band "Cactus" and Their Album "One Way Or Another" – Sounding Live In The Studio. So Hard To Achieve That Result. Marcus Told Me How Much He Was Into Making That New Ten Years After Album / CD. The Impression I Got, Was That He Ate, Slept and Dreamt That Recording Session, Through and Through.
He Said, That As Soon As He Woke Up In The Morning He Was Outside Running As Fast As He Could Go In Order To Refresh His Brain / Head To Make Room For Brand Knew Thoughts and Directions – Layers of Sounds Became Overwhelming For Sure. He Was So Involved and Aiming For Personal Perfection and His Own Satisfaction! Which He Reached!
I Injected The Following Thought – It's Not Just Finding "The Working Grove" To Play Off of, But It Also Includes The Side Layers That Work Off of Each Other and "Back-Beat." The Hook – With Melody." I Told Marcus, That I Understood and Appreciated What He Was So Intense and Determined To Accomplish. That's What Makes Their New CD So Exceptional / Spectacular, and I Predict That It Will Stand The Test of Time.
Colin Hodgkinson: Shook His Hand As He Headed Towards The Merchandise / Autograph Area. He Remembers Me From Melle Buer, Every Year For Three Years, We Went To Support Him and Frank Dietz, Known As The "Electric Blues Duo" Every December 15th Or So For An End of Year Blues Concert. I Asked Him How Frank Was Doing These Days? "Good, Good" He Says, "I Talk With Him Very Often, Almost Every Day In Fact, I've Been Unable To Play With Him, Because I'm So Busy With Ten Years After." He Told Me About His Experience Playing At Woodstock The 50th Anniversary Concert –Still Shaking His Head About It. Did You Have A Good Time Over There, I Asked? "A Great Time" He Replied….
Then We Became Swamped With The Audience Crowding In For Autograph's – CD's Albums and Ric's New Book. I Respectfully Got Out of The Way.
Before All This Happened:
I Moved A Stool Up To The Stage After The Concert, I Saw A Man With An Empty Record Size Box. May I Have A Look? (Philip) I Learned Later Was His Name. He Opened It Up, It Was Empty… "Are You Gonna Get The Cardboard Autographed" I Asked? "No, My Friend Has All The Albums With Him, He's Over There At The Merchandise Line, Waiting For The Band To Come Back Down." Philip and His Friend Both Spoke Great English and Boy Did We Have Some Great Laughs In A Short Amount of Time. We Headed Up To The Back of The Concert Hall and This Is Where I Met A Lady, A New Ten Years After Fan, Who Was Turned On To The Band From Her Boyfriend, Who of Course Is Also A Dedicated Fan, But He Had To Work and Was Unable To Make It Here This Evening. Her Name Is Alexandra She Is Blind, With A Trusting Nature, and A Great Sense of Humor. She Teaches German and English, Again Adding To My Good Fortune of Speaking English. She Wanted The Address To Our Ten Years After Website, and Asked Me To Write It On Her Concert Ticket As I Was On The Guest List, I Didn't Have A Ticket, I Asked Her If It Would Be Possible To Keep Hers For Use On Our Website. She Thought For A Few Seconds and Said Sure You Can. She Wanted To Know What Was Available For Sale By The Band, Well, Ric's Book Was For Sale (Not An Option Here), A Record Album and Their New CD. She Was Interested In Their CD, and Wanted To Know If The Same Band That She Heard On Stage, Was The Same Musicians On The CD. Also If It Were A Live Recording Or Studio? I Thought That She Would Love It, and She Asked Me To Get Her A Copy…She Handed Me $50.00 Euro, To Which I Got Her The CD and Returned $30.00 – She Got In Line To Have It Autographed. She Had An Open Heart and Wonderful Spirit, I Only Wished That We Had More Time To Chat, As She Was Fun To Be Around. I Did Give Her Our Website Address. I Assume That Her Boyfriend Has Sight and Can Help Her Enjoy It. Nice To Meet You Alexandria, Hope To Meet You Again…She's From Frankfurt! I Hope You Find This Concert Review Alexandra, I Should've Given You My Email Address. My Bad – Sorry!
The Songs I Heard After Arriving Late Were:
I Say Yeah – From The Watt Album (1970) With Strong Audience Participation Going On – With No One Being Left Untouched Or Unmoved.

I Can't Keep From Crying Sometimes – Written By Al Kooper – (1966) With The Blues Project.

I'm Going Home (Medley) - From Woodstock – (1969)

Choo-Choo-Mama – Encore – From Rock 'n' Roll Music To The World (1972)
I Heard The Band Members Say; That This Was One of The Best Gigs That They've Played.
A Stand Out and Very Memorable. This Was Between Marcus and Ric. With Me, As A Third Party Listening, I'm In A Prime Position To Verify That As Fact – From The Audience's Point of View As Well – Top Shelf Performance – First Class – Unforgettable !!!
In Conclusion:
What A Great Audience – My First Time At This Venue – The Band Was In Rapid Fire Mode With Feeling, Power, and High Energy! Full House For This Venue 500 They Told Me, Tonight 350 to 400 – Perfect For A Thursday Evening! Wonderful Staff Working There, All Very Helpful, Friendly and Light Hearted. The Staff Said That They're Looking Forward To Ten Years After Return Same Time Next Year, To Which Ric Lee's Reply Was,
"I'll Be 75 Years Old By Then". Hard To Believe That Our Music Hero's Are Now Our Mature Elders. The "Golden Boys of Rock 'n' Roll" - Thank You For Being My Friend!
A Belated Merry Christmas and A Very Happy New Year To One And All!!!
Review By Dave.
Photo's By Elke.
Photo-Shop Work, Computer Skills and Final Lay-Out By Brigitte.
---

15.01.20
Ein lebendiger Mythos
Bluesrock: Woodstock-Veteranen Ten Years After im Aschaffenburger Colos-Saal - Zwischen Nostalgie und neuem Schwung
Freitag, 10.01.2020 - 20:05 Uhr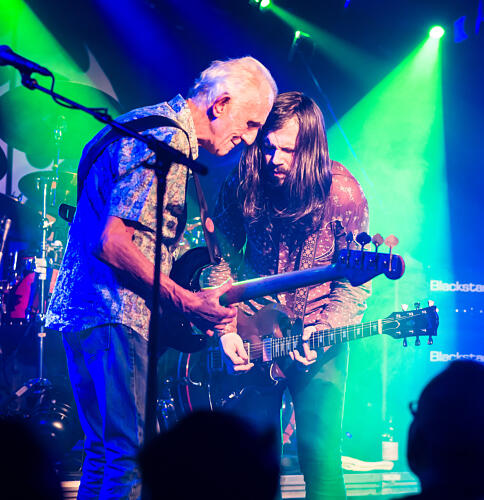 Zwei Generationen, eine Musik: Bassist Colin Hodgkinson (links) und Marcus Bonfanti (Gitarre und Gesang) beim eindrucksvollen Ten-Years-After-Konzert im Aschaffenburger Colos-Saal.
Foto: Stefan Gregor
Ein Blick in den voll besetzten Aschaffenburger Colos-Saal hat am Donnerstagabend deutlich gezeigt: Der Mythos und der Zauber von Woodstock sind auch im Jahr 2020 noch höchst lebendig. Ein halbes Jahrhundert nach dem »Love-and-Peace-Festival« bleiben vor allem einige besondere Auftritte tief im kollektiven Gedächtnis verankert: Die mitreißenden Rhythmen des jungen Carlos Santana etwa, die grandios zerspielte amerikanische Nationalhymne von Jimi Hendrix (»Star spangled Banner«) oder Joe Cockers mit dem Urschrei gekrönte dramatische Version des eigentlich banalen Beatles-Liedchens »With a little Help from my friends«.
Mit in diese - natürlich nicht vollständige - Aufzählung gehört zweifellos auch »I´m going home« von Ten Years After. Als Zugabe bei ihrem Woodstock-Auftritt hat der damalige Sänger und Gitarrist Alvin Lee mehr als zehn Minuten lang sein Instrument bearbeitet. Eine Endlosschleife mit ein paar Schnipseln Rock´n´Roll (»Blues suede Shoes«), die damals das Bedürfnis der Fans und Musiker nach ewig langen Songs (wie »Child in Time« von Deep Purple oder »Get ready« von Rare Earth) befriedigt hat, in der heutigen schnelllebigen Zeit der Sekunden-Clips aber fast schon sympathisch altmodisch wirkt.
Alter Gassenhauer
Der 2013 gestorbene Alvin Lee hat sich schon vor vielen Jahren aus der Band verabschiedet. Seine Rolle (Gesang, Gitarre, Mundharmonika) nimmt inzwischen der erst 36 Jahre alte Marcus Bonfanti ein - und er macht seine Sache nicht nur bei dem alten Gassenhauer ausgezeichnet. Ein subjektiver Eindruck dabei: Der energiegeladene Jungspund versteht sich ausnehmend gut mit den übrigen Bandmitgliedern, die - allesamt 74 Jahre alt - durchaus auch seine Väter sein könnten.
Die Ten-Years-After-Gründungsmitglieder Ric Lee (Schlagzeug) und Chick Churchill (Keyboards) haben mit Bonfanti und dem Bass-Urgestein Colin Hodgkinson eine Formation auf die Beine gestellt, die den Spagat schafft zwischen den nostalgischen Gefühlen der Fans und dem immer wieder notwendigen Aufbruch in eine neuere Zeit. Mögen die alten Herren inzwischen auch Probleme mit dem Treppensteigen haben - musikalisch ist ihnen keine Schwäche anzumerken. Man nimmt Rick Lee durchaus ab, dass die Zusammenarbeit ein Vergnügen ist. »Shake baby Shake« - warum auch nicht.
Eher eine Randerscheinung bleibt an diesem Abend das 2017 erschienene »A Sting in the Tale«, das es am Merchendising-Stand in den Versionen CD und Vinyl gibt: Das Soundgewitter von »Land of the Vandals« lässt zu Beginn den Saal beben. »Silverspoon Lady« und »Last Night of the Bottle« sind die ideale Startrampe für »The Hobbit«, bei dem dem Schlagzeuger Rick Lee - nachzuhören schon auf der 1973 erschienenen »Recorded Live« - traditionell die Bühne für sein Solo ganz alleine gehört.
Insgesamt 8 der 15 Songs der Setlist stammen aus dieser guten alten Live-Zeit, darunter »One of these days«, »I´d like to change the World« sowie die von zahllosen Blues-Künstlern - von Canned Heat über Cream und Alexis Korner bis zu Ron Wood - gecoverte Willie-Dixon-Nummer »Spoonful«. Minutenlange Improvisationen, in denen die Musiker ihre Kreativität ausleben können.
Superpünktlich - als hätten sie keine Zeit zu verlieren - kommen Ten Years After um 20 Uhr auf die Bühne. Exakt nach 105 Minuten räumen sie wieder das Feld: Nach den Zugaben »I say yeah« und »Choo Choo Mama« kann sie auch das begeisterte Publikum nicht zu weiteren Aktionen bewegen.
WOLFGANG DREIKORN