GREAT NEWS from Brigitte and Dave
It gives us great pleasure to report to you that as of Sept. 16th 2004
TEN YEARS AFTER
has been accepted and will be inducted into the Rock'n' Pop Hall of Fame Museum in Germany with equal acceptance of all five members. Their music, their history and everything associated with them will now be intact and protected for generations to come.
Congratulations to Mr. Leo Lyons, to Mr. Ric Lee, to Mr. Chick Churchill, to Mr. Alvin Lee, to Mr. Joe Gooch from all of us.
The band now has the opportunity to donate personal items of their choice to be showcased in their section of the museum, we as fans also have the chance to let go of some of our prized possessions and be a part of this as well. We have been asked for our input as to where and how we'd like the band represented and we are proud to be taking an active role in this process.
Our first idea was for Ten Years After to be in the main viewing hall, with the Beatles and Rolling Stones as part of the British Rock Invasion.
Below you will find our letter of nomination along with everything we have collected about the Rock'n'Pop Museum / Hall of Fame, along with our photos from our visit.
Getting the feeling for this Rock'n'Pop Hall of Fame:
The First and Only Rock' n'Pop Museum / Hall of Fame - in Europe opened in Germany on July 21, 2004 to the public. 10,600 people attended the opening ceremonies. The museum is located in Gronau, Germany, close to the border to The Netherlands. It already has 130 special items of interest available for viewing and we see a bright future for this museum and its organizers on the horizon. We are proud to be on the ground floor of this cutting edge adventure.
Over 10 Million Euro has been invested into this elaborate music history venture, so you can be sure that they are very serious and committed to what they are doing.
One of the most important things to know and understand is about their unique attitude and how it applies to the overall spirit within the structure. They want you to feel that you have back-dated into another time and place and for it to be an experience you will find almost impossible to forget.
How this is accomplished:
47 sound system monitors are used, 200 loudspeakers are utilized to produce an optimum effect. Audio and Visual tools are in place and as if this were not enough you become an interactive part of the whole event. All of this time, money and great effort has a few primary goals in mind, to rattle your senses awake, to open your eyes, ears and mind and make you feel that the only thing that exist is the moment. It's a 20th Century Blast into the past, present and future of music and history. It's a world created to educate you while at the same time entertaining you. It's our great pleasure to have Ten Years After become another important part of this whole picture.
How we got TEN YEARS AFTER into the ROCK'N'POP Museum – Hall Of Fame
Getting Ten Years After Inducted
Our Time Line of events:
We first heard about the museum when we read about it in the newspaper on July 20th, 2004. By July 27th we wrote to Leo to voice our intent and get his thoughts on the situation, his reply was positive so we moved forward.
Between late July and August we contacted the museum to share our excitement about what they were doing and to recommend Ten Years After to be nominated into the Rock'n'Roll part of their venture.
On September 7th we called the museum and had a very pleasant and productive conversation with assistant curator Martina Hagemann which lead to a meeting being scheduled for us on September 16th.
As a quick note, we informed Leo and Ric of our intent in advance, instead of surprising them if our efforts were productive. The band members themselves are what it's all about and for that reason alone it was better to have their approval.
From September 10th until we left on Thursday, 16th we have been working on our letter of nomination to present to the committee, gathering up the new Ten Years After CD "NOW", the new Alvin Lee CD "Alvin Lee in Tennessee" and a copy of Herb Staehr's book "Alvin Lee & Ten Years After – Visual History" as a representation of the band.
This is our Letter Of Nomination for Ten Years After:
Rock 'n' Pop Museum
Gronau, Germany
September 16, 2004
Subject:

TEN YEARS AFTER
We would respectfully like to submit for your consideration and nomination, the British Rock and Roll Band known as TEN YEARS AFTER into the Rock n' Pop Hall of Fame Museum. The primary sponsors are Brigitte Scholz (Germany) David Willey (New York) Herb Staehr (Hingham MA.) Jan Jones (California)
Co. sponsored by long time Ten Years After / Alvin Lee fans Torsten Strube (Germany) Patrick Bellier (France) Jacky Moutaillier (France) Dan Jasper (B C Canada) Heri Ellingsgaard (Faro Islands Denmark) Leon Economides (South Africa) Chuck Dingman (New York) John Kenney (Maine) Fabrizio Perrini (Italy) Kevin Antonovich (Australia)
The Band 1967-1974

Ten Years After was formed in 1967 with members Leo Lyons (Bass Guitar) Alvin Lee (Guitar and Vocals), Chick Churchill (Keyboards) and Ric Lee (Drums).
During their career they did more than twenty eight tours of America which included playing at the legendary Woodstock Festival in 1969 with their famous song "I'm Going Home", at Bill Graham's legendary Fillmore East and Fillmore West, Madison Square Garden, the Texas International Pop Festival 1969 and the Isle of Wight Festival in 1970.
Their recording output has been extensive over the years and all their albums have reached the gold or platinum status. In 1971 their song "I'd Love to Change the World" reached number twelve in the American top forty and they had five other top forty placings.
The Band Today 2004

Original members Leo Lyons, Ric Lee and Chick Churchill have included Joe Gooch, Guitar / Vocals to the line up to replace Alvin Lee who left the band of his own accord to start a solo career.
Ten Years After is still totally active in touring and recording. In March of this year they released their brand new CD called NOW and the sales have been very brisk. They've done a tour of the UK and played all over Europe in 2001-2004.
This is just a very brief outline of the band, for a more detailed and factual accounting we offer with this letter a copy of Herb Staehr's book "Alvin Lee & Ten Years After -Visual History" and also a copy of Ten Years After's new CD "Now" along with a copy of Alvin's new CD called "Alvin Lee in Tennessee".
TEN YEARS AFTER:
Millions upon millions of people have seen them perform on stage, bought their records and had the chance to meet them in person over the years. For us there is no other band from the 1960's or 1970's in Rock n' Roll that are still playing in 2004 with the same enthusiasm, energy and passion as this band does and with three out of four of its original members still intact.
Ten Years After started out with a cult following of loyal fans, then became an underground favorite on FM radio all over the world but what really made it all happen for them was their live concerts. Their dedication and persistence to their craft along with making their fans feel welcome have become their long standing trademark.
They have done it all, they've been there and back again and they're still making a statement for a whole new generation of music fans to listen to and follow.
Ten Years After is a people band, and as fans we now welcome this great opportunity to give them back something that they have been giving to us their fans for years, respect.
In Conclusion:
We would all like to thank all of you at the Rock N' Pop Hall of Fame Museum, for your time commitment and hard work to give respect and credit where it's due, to the bands and the music they've made that changed our lives.
Brigitte Scholz
David Willey

Ten Years After Fan Website
http://www.ten-years-after.com
Contact:
David Willey
Dave@ten-years-after.com (English)
Brigitte Scholz
Brigitte@ten-years-after.com (German)

Ten Years After Official Website
http://www.tenyearsafternow.com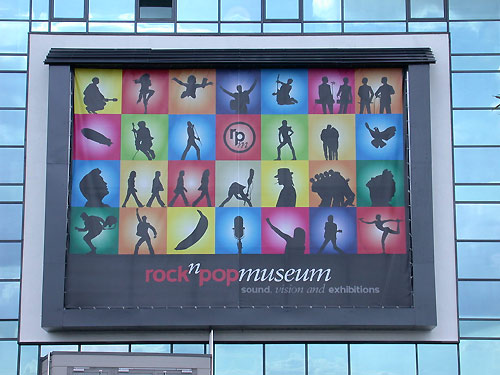 Continue to next page - Rock'n'Pop Museum - Exclusive Photos