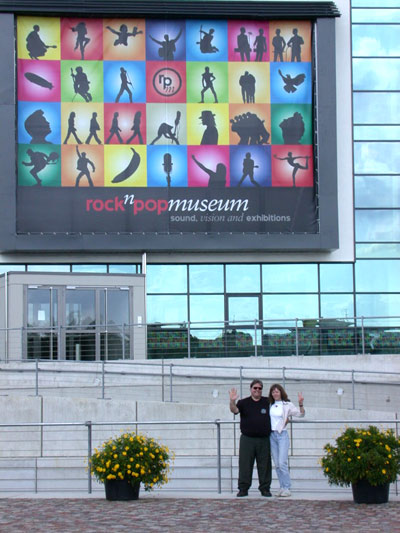 Our Visit To the Rock ní Pop Museum
Our trip came about because a meeting was set up with Martina Hagemann, assistant of the curator, and Dr. Thomas Mania, curator.
At the museum Frank was our host. The first section we entered was a vast yet comfortable area where the first thing you encounter is a red car sitting in the middle of the floor with its doors wide open and music blaring out of it at concert levels. The car was owned by german band FANTA4. There are amps and guitar for you to crank up and play if you like, make your own music and enjoy the freedom to express yourself. Behind the car and up about twenty feet is a huge movie screen showing a loop of music history that most of us in our 40ís are well aware of having lived through it. The combination of the audio and visual immediately has the overwhelming effect on you that youíre in a special place, an environment that your mother and father wouldnít like only because it would remind them of your wild and crazy teenage years.....turn that music down....you call that music theyíd say...thatís just noise not real music. Please keep in mind your grandparents said that to your parents, your parent said that to you, and now some of you might be repeating that same phrase to your children, so teach your children well. So if youíre grandparents, parents, or teenagers, this place has something for every generation to enjoy.
The more you like history and the history of music in particular the more youíll love this place. Everyone likes some form of music and with that comes memories, most good, some not so good but here the memories are given a musical time line, itís up to you to interject your own personal experience. The museum provides only the stimulant, itís up to you to fill in the blanks by turning inward to your own emotions and thatís what makes it work.
You become unaware that your automatic responses have been replaced by your unconscious desire to dream and for fantasy. You are unknowing totally unaware that you have become an interactive part of the whole just by entering the building, you are a part of the artwork and you are now also an important part of the art itself. Youíre assessing the situation and making judgements by the second as is our human nature, within ten minutes youíre still trying to get a feel for this setting, but within twenty minutes your emotions will take over and youíll leave the real world behind.
Follow the staircase down to the next level Ė the Main Exhibition Hall - and youíre directly into phase two of your journey. A tiny stage awaits your arrival, three antique stools with cello, violin and stand up piano are preserved and secured against intruders (by a ribbon no less) itís open to observe but please donít interact here. Three chairs are there for your comfort, sit and listen to the classical music playing overhead as a quartet plays Bach for your enjoyment.
Five or ten minutes of this calm music and youíre ready to enter the main area of the museum. From end to end itís the size of a football field and itís loaded like King Tuts Tomb only with a Las Vegas touch. Lights, sounds and exhibits every inch of the way, walls full of memorabilia interactive options, history lessons on sliding panels, drawers that pull out so you can to listen to the likes of Louie Armstrong, the Beatles, the Rolling Stones or early 20th century jazz. Television screens are in ample supply, and a hundred different sounds coming from all angles and yet itís not the least bit annoying, uncomfortable or overwhelming. It seems hard to believe but you can still talk and hear the person standing next to you.
Lights flashing, spotlights rotating around and pointing out specific things to view, all time activated, helpful and in no way distracting. This place is set up like a friendly host at a happy family party and not like some pushy used car salesman getting in your face every second and telling you what you should be paying attention to or what you should be thinking about. While many things are automated they are done so with a personal touch being taken into consideration behind their every action, the only thing being left to chance is your imagination and where your emotions will take you.
There is an interactive drum station, just put on the headphones provided and have fun. Also headphones are accessible at every station for your comfort and pleasure. A big bell like structure hangs from the ceiling, you bend down at the waist to enter, stand up and you can listen to an intense array of drum rhythms and voices coming from every direction.
Moving on from here there is a patch of artificial lawn where you can watch another big screen of music footage loops, or sit on the sofa, put on your headphones and enjoy some erotic sounds as you watch.
Next you can enter the audio time tunnel, the walls are covered with gigantic speakers and you stand on what seems like a floating floor, the vibrations come up through your feet and right to your head sending chills up and down your spine, while making the hairs on your neck stand on end and tingle. All of this while listening to a music time line, Thomas Edisonís first recorded words ďMary Had A Little LambĒ on to news broadcast and world war two, music clips in between it all and then progressing to Michael Jacksonís song ďBilly JeanĒ and onto Curt Cobain and Nirvana. You can watch the little screen on the wall to follow the playing order.
Letís talk about what others may be into and enjoy here. Would you like to know where Disco went to live? Here in Germany, itís the 1970ís all over again, kids go out to Discoís on the weekends and D.J.ís play the music, John Travolta & Saturday Night Fever, the Bee Gees and leisure suits are all alive and well for a whole new generation. The german cult band CAN, Udo Lindenberg, Grace Jones is here along with the 1980ís videoís such as ďVideo Killed the Radio StarĒ and Patty Smith has a place here as does Abba, the Spice Girls and yes Ted Nugent.
The museum is a 20th century musical time line and we found this to be the perfect place to include Ten Years After right up there with the Beatles, the Rolling Stones, the Animals and Pink Floyd.
Itís also the concept, their philosophy and the overall mission of the Rock ní Pop Music Hall of Fame that we both like so much. Itís better than we expected it to be and it has everything that we could only dream about or do ourselves.
To sum up, itís a hands on interactive place, comfortable, educational and fun. You learn without trying, interact without effort and be sure wonít want to leave.
We have to leave so we sit and listen to the Classical Music once more in order to come back down and join the real world once again.
This was our first visit but it is far from our last, this was our first meeting and a second one is being planned as we write.
As a note of interest: Special exhibitions are set up on the second floor that are on loan for short periods of time to the museum. Insurance is guaranteed. Exhibits can be donated by artists or fans. Students of all ages are welcome to come for fun or for collage credit.